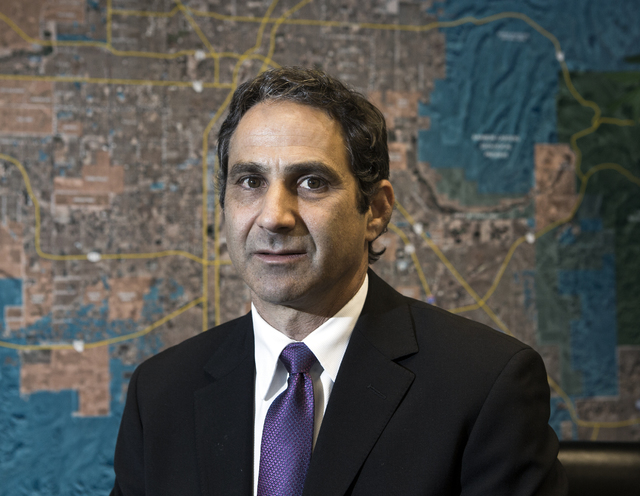 The Las Vegas multifamily market is the biggest bargain out of the top 20 cities across the country but leads the nation in rental rate increases, a January report by AppFolio shows.
The report ranked Las Vegas first nationally for affordability, with local residents putting an average of 20 percent of monthly income toward apartment rent. Renters who put more than 50 percent of their monthly income toward rent are considered burdened, the report said.
AppFolio commissioned Axiometrics, an independent rental research company, to produce the study. Axiometrics provided the average monthly rent and effective rent growth for the top 20 most popular metropolitan areas in the United States.
Las Vegas' average monthly rent for an apartment sat at $933 at the end of 2016 but is growing. The $933 average was a 6.4 percent increase over December 2015, when average rents were at 873.29. The affordability calculation was based on an average income of $4,576 per month.
In affordability, Indianapolis ranked second nationally; apartment dwellers paid an average of 21 percent of their income for rent. Behind Indianapolis was Phoenix at 22 percent and Atlanta; Austin, Texas; and Raleigh, North Carolina, all tied at 23 percent.
Including Las Vegas, three of the most affordable cities also had the fastest-growing rental rates from December 2015 to December 2016: Las Vegas had a 6.4 percent increase, Phoenix grew by 5.4 percent and Atlanta grew by 4.7 percent.
The other cities on the top five for apartment rent increases were Seattle, with a 5.3 percent increase year to year, and Detroit, which had a 4.9 percent increase.
The country's most expensive cities for rentals were New York, Miami, Los Angeles and San Francisco, with apartment dwellers paying 58, 54, 47 and 46 percent, respectively, of their average monthly income toward rent.
Axiometrics data show that the number of people nationwide putting more than 50 percent of monthly income toward rent is expected to increase to 16 million by 2025.
Medical center building sells
CSA Service Center LLC sold Harmon Medical Center's building at 150 E. Harmon Ave. to Las Vegas Facility Holdings, CoStar.com reported at the end of January.
The 23,716-square-foot building sold for $7.45 million, according to CoStar.com; the new owners plan to add a small-scale emergency room.
Michael Parks and John Knott of CBRE represented the seller; Barton Hyde of Avison Young represented the buyer.
NAIOP Southern Nevada names 2017 board of directors and officers
NAIOP Southern Nevada, the local chapter of NAIOP — the Commercial Real Estate Development Association, named its 2017 board of directors and officers.
Jay Heller of Heller Cos. was named president, replacing Mike Shohet. President-elect is Jeff Foster of Prologis.
Jennifer Levine of Cushman &Wakefield Commerce was named secretary; Rod Martin of Majestic Realty Co. was named treasurer.
Ten directors were named to the board: Jody Walker Belsick of Kimley-Horn and Associates, Julie Cleaver of the Howard Hughes Corp., Shawn Danoski of DC Building Group, Brendan Egan of Dermody Properties, George Garcia of Garcia Planning &Development Services, Jeff LaPour of LaPour, Adam Malan of Logic Commercial Real Estate, Mike Mixer of Colliers International Las Vegas, John Restrepo of RCG Economics and Jennifer Turchin of Coda Group.
Local homebuilders and HomeAid Southern Nevada helps U.S. vets
HomeAid Southern Nevada, the charitable arm of the Southern Nevada Home Builders Association, is finishing up the expansion of the kitchen at U.S. VETS at 525 E. Bonanza Road in Las Vegas.
The $460,000 project began in November. The time, labor and supplies came from the valley's home builders and their partners in related industries. The kitchen is expected to open in mid-February and an official grand opening will occur in March, HomeAid said in a statement.
The renovation and expansion included adding 1,000 square feet to the kitchen and installing a walk-in refrigerator, walk-in food storage area and commercial oven and cooktop. The added space is wheelchair accessible.
The project will enable U.S. VETS to serve more than 400 meals to former homeless veterans that reside in an adjoining residential facility, HomeAid Southern Nevada Executive Director Caitlin Shea said.
Credit One Bank, The Home Depot Foundation and Bank of America and ChoiceCenter Leadership University contributed money and aid to the projects. The builder captain on the project was Woodside Homes of Nevada.