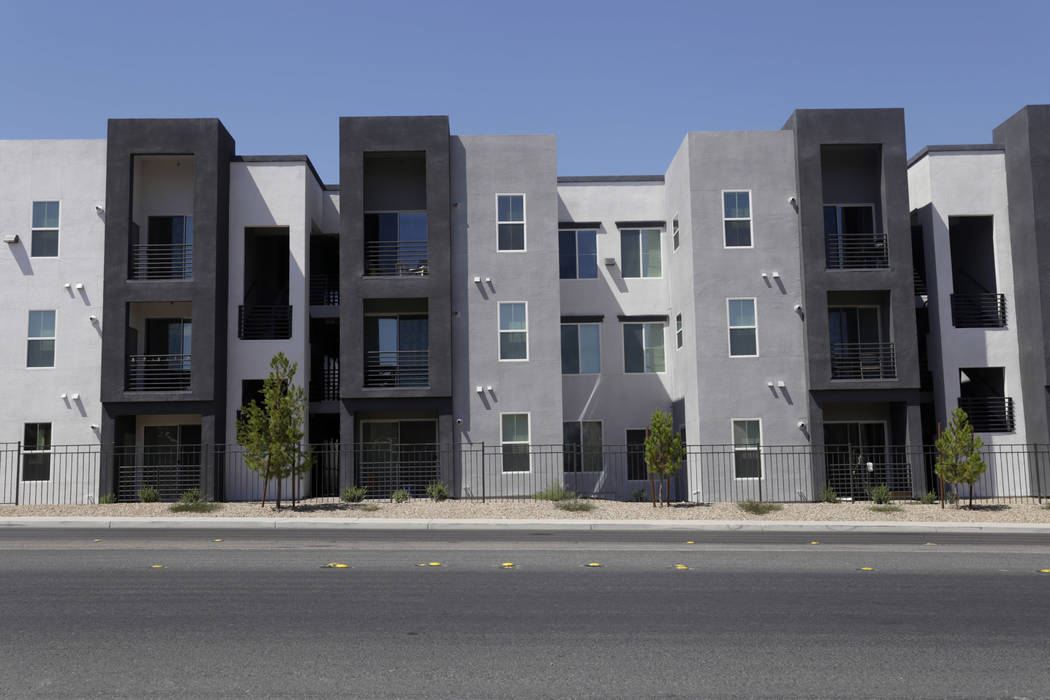 The Las Vegas Valley's multifamily market has been recovering over the last several years alongside the single-family home market, and the amount of new product has been increasing. But just as a premium has been seen for new homes in Las Vegas compared to existing homes, the same trend has been occurring in the apartment market.
New multifamily projects that have come online since 2016 in certain parts of the valley, or are now under construction, are seeing average asking rents much higher than the metro's overall average, as higher-end product is dominating the new supply chain.
Megan Cambon, market analyst for CoStar, said the vast majority of new multifamily housing is in the luxury space.
"You're seeing high-end apartments that have granite counter tops and stainless-steel appliances," Cambon said. "The communities tend to have more amenities than the older communities and are therefore charging higher rents."
Average asking rents in the newer apartment communities in places such as Summerlin, Spring Valley and the northwestern part of town are reaching past $1,400 a month through 2017, according to research from CoStar. The average asking rents in Henderson are just below those submarkets, with Enterprise/South Paradise reaching about $1,250 per month for the newer completions.
That's much higher than the metro's overall average of $950 per month.
Despite the higher rental rates, occupancy levels in the valley are keeping pace.
Where the majority of construction is occurring
Many of the multifamily projects under construction are in Summerlin, Spring Valley and Henderson, which account for 60 percent of the new supply being brought to the market, according to CoStar.
One of those properties under construction is being developed by Las Vegas-based Calida Group. Calida is raising a 360-unit apartment community known as Elysian at Flamingo Road near Hualapai Way.
Pricing hasn't been released on the project. But the 466-unit Elysian West development, which Calida sold to the Blackstone Group in 2017, has monthly rents that range from about $1,200 to more than $2,000 for floor plans that range from one to three bedrooms, according to information on apartments.com.
Elysian West sits at 5175 Jerry Tarkanian Way, west of the 215 Beltway, between Hacienda and Tropicana avenues. The property was completed around May 2016.
Other Class A product going up around the valley includes Transcontinental Realty Investors Inc.'s Adobe Red Rock Apartments, which are planned for completion in July 2018, according to a news release from the company.
The $59 million mid-rise project will bring 308 multifamily units near Fort Apache Road and Hacienda.
Downtown Las Vegas is pegged to see a 299-unit multifamily project go up in Symphony Park. According to data from a Las Vegas City Council meeting, Texas-based Aspen Heights would break ground in May 2019 on the Class A project, which would be completed by November 2020.
Uri Vaknin, a partner in KRE Capital, which owns several high-rise developments in the downtown area, including The Ogden and Juhl, said many developers have looked to his downtown assets as an example of what works in the area.
"They've shopped our properties to see what's been working," Vaknin said. "We're kind of like the barometer or the gold standard right now of what residential living in downtown should look like."
The development comes as the city of Las Vegas is pushing to add several thousand apartment units to the downtown area. But as downtown sees growth, Vaknin said, it's important to keep a good mix between rentals and for-sale product.
"The city's really pushing for 5,000 more residential units, but that needs to be a good balance of both rental and for-sale (product), because downtown can't continue to thrive unless you have people literally taking ownership in downtown."
Owners of property in the downtown area typically get more involved in things like politics and take advantage of everything that's offered in the region, he said. "When people own, they're more committed, they're more involved, and that's what we need to see in downtown Las Vegas."
Demand for apartments
Spencer Ballif, senior vice president of multifamily investment properties for CBRE, said the valley saw just under 4,200 multifamily unit deliveries in 2017.
In 2018, there's about 6,300 units planned, though some of those are pegged for a fourth-quarter delivery and may not be completed until 2019, Ballif said.
With the high-end properties coming online in the valley, the apartment market in that space is going to be put to the test.
"I think it would make sense to build something a little more bread and butter, because we're seeing plenty of high-end, and we will test the depth of that high-end market," he said.
The market could be very deep, Ballif said, though the valley has never seen this much luxury product come on at the same time.
Ballif said CBRE is tracking over 6 percent vacancy, where 5 percent is considered healthy and normal. However, he thinks some of the numbers were artificial, as many Class B and C properties reporting higher vacancy rates were just going through major upgrades at the time.
Vacancies did rise last year, but Ballif said it was minimal.
Demand in the valley could stay on track.
"It's again been consistently keeping high occupancy in these apartments because of the demand and because of the influx of people moving in who can't just directly buy," said Vivek Sah, director of UNLV's Lied Institute for Real Estate Studies.
The local housing market
Sah said many people are migrating to Nevada as natural disasters such as mudslides and wildfires intensify in parts of Southern California. If these people decide to move, they don't often buy a home right away, as they decide where they may want to live.
In this way, multifamily housing would always be robust in a market such as Las Vegas.
Another factor is that the valley has a large employment base in the gaming and tourism sector. For many people who fall into this sector, raising the down payment for a home might not be that simple, which Sah estimated could be $60,000 to $70,000, depending on the potential 15 to 20 percent down payment a lender might require.
"For a lot of those people, that's a lot of money to be able to save, so I think the demographic in our county favors apartments," he said.
The median home price on new homes has been on the rise, hitting $352,984 in January 2017, according to Home Builders Research. That's an increase of 7 percent from a year earlier but down from December's $371,782 median.
Despite any increase in barriers to homeownership in the valley, the number of new homes sold in January 2018 was up more than 31 percent over the same time in 2017, according to Andrew Smith of Home Builders Research.
The number of new homes sold in January was 912, compared to 693 in January 2017 and 579 in January 2016.
There were 9,575 building permits for single-family homes in 2017, and Smith is expecting a slight increase through 2018.
He said homebuilders are trying to address the lack of housing product under $300,000 by proposing or developing attached housing products such as duplexes, condos and town homes.
The median home price for existing single-family homes in the valley was $275,000 in February — up 14.6 percent from a year earlier and up 3.8 percent from January.
Ballif said the amount of single-family and multifamily product coming online is very healthy when looking at projected job growth in the valley. In fact, he said, you could argue the area is a little undersupplied when compared to historical standards.
Jobs numbers were up by 3.1 percent or 30,000 from December 2016 to December 2017. According to the Nevada Department of Employment, Training and Rehabilitation, the state's employment growth in December 2017 was well ahead of the national average of 1.4 percent.
December also marked the 65th straight month the state outpaced the nation in job growth gains.
Population in Clark County has increased — going from more than 1.9 million in 2011 to more than 2.1 million in 2016.
The county is expected to exceed 2.2 million residents in 2019, according to data produced by the Nevada state demographer and presented by the Nevada Department of Taxation.
A danger to multifamily housing would be overbuilding.
"Multifamily will always be a robust market unless there's too much supply that hits the market," Sah said. "Again, I don't see much supply on the lower end. There's a lot of supply that's on the luxury, higher end across the county."
Sah sees many of the jobs being created as being in line with multifamily rentals on the lower end, though many costs associated with development, including labor and construction costs, drive the prices up for apartment development and bring more luxury projects in.
"The pricing of those don't become favorable for anybody in the lower end, so the product that's hitting the market is probably hitting $1,800 or above, over that range, and lot of those people, with all those expenses, may not be able to afford that," he said.
Sah sees pricing going up for more affordable product as demand increases.
"We will see rents increasing in the lower segments, because there's too much demand from that," he said. "I feel that, unless there is a lot of redevelopment again, but again, that redevelopment has to happen from something that's old, dilapidated, been converted, so there's not a cost of the, or no cost of land. There's just cost of refurbishing those."
Fourth-quarter rents increased 6.5 percent over the same time in 2016.