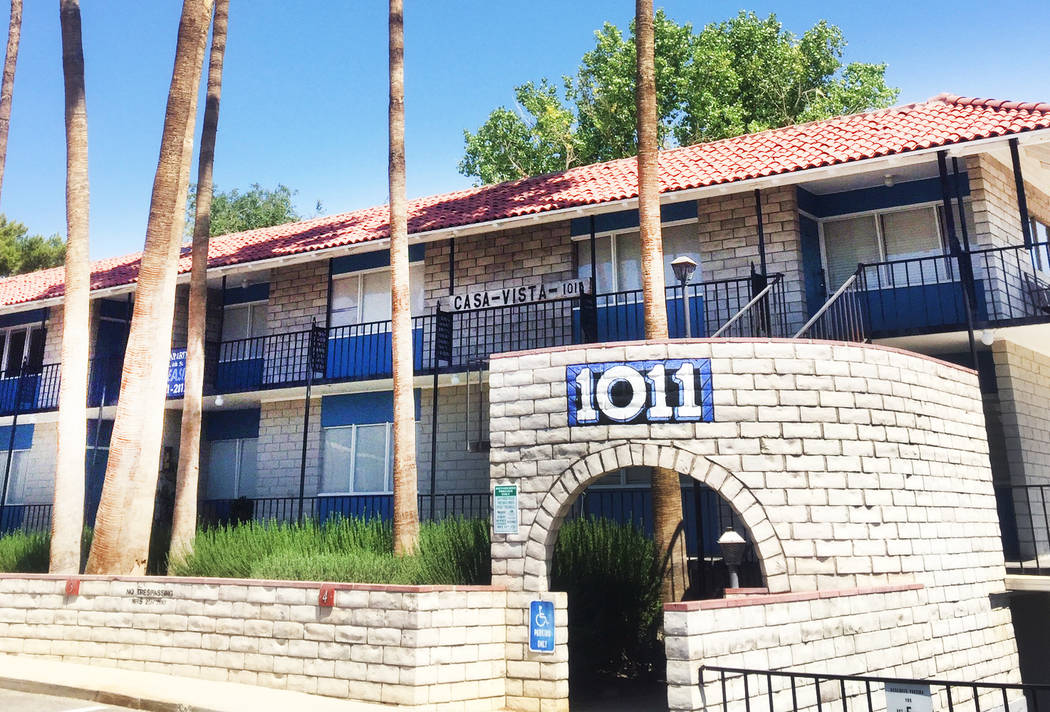 Local Realtors continue to gain confidence in the Southern Nevada housing market, with more than nine out of 10 expecting local home prices to keep going up in the next year.
This was just one of the findings in the latest Quarterly Sentiment Index released by UNLV's Lied Institute for Real Estate Studies in partnership with the Greater Las Vegas Association of Realtors.
"While I'm not surprised, it's still interesting to see how the vast majority of our local Realtors continue to believe that our housing market is getting better and that it should continue to do so over the next quarter and into the next year," said GLVAR President David J. Tina, a longtime local Realtors.
Each quarter, Lied Institute researchers survey a select group of GLVAR members about their expectations for home prices, sales and home construction over the next quarter and next year.
Peter Counts, a data analyst at the Lied Institute who oversaw the survey, said these latest results show that the 38 GLVAR members who responded to the quarterly survey conducted last month were even more optimistic than they were during previous quarters. In fact, Counts said this current survey shows the highest level of overall confidence in the local housing market since the survey started in early 2016. These latest results showed an increase in short-run and long-term optimism for the Las Vegas housing market. For example, Counts said the survey's 90-day index increased from 127 to 141.
"This 14-point increase was the largest increase in the short-run, 90-day index since the creation of the index back in the second quarter of 2016," Counts said. "Respondents remain more optimistic about the housing market over the next year than they do over the next 90 days. The long-run, one-year sentiment index increased from 145 to 160 for the third quarter of 2017. This 15-point increase was also the largest increase in the long-run annual sentiment index since the creation of the index."
Tina said his experience and that of GLVAR members he talks to generally supports these sentiments, as he's seeing increased activity in his own real estate business.
When asked where they thought local home prices were going in the next year, 97 percent of those who responded said they expected prices to go up. Only one person surveyed expected prices to stay about the same. None of the local Realtors who responded to the survey expected prices to go down over the course of the next year.
When asked where they thought local home prices were going over the next 90 days, 92 percent expected prices to rise, while none of the respondents expected prices to go down during the quarter.
Realtors were less bullish on short-term sales volume, with 50 percent believing sales volume would increase over the next quarter, 42 percent believing it would stay the same and 8 percent predicting it would decrease.
When asked about the overall assessment of the Las Vegas real estate market, only one person thought it would get worse over the next 90 days. The survey showed 89 percent believe that the overall housing market will improve over the next year, and only one person believes that it will get worse over the next year.
As for local home building, GLVAR members expected home building activity would improve more over the next 90 days than it would over the next year, with 68 percent expecting home building activity to increase over the next year, while 84 percent believe it will increase over the next 90 days. Only 8 percent indicated that they believe homebuilding activity will decrease over the next year, while no Realtor expected a decrease over the next 90 days.
As for challenges facing the market, Realtors who answered the survey most commonly expressed concerns about the shrinking local housing supply.
Despite dealing with less than a two-month supply of available homes when a six-month supply is considered ideal, Tina pointed out that more existing local homes were sold in 2016 than during 2015 and that 2017 is on pace to be the best sales year since 2012.
Berkshire Hathaway HomeServices partners with Vegas Golden Knights
Berkshire Hathaway HomeServices Nevada Properties is now a partner of the Vegas Golden Knights NHL hockey team. The company will offer services to players, employees and families relocating to Southern Nevada.
"Our company has been a part of the Southern Nevada community for nearly 40 years, and we are thrilled to welcome a new chapter in our city's history with the Vegas Golden Knights," said Mark Stark, CEO of Berkshire Hathaway HomeServices Nevada Properties. "We look forward to a long and mutually beneficial partnership."
The company operates in Nevada, Arizona and California.
"We're excited to welcome Berkshire Hathaway HomeServices as a proud partner of the Vegas Golden Knights," said Vegas Golden Knights Vice President of Global Partnerships Mike Mungiello. "Berkshire Hathaway is an industry leader in the real estate business and have a stellar local reputation here in Clark Country. We're grateful for them offering their services as our players and their families relocate to the Las Vegas area."
Gordon Miles, president and COO of Berkshire Hathaway HomeServices Nevada Properties, said the company is uniquely qualified to help Golden Knights players, employees and partners both sell their former homes and find new residences in Las Vegas.
"Fortune named Berkshire Hathaway the fourth most respected brand in the world, and with that global recognition comes unmatched capabilities for the Golden Knights," he said. "We have affiliates in every state throughout the country as well as exclusive international marketing capabilities to help our clients buy and sell real estate. Our teams provide comprehensive services to make their transition to our great city easy and seamless."
Juhl and Ogden adds businesses in high-rises
Retail operators at The Ogden and Juhl, downtown high-rises with a combined 30,000-plus square feet of ground-floor retail, have renewed leases or are expanding, while two new retailers — Cultivate Community and Flock & Fowl — have signed new leases to begin operations in the coming weeks. A third retail destination, The Corner Market, recently opened. Both Cultivate Community and Flock & Fowl were brought to their new destinations by Derek Belanus with Northcap Commercial.
Renewing leases at The Ogden are Oddfellows, a lively video nightclub; Bombshell , a vintage-inspired beauty salon, and Rachel's Kitchen. Flock & Fowl, a popular eatery known for its signature Hainanese Chicken Rice and fresh approach to all things chicken, is planning its second location inside a 2,546-square-foot space on the ground floor of The Ogden. Proprietors Sheridan Su and Jenny Wong operate the original Flock & Fowl on West Sahara Avenue close to Golden Steer Steakhouse. Su and Wong are also known for their original hit concept, Fat Choy, inside the Eureka Casino. An opening date for Flock & Fowl at The Ogden has not yet been set but is expected this fall.
At Juhl, a multi-building community that spans an entire city block in downtown Las Vegas which boasts more than 20,000 square feet of curated ground-level retail space collectively referred to as The Promenade at Juhl, Classic Jewel, a popular cocktail lounge that pays homage to Vintage Vegas is expanding, adding another 1,000 square feet. The Corner Market, a community convenience store, recently opened, provides daily essentials with quick but healthy food offerings. And a new lease was recently signed for Cultivate Community, a nonprofit organization that originally began as a mural arts program to sponsor large public murals in downtown Las Vegas and the Arts District and the brainchild of Shane Terry of Taproot Holdings Inc. Terry's plans for Cultivate Community at Juhl include a rotating retail collection of local showcase artists that are part of the organization's larger mural projects to provide them a space to feature and sell individual works.
According to Uri Vaknin, a partner at KRE Capital LLC, whose company, in partnership with Dune Real Estate Partners, purchased The Ogden and Juhl in 2013 as DK Las Vegas, these many positive changes signal growing success for the many boutique retail operators within the DK Las Vegas downtown communities.
"As downtown residency grows, so does the need for nearby retail and restaurants," he said. "Located on the ground floor of our high-rise communities, these retailers enjoy immediate access to residents who literally live upstairs, as well as a growing number of visitors, both locals an
d tourists, alike."
Sun Commercial Real Estate closes transactions
Sun Commercial Real Estate Inc. announced today the closing of the following transactions:
• The sale of Pine Tree Apartments, a 56-unit multi-family development, was completed on June 21. Three buildings totaling more than 12,600 square foot is at 150 Hoover Ave. The total value of the transaction was $2,165,000. Paul Chaffee, Wil
Chaffee and Josh Smith of Sun Commercial Real Estate represented the seller, Pine Tree, LLC and Northcap Commercial, LLC represented the buyer, The Hoover LLC.
• The sale of two North Las Vegas Airport hangar/office buildings totaling 49,362 square feet was completed on June 30. The property is at 2722 and 2806 Perimeter Road in North Las Vegas. The total value of the transaction was $1,025,000. Cathy Jones, Paul Miachika, Roy Fritz, Jessica Cegavske and Jennifer Lehr of Sun Commercial Real Estate represented the seller, Western Alliance Bank and the buyer, Gerald Haan, was unrepresented.
• The Lease with Campus Village LLC was completed on June 20. The 2,400 square-foot retail space is at 1220 E. Harmon Ave., Suite B. The total value of the transaction was $946,055.89. Jon Willis, Rob Moore and Matt Patros of Sun Commercial Real Estate represented the tenant, Lacey's Place Nevada 1220 Harmon LLC and MDL Group represented the landlord, Campus Village, LLC.
Apartment complex sold for $1.2M
Devin Lee, Robin Willett Jerad Roberts and Jason Dittenber, of Northcap Multifamily, has announced the recent sale of the Casa Vista Apartments for $1,200,000. The sale consisted of 23 multifamily units at 1011 N 4th St.
The transaction closed on June 29. The seller was Casa Vista LLC. The buyer was 1011 North 4th Street Casa Vista LLC.