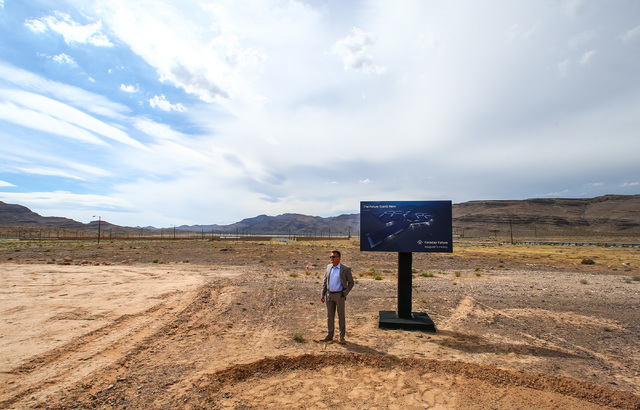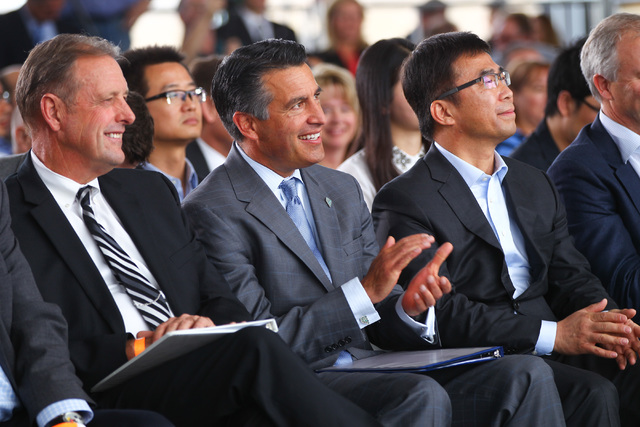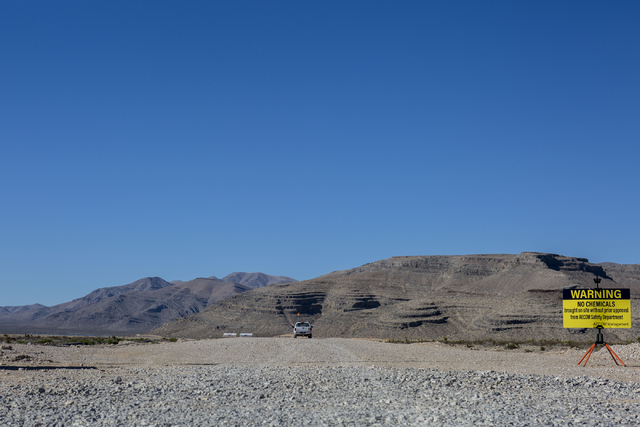 Wait and hope. It is a struggle for existence taking place largely in secret across two continents, and the result will have far-reaching ramifications for the lives of valley residents, no more so than those in North Las Vegas.
The Faraday Future project is considered a cornerstone for the city's long-term economic development, but work on the $1 billion electric vehicle manufacturing facility stalled in November with no clear indication when — or even if — it will resume.
Is Faraday and its primary financier — embattled billionaire Jai Yueting — a good bet for the city and state? It is a complex question that depends very much on the perspective of the observer.
Isaac Barron is a Rancho High School teacher and longtime North Las Vegas resident who has witnessed the personal impact that the 2009 recession had on the city. "It was heartbreaking to see homes on city blocks that were abandoned," he recalled. "Each one of these homes represented somebody's dream, and they had that dream shattered."
Barron was elected to the North Las Vegas City Council in 2013, along with Anita Wood and Mayor John Lee. The new leadership — no elected city official had held his or her seat prior to 2011 — regards the city's APEX Industrial Park, featuring 2,000 development-ready acres, as a springboard to a burgeoning high-technology manufacturing industry.
The council sought a large-scale project that would serve as a centerpiece for APEX that could provide necessary infrastructure upgrades and increase the site's viability and desirability to other businesses. The target was Tesla Motors.
"We were really depressed," Barron confided about the day city leaders learned of Tesla's 2104 decision not to locate in North Las Vegas, ultimately choosing Sparks in Northern Nevada. "So the mayor and I sat down and said, 'What do we do?' The mayor had some ideas that we each go on the hunt. We should bring a Tesla here to the city. It was a lot of work. We didn't know at the time that Faraday Future was out there, but once we found out, we aggressively went after them."
A $215 million incentive package for the project was approved in a special legislative session last December. The 3-million-square-foot facility is intended to produce Faraday's line of innovative modular electric vehicles and is projected to create 4,500 jobs after build-out — half of which are required to go to Nevada residents.
The facility design features numerous sustainable and otherwise environment-friendly elements, according to the company's Los Angeles-based contractor AECOM, including prismatic skylights, photovoltaic solar panels and energy-efficient systems for heating and cooling the plant.
As part of the infrastructure agreement, the state will fund, through bonds, construction of a 4-mile-long commuter rail extending from the Union Pacific station to the auto facility. The Regional Transportation Commission has issued a request for proposals from prospective bidders on that project, as has the Nevada Department of Transportation regarding its plans to widen a portion of U.S. Highway 93 near the Faraday site, according to North Las Vegas city spokesperson Delen Goldberg.
"This is a game-changer, not just for North Las Vegas, but for the entire region," said Barron during an October interview with Business Press. "People don't see it now, and some doubt it is going to happen. For many years we have been talking about diversifying our economy, but mostly that has just been words. But now we have a chance to step into the future with evolving technology. This will spur other industries to come to the valley. The potential is fantastic and will be transformative."
"The bonds are to form the infrastructure project," explained Steve Hill, executive director of the Governor's Office of Economic Development. "In order to go through the bonding process, you first need to do the engineering work it takes to design the facilities, then get the estimate of what the facilities will cost. Faraday has funded the engineering work."
Hill expects that work to begin sometime next year. "The information gets folded into the financing proposal that the city of North Las Vegas would submit to our office and present to our board of directors for our potential approval. Assuming that is approved, it goes on to the Board of Finance and the Treasurer. It is about a four-month process to advertise the bonds, basically. You have to write up a prospectus on bond issue."
The bonds would then be sold at the end of that process. "The earliest that would happen is the third quarter of next year," Hill said. "What we agreed to with Faraday was prior to those bonds being issued, Faraday would put up surety. That could come in several different ways that would guarantee their performance. If they did not perform, then the security would pay off the bonds."
Hill said that GOED originally estimated the project would require $140 million in infrastructure. "Some of that is for Faraday and some of it is for the rest of the land owners out there. Payments would be made two different ways. It was equally split: approximately a little over $70 million for Faraday and a little over $70 million for the rest of the land owners. The rest of the land owners would be financed through a special improvements district. That means the other land owners (who) benefit from the additional infrastructure would have to make the payments on those bonds."
If the landowners failed to pay, the state would have the legal option to foreclose on their properties, which serves as security for that portion of the bonding. The other half would be provided directly through Faraday's security.
Hill says issues such as the current work hiatus are not especially uncommon in large-scale construction endeavors of this sort. The project appears perfectly tailored to suit the needs of APEX and North Las Vegas. And it might prove to be so, but Nevada State Treasurer Dan Schwartz is among critics who believes the initiative is an exercise in futility.
"John Lee is a good man, and he is desperate for this to work," Schwartz said. "North Las Vegas is over a barrel. They need this project to build up the infrastructure at APEX, and I think I can say point-blank it's never going to happen."
Schwartz said he is concerned about Faraday being an auto industry start-up company, offering a technologically innovative product yet to be produced that will compete directly with Tesla Motors during what is currently an oil glut. Those are potentially daunting issues, but all are rendered minor stacked against another one: There could be indications Faraday is out of money.
The company's principal investor, 44-year-old Beijing-based billionaire Jia, whose core business is Leshi Internet and Information Technology (aka LeEco or LeTV), which is in the midst of a critical shakeup. Jia released an internal company letter Nov. 6, reporting that Leshi had expanded more rapidly than capital and resources dictated. The company announced a temporary halt to Asia Pacific expansion and named longtime Huawei Technologies official Gao Jun as chief executive for the region.
Jia's letter follows the launch of Leshi products into American markets in November. Leshi, through multiple subsidiaries, is engaged in the production and distribution of films and videos, internet television, eco-agriculture and the production of smartphones and other devices, plus multiple unrelated endeavors.
The company announced Nov. 15 that it has secured $600 million in capital investment, half of which is earmarked for its two electric car development projects and LeEco Global, according to Reuters. The money comes as the result of agreements with the pharmaceutical company Luye Group, furniture sellers Man Wah Holdings and apparel manufacturers Heilan Group.
"Jai is passing the hat with his buddies," Schwartz said. "My position is pretty much dictated by circumstances. He has no money to pay for it. I think he lives in a fantasy world. I don't think he had an evil intent, initially. But as the project progressed and all these other projects progressed, it was like Bernie Madoff. They are trying to create new projects to bring in new money to pay off their debts. That is a Ponzi scheme. He just has staggering debt, and there is no fiscal means to pay for it."
Schwartz said he believes it is still possible for Jai to right Leshi's listing ship, possibly by selling U.S. electronics company Vizio, acquired in July, to raise capital in order to meet pending financial obligations. But whether resources would be available for a project, such as Faraday — Leshi has its own separate electric car project — is an open question.
"When we structured the deal — and it is not too easy to do when you are in a negotiation in which they are looking at California, Louisiana and Georgia as well as Nevada — we took into account the entire spectrum of how this could work out," Hill said. "Obviously, we want it to work out and wanted to provide Nevadans with the opportunity for it to work out, but if it does not, there is little to no downside to state taxpayers.
"The treasurer has said for quite a while he does not want to issue the bonds if the security was not in place," Hill said. "We agreed with Faraday on that security, and at the time the treasurer was fine with the security Faraday would have to provide as well. From a functional standpoint, we agree with that. He would not issue those bonds — and we were not going to ask him to do it — unless the security was in place. We need to make sure we protect Nevada taxpayers, and he agreed."
"If they get to a point where they have begun construction, they have the surety bond and look like they are going to be producing cars, absolutely I would issue the bonds; I'd recommend it to the Board of Finance," Schwartz said. "But I think we are a long, long way from that."
A Faraday statement claims the company is focused on the production model expected to be revealed in January at the 2017 Consumer Electronics Show at the Las Vegas Convention Center. Given the tepid public reaction to Faraday's concept car — a single-seat racing vehicle — showcased at the 2016 CES and the tumultuous year that has followed, presenting a compelling, well-received vehicle this year is critical. It won't make Faraday, but it could certainly break it.
Added to this already complicated mix is the Nov. 29 announcement that electric car manufacturer Lucid Motors (formerly named the technology supplier Atieva) will build a $700 million facility in Casa Grande, Arizona. The company — which would be in direct competition with Faraday — plans to be producing vehicles by late 2018. And where is Lucid getting its funding? One of the company's principal backers is Jia.
Barron acknowledged in October that investing time and resources in a start-up automotive company such as Faraday comes with a degree of uncertainty, but he expressed confidence that the appropriate vetting and financial safeguards are in place to justify the risk.
City officials, including Lee and City Manager Qiong X Liu, declined interview requests from the Business Press for this story, but did issue a statement regarding the project.
"Faraday Future finished the rough grading for its North Las Vegas manufacturing plant in record time, marking the completion of the first phase of the construction," Liu said. "Mr. Jia Yueting informed me that the company raised an additional $600 million in investment funds in November and that completing the North Las Vegas plant is a top priority.
"Our Public Works Department believes that the company's reprioritized schedule will be a great benefit to the project because it will allow the engineering studies and design plans to catch up to the construction timeline. Construction cannot proceed until the technical studies and civic improvement plans are approved by the city as required by our normal permitting process."
Lee expressed excitement at Faraday's January CES event and continued progress on the production facility beginning in February.
City officials long have stated that the Faraday project is not the singular hope to stoke the local economy and drive the development of APEX. Hyperloop One, a Los Angeles-based company pioneering transportation of cargo and passengers via electro-magnetic levitation, began operations at a newly built APEX metalwork facility in July and is in the process of constructing a 2-mile test track.
Hyperloop has experienced its own share of internal intrigue — including lawsuits and alleged coup attempts — that have slowed what still seems to be significant progress. But the company is relatively lean – around 200 employees — and is in a race with rival startups to be the dominant player in this emerging high-tech transportation industry.
But even a successful Hyperloop One is unlikely to bring the benefits city leaders hoped for when they attracted Faraday Future. As the dynamic situation plays itself to increasing levels of resolution, North Las Vegans can do little more than wait and hope.