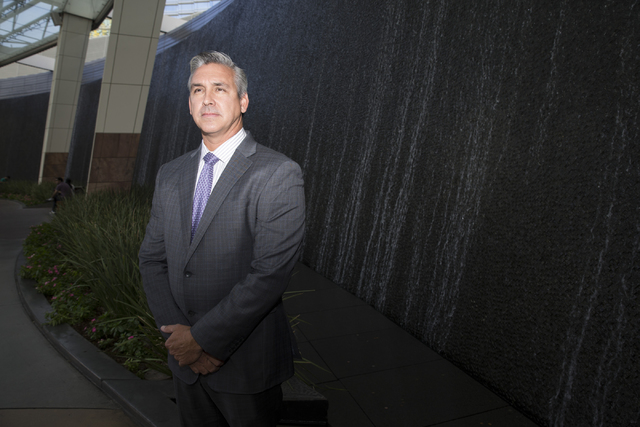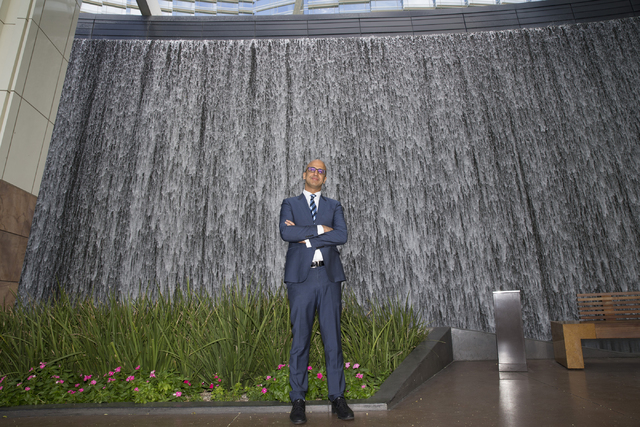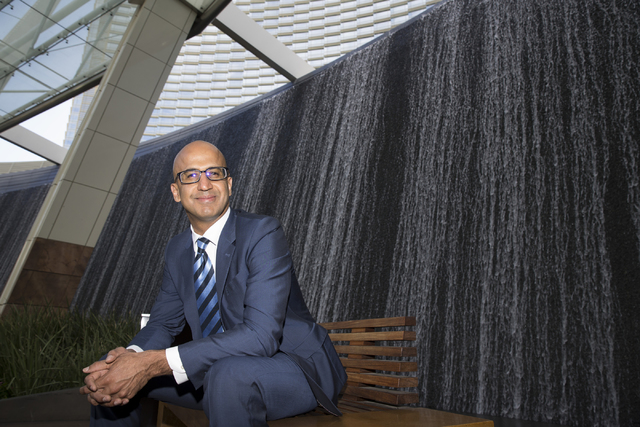 Chris Magee and Yalmaz Siddiqui are helping to sustain the environment at MGM Resorts International, working energy efficiency.
Magee, a 25-year veteran of the company, has been promoted to vice president of sustainable facilities, while Siddiqui recently joined MGM Resorts as vice president of corporate sustainability.
Siddiqui is responsible for leading a range of environmental sustainability initiatives, including sustainable sourcing, employee engagement, green conventions, food waste reduction and waste management. He also leads the development of an advanced sustainability strategy framework, including metrics and goals, project accountability, roles and reporting strategy.
Sustainability has always been an interest of Siddiqui, who has a master's degree in environment and development from the University of Cambridge in England. He comes to MGM Resorts after serving as senior director of sustainability at Office Depot. He will set a new framework for environmental sustainability.
"That's how to measure it and what goals we set and use metrics and tracking and take it to the next level," Siddiqui said.
The big task is to define green meetings and attract and support convention clients that care about green meetings, Siddiqui said. That means managing waste, purchasing environmentally sound products for their conventions and helping clients manage food and food waste, he said.
The biggest volume in food waste is at conventions, Siddiqui said. MGM Resorts has long had a commitment to send its food waste to a North Las Vegas pig farm as an alternative to a landfill. In his new role, Siddiqui has started a pilot program for developing hardware and software that tracks food waste.
"That helps us understand what type of food is wasted in which types of area of our business, whether it's certain convention clients," Siddiqui said. "Once we have a better understanding where food waste is generated, and who's generating the food waste, we will work on ways to mitigate it and plan better and reduce it at the source, which is better than sending it to pigs."
Food is not the only a focus for convention clients, as MGM Resorts works with them to reduce transportation emissions as well. It could be a greater use of public transit between functions or across MGM Resorts properties and even the use of the Monorail, he said.
"It's about making people aware that these transit options exist rather than one person in a vehicle," Siddiqui said.
Magee is responsible for providing strategic direction and operational oversight and development and implementation of large-scale, renewable applications and energy-efficiency programs to reduce the environmental impact of company operations. This includes leveraging existing systems, new technology, waste management and statistical analysis to improve operations.
Magee had yet to complete his studies at UNLV with a degree in journalism when he began working at the swimming pool at The Mirage. He learned about an apprentice program in which he could work as a laborer for a year and deal with engineers and learn the operations. There was a four-year curriculum; and on-the-job training. This ultimately landed him in mechanical engineering and dealing with heating and ventilation systems, boilers, backup generators and life-safety equipment.
"Twenty-five years ago this was not called sustainability, but we were looking at any way to save water, power and gas and double checking if the meters are correct and whether we can check that," Magee said.
Magee, who has developed an expertise for lighting and energy efficiency, has represented MGM Resorts at the White House several times when the company has been recognized for energy efficiency.
MGM Resorts left NV Energy as its electricity provider Oct. 1 for an $86.9 million exit fee and is now purchasing power from Tenaska Power Services.
"Our properties are hard to measure. There are smaller buildings with a single meter," Magee said. "We have restaurants, showrooms and central plants and all of these areas have an energy impact. Where we were and we're going now is an incredible adoption of metering and part of it has to do with the NV Energy exit. We're upgrading 58 meters throughout the company. We're working toward getting incremental data so we can see live real-time data. Before, we would wait for our utility bill to come and go to accounts payable and send a report out to the properties, which would be a little behind the curve. Now, if we see a percent of increase, we can let that property know right away."
When MGM Resorts looked to slot machines for increasing energy efficiency, a light-emitting diode retrofit represented a $60-a-year savings per machine. With 8,000 slots, the savings add up, Magee said.
The philosophy is for MGM Resorts to identify, test and verify where savings are, even if they are small, and grow these in every property, Magee said.
MGM Resorts has spread its message of sustainability to employees. Being efficient, especially with lighting, will save them money. All that work has gained recognition for the company and those invitations to the White House.
"A lot of people know that MGM has done a lot with sustainability, but there is so much more we can tell people," Magee said. "This is what we're doing and this is the cost and the benefit, and opening the books on these projects and telling other companies what they can do, whether it's our experiences with lighting or building automation."
Letting guests know about the sustainability efforts is important as well, Siddiqui said. MGM Resorts has a good back-of-house recycling program that guests aren't aware of, he said.
Trash generated in MGM Resorts properties is sorted behind the resorts and more than 40 percent of the materials are diverted from landfills, he said.
"That's pretty rare in the hospitality industry across the country. We have not done a good job of communicating our back-of-house recycling effort to the guests," Siddiqui said. "We want guests to understand they don't have to worry about recycling and which bin things go in. We're handling that for them."