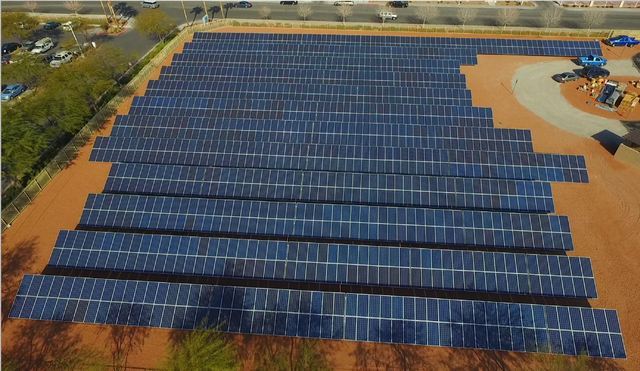 High-profile Las Vegas solar projects receive support from corporate, government and regulatory entities.
Solar energy is definitely the most popular sector of the entire energy and utilities industry — from federal and local tax credits to media buzz and everything in between — but Las Vegas is taking the hype and turning it into high-profile projects in the commercial industry.
On June 20, Las Vegas Mayor Carloyn Goodman and North Las Vegas Mayor John Lee were in attendance as Cox Communications and Manheim Nevada, both subsidiaries of Cox Enterprises, dedicated two ground-mount solar projects. The Cox Las Vegas project is in Las Vegas and the Manheim Nevada project is in North Las Vegas. The projects are designed to generate power from alternative sources for their respective operations.
"Southern Nevada is a mecca for this energy and the solar energy market is allowing us to position our region as a leader and early adapter nationwide," said Lee. "We can transfer these good ideas and best practices in collaboration for the entire country to follow."
The collaboration is resulting in installations that produce 1,523 kilowatts of clean energy, equivalent to the amount needed to power 238 homes and prevent 1,700 tons of carbon from entering the environment on an annual basis. Also a part of the collaboration was SolarCity, which provided the design services and construction management of the 427-kilowatt solar farm constructed of 1,376 solar panels on Cox's property.
The solar farm powers a data center that enables the delivery of Cox internet, cable television and telephone services to hotels, casinos, homes and offices as well as Cox Homelife to residential customers. It is the first data center in Nevada to be powered by its own solar energy and the first in any of Cox's national markets. The solar operation produces 65 percent of the facility's energy and prevents 486 tons of carbon from entering the environment. Its energy is equivalent to the power needed by 65 homes.
Goodman has already stated that the city of Las Vegas is moving to 100 percent renewable energy for all facilities, a goal made even easier because of the favorable regulatory environment in Nevada. Primo Electric was responsible for the building power integration which coupled the solar panels to the Critical Facility service entrance that provides power to the building.
"Fortunately the rules and regulation process was very minimal," said Stephanie Stallworth, spokesperson for Cox Communications. "SolarCity handled most of the permitting and necessary paperwork for the Cox project and we requested 'grid tie permission' from NV Energy to connect to their system. It was a turnkey solution supplied by SolarCity and our corporate Cox Conserves department."
In Las Vegas, the Cox Conserves department is an employee-driven initiative that was established in 2007, and in 2015 it diverted 52 percent of its waste into single stream recycling with as much as a 75 percent diversion rate in some months.
"It is a great partnership for all the entities involved, makes clean energy instantly available and helps out everyone's bottom line," says Will Craven of SolarCity. "This project is a model to create more sustainable growth that several industries can learn from all across the country."
SolarCity's success has been predicated on extremely high engineering processes and standards during the implementation phase while simplifying the conversion schedule and associated operational tasks.
"We are excited to team up and add Cox to our portfolio of high-profile commercial customers like Whole Foods and Wal-Mart," says Craven. "Solar energy receives a lot of attention for what it does for residential use, but commercial use opens up so many avenues and resources unavailable for homeowners."
The site of the commercial resource for this project is at Manheim Nevada, a leading provider of vehicle remarketing services, connecting buyers and sellers to a large wholesale used-vehicle marketplace and an extensive auction network. Across the country Manheim hosts 115 physical, digital and mobile auction sales, providing end-to-end inventory solutions.
"Cox has aggressive sustainability goals, so we are continuously embracing sustainable technology projects," says Cox Communications spokesperson Juergen Barbusca. "Our clean energy projects through our Cox Conserves initiative are focused on sending zero waste to landfills by 2024 and to become carbon- and water-neutral by 2044. While the solar installations produce a significant portion of our energy needs, we still require commercial power to maintain our business operations."