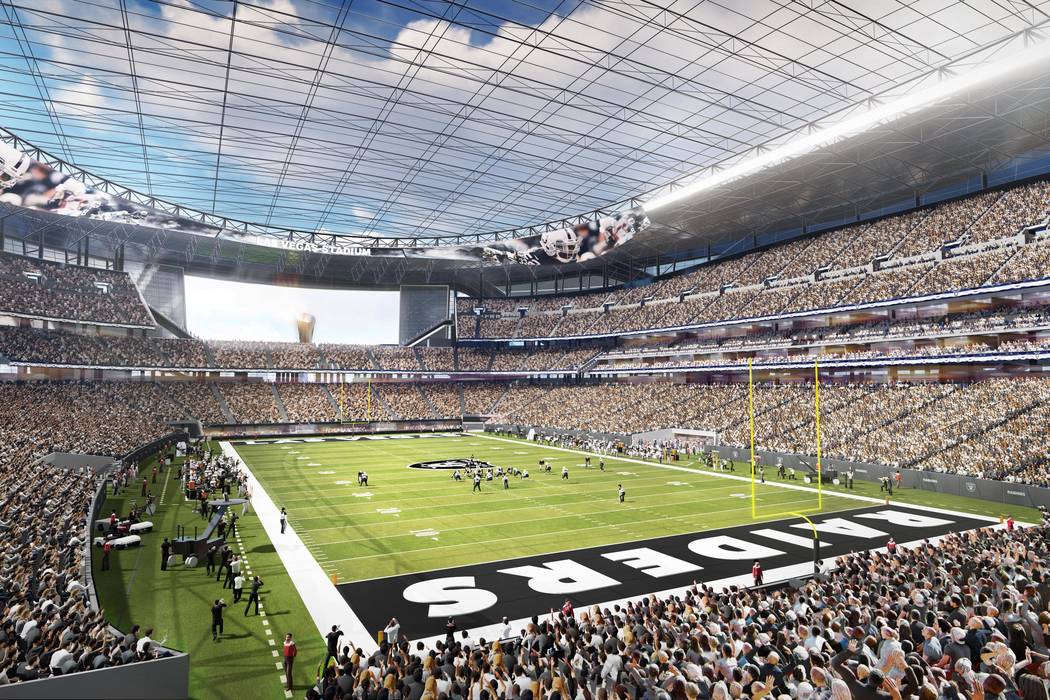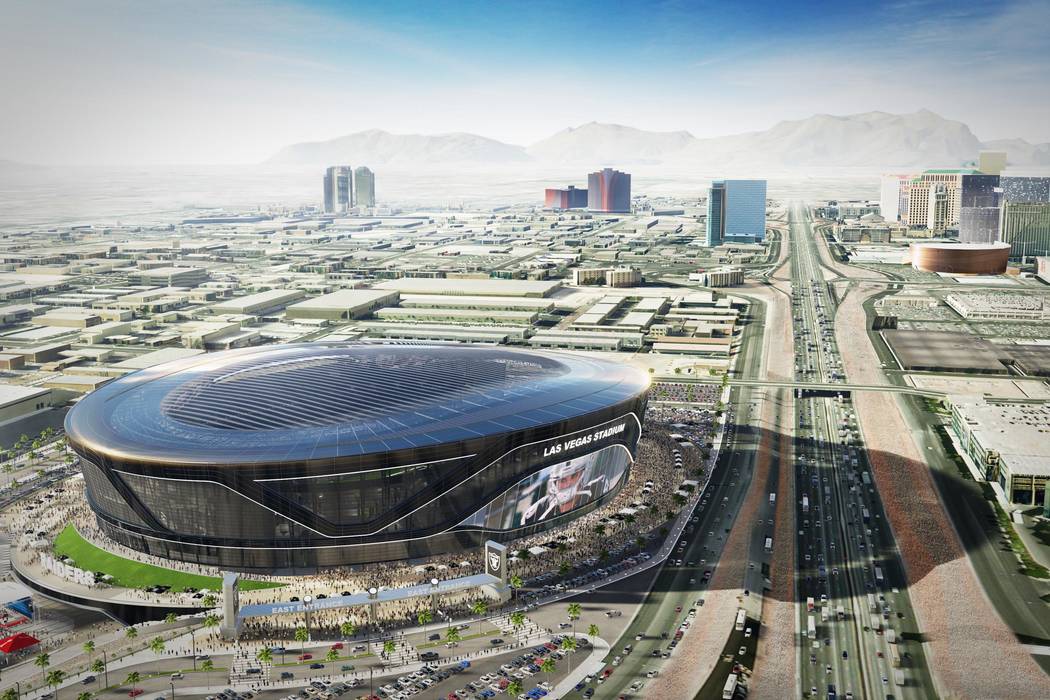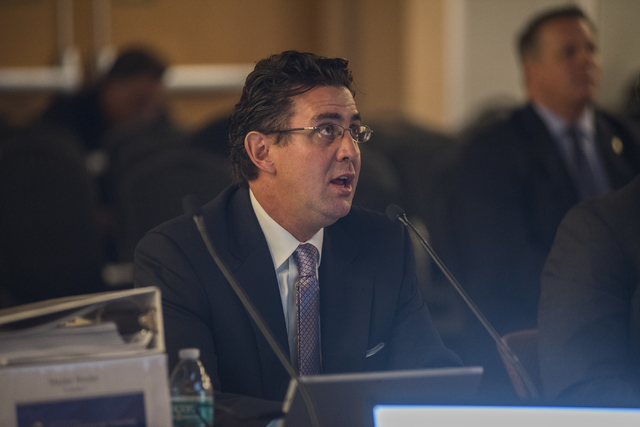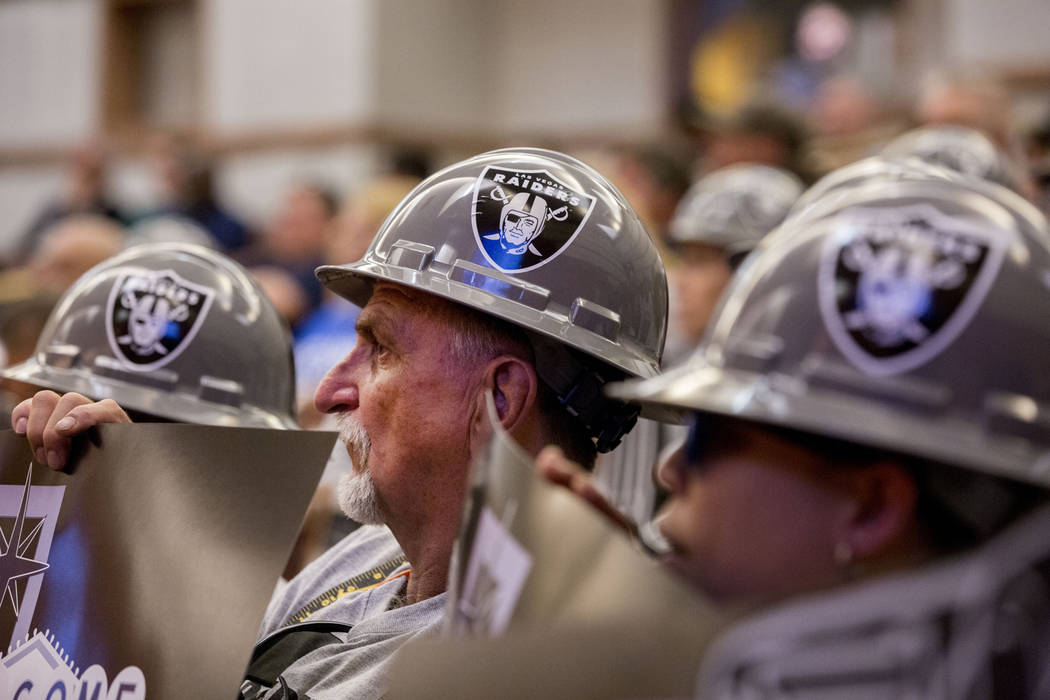 Few thought Las Vegas would ever attract an NFL franchise.
The NFL's public aversion to gambling — despite the game being the most popular sport in the country in part because of it — was a big hurdle to overcome.
But with Oakland unable or unwilling to fork over the public financing that has allowed many other cities across the country to keep their teams, Las Vegas and Nevada exploited that gap by a willingness to fund part a $1.9 billion stadium project.
The NFL owners' approval in March for the Raiders to relocate to Las Vegas paves the way for agreements to be reached between the team and the Las Vegas Stadium Authority on the domed facility.
No site has been selected yet by the Raiders and considered by the authority, but all indications point to a location on the west side of Interstate 15 near Russell Road across the freeway from Mandalay Bay. The Raiders have an option to purchase the site.
Construction is expected to begin by the end of 2017 or early 2018, and the stadium would be ready by the 2020 season, which begins with preseason games in August.
The Raiders have a lease agreement to play in Oakland in 2017 and 2018, but 2019 remains an unknown. Raiders officials don't want the team to play a season at Sam Boyd Stadium, and Levi's Stadium in Santa Clara, California, home of the San Francisco 49ers, remains a possible temporary home for 2019.
Senate Bill 1, signed into law in October by Gov. Brian Sandoval, increases the county's room rate tax by 0.88 percentage points and raises $750 million of the $1.9 billion projected cost of the 65,000-seat stadium. The Raiders will contribute $500 million, and Bank of America will provide $650 million in financing. Clark County plans to issue bonds backed by the hotel tax to fund the local portion.
"The first impact is going to be on the construction side and the (number) of people they hope to put to work," said Stephen Miller, an economics professor at the University of Nevada, Las Vegas. "That number is significant and (is) going to expand the construction sector in Las Vegas by a large amount."
The analysis from the Southern Nevada Tourism Infrastructure Committee estimates the creation of 18,711 construction jobs through build-out of the stadium, generating $968 million in wages.
The $1.9 billion breaks down to $1.32 billion for the stadium construction, $375 million in land and infrastructure costs, $100 million for a practice facility and $100 million in contingencies.
"The fact that we are spending $1.9 billion to construct a facility is going to put a lot of local construction workers back to work," said Jeremy Aguero, a principal at Applied Analysis, a research and consulting firm that worked with the Southern Nevada Tourism Infrastructure Committee at the behest of the governor's Economic Development Office.
Once construction begins, it will take 28 to 32 months to complete the project, according to Aguero. He explained that agreement on a lease and development between the stadium authority and the Raiders are required, and the project must get approval from Clark County as part of the special use and entitlement process.
"There's a lot of details to be worked out and getting agreements in place, but the biggest hurdle was getting the vote from the NFL," Aguero said.
"Everybody has the eye on when they can start construction," said Mark Arnold, a public finance partner at Andrews Kurth Kenyon in Houston who has handled stadium deals for all of the city's four major sports teams. He is co-counsel working with the Las Vegas office of Brownstein Hyatt Farber Schreck. "All of the legal documents and financing need to be in place (by October), and that's our goal. I have read by the end of this year for turning dirt, but we don't see any impediments to having it done by that time."
The operating stadium is projected to produce $620 million in economic output annually. That means an additional 450,000 visitors to Southern Nevada, resulting in more than 700,000 in additional room nights. More than 5,900 new jobs are expected to be created with an annual average wage of $38,500.
"The expectation is 2 million in paid attendance," Aguero said. "That's a lot of butts in seats and heads in beds."
The stadium will host 10 Raiders games a year as well as UNLV football games. It is expected to host other sporting events as well, including a college bowl and regular-season games for teams other than UNLV.
Miller estimated the stadium must host 40 to 45 events annually to be profitable. Las Vegas is expected to host a Super Bowl at some point and possibly college basketball's Final Four if the NCAA eliminates its restrictions on college championship games being played in Nevada.
"If the stadium is going to be successful, it's going to be more than just football," Miller said. "It's going to be other events coming to town, and that should expand the tourism numbers coming into Vegas. You may need more hotel rooms, and that may spur the development of those projects (along the Strip) that have slowed at the moment."
Aguero said building stadiums and relocating teams such as the Raiders can help transform a community from an economic standpoint.
Professional sports is becoming a larger portion of the Las Vegas economy, Aguero noted. Besides the Raiders coming in 2020, the Vegas Golden Knights NHL franchise begins play next fall at T-Mobile Arena.
"You also have college basketball teams (playing regular season games and tournaments and conference tournaments). You have the NBA Summer League, UFC and boxing matches. This is beyond having a sports team. Sports has become a sub-industry to the leisure and hospitality industry, which is an important element of economic diversification."
Aguero said economists can't look at Las Vegas and compare it to other cities when it comes to a public investment in a stadium. With 150,000 hotel rooms and more than 43 million visitors, Southern Nevada can get more out of a stadium investment than other communities could even dream of, he said.
"I think that's the element that sometimes gets missed by the national media or commentators," Aguero said. "They want to treat Las Vegas like every other market, but we're not Cleveland."
If the stadium catered only to people who were coming to Las Vegas for other reasons, then it wouldn't have a significant economic impact, Aguero said. The average visitor to Las Vegas spends about $650 to $750 per trip on hotels, gaming, eating, drinking and shopping, he said, the expectation is that half of the visitors who come to the stadium will be incremental trips.
"Las Vegas is a tourism center, and that adds an extra dimension to what the stadium might do in terms of economic activity," Miller said. "We have a huge flow of visitors, and they're looking for things to do. If it's successful, it will provide alternative events with a larger capacity."
Arnold said Senate Bill 1 gives the Raiders the right to all of the revenue generated at the stadium, which includes naming rights, parking and tickets.
It also requires the Raiders to operate the stadium. The one carve-out would be for the UNLV football program.