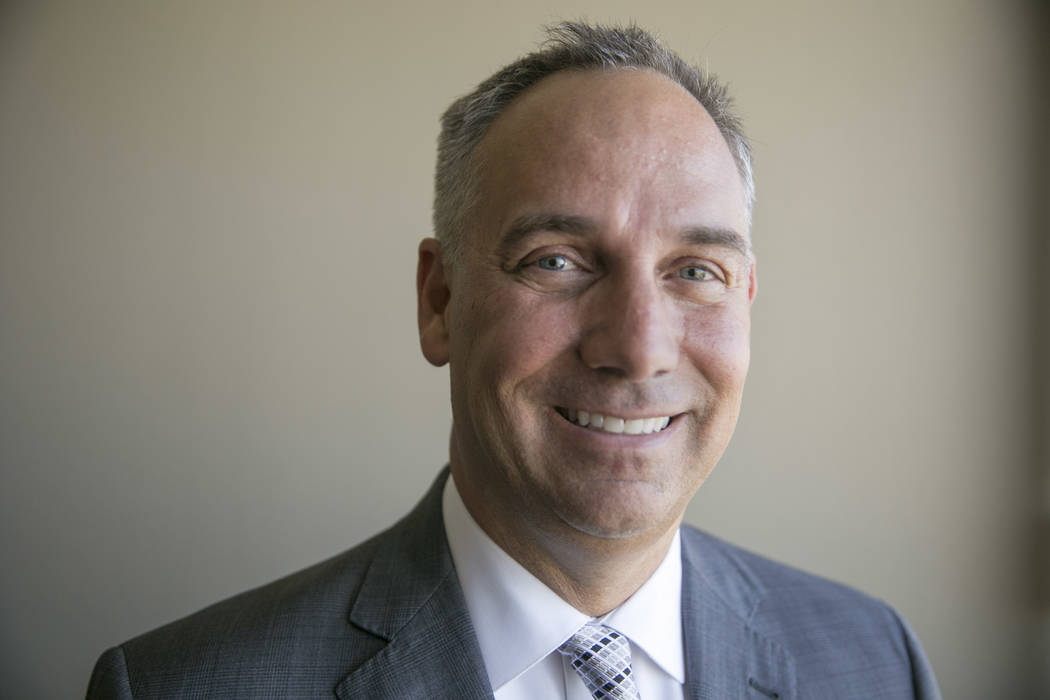 Nevada has made significant progress in improving its health care system over the last decade as evidenced by the new national study.
But many members of the state's health care industry expressed concerns that those gains could be in jeopardy if the Affordable Care Act known as Obamacare is dismantled over time.
That's the takeaway from the 10th annual Nevada Health Care Forum held Oct. 10 at Enclave Las Vegas. Some of those fears from industry members came to fruition later in the week when President Donald Trump issued an executive order many analysts said could destabilize Obamacare by ending cost-sharing subsidies that reimburse insurers lower co-payments and deductibles of lower-income enrollees.
Small businesses, meanwhile, are looking to benefit from a proposal to make it easier for them to buy insurance at lower rates through health associations across state lines.
Trump said his order would give people access to more affordable coverage, but opponents contend it would result in sicker enrollees paying higher premiums. The executive order has drawn criticism from the American Hospital Association and other groups, and will require regulations to go into effect.
"There's still a lot of uncertainty as we continue to go about our day-to-day business and take care of our community," said Mason Vanhouweling, CEO of University Medical Center in an interview Friday. "It's a bit of a concern for us that we continue to have these potential changes and basically the dismantling of the Affordable Care Act."
While speaking at the daylong forum earlier in the week, Vanhouweling predicted there would be attempts to dismantle the ACA on a piece-by-piece basis after Congress failed in its bids to repeal it.
"I think what you will continue to see throughout 2017 and into 2018 is an attempt to dismantle the Affordable Care Act and for hospitals it's disconcerting because we're not sure where we're going to end up and what patients are going to have," Vanhouweling said. "Are they going to have Swiss cheese types of insurance plans because they're going to repeal some of the essential health care benefits? We have seen a lot of benefits to patients who never had a primary care doctor. That's just a concern as an executive of what we're going to have to face in the coming months to bring security and stability to hospitals. Rollbacks and dismantling of the Affordable Care Act in a hasty manner is really going to hurt our state. We've been able to take care of our community in a much better way than we ever had. We're not at the bottom of the uninsured rate and other metrics, and we're moving the state in the right direction."
The latest ranking from U.S News & World Reports ranked Nevada at 37th for health care, which includes 40th in the nation for public access and 37th for quality of care.
That ranking was touted at the start of the forum by program moderator Todd Lefkowitz, a senior vice president of operations for P3 Health Partners. Ten years ago when the event started, the Commonwealth Fund and Kaiser Family Foundation rated Nevada Care between 49th and 51st, including the District of Columbia, and the goal is to move up another 10 to 12 spots in the next decade, he said.
"We've made a concerted effort to focus on areas where we were weakest such as pediatrics," Lefkowitz said. "We've improved even though we're still at the bottom in nurses and doctors per capita."
Lefkowitz said state moves two years ago to allow nurse practitioners to practice without a collaborating physician resulted in many coming to the state overnight. The state funding and hospital additions of hundreds of graduate medical education slots for residencies will increase the ranks of doctors, especially with the opening this summer of the UNLV School of Medicine, he said.
"All of these things will take time, but there's been a concerted effort as this community has grown over the past decade to focus on areas where we needed to make progress, and we've done that," Lefkowitz said.
The decision by Gov. Brian Sandoval to accept federal funding for Medicaid expansion that has increased the ranks by 300,000 enrollees for those who didn't have insurance has helped the latest magazine ranking with one of the highest percentage gains in people covered, Lefkowitz said.
"I think that clearly had an impact," Lefkowitz said. "Folks now more than ever are getting care, and the worse thing we can do at this point is take this care away that they we're getting it before."
Potential legislation in Congress in 2018 that would change how the federal government distributes billions in Medicaid funds and reduces them over time, elicited concern from many panelists at the forum.
Vanhouweling applauded Sandoval for expanding Medicaid and lowering the uninsured rate from 30 to 40 percent to 11 percent. Patients are getting care from a doctor's office and not depending on emergency rooms as their first line of treatment, he said.
If the federal government switches to block grants, Nevada would be penalized because it's growing at a faster rate than other states, Vanhouweling said. That would place a burden on state officials to make choices between medical care and other budget priorities such as education, infrastructure and public safety, he said.
"When we look at block grants as a hospital association, we see it as more of a penalty as it doesn't keep up with the pace of growth," Vanhouweling said. "The state will need to made decisions on who is eligible, rolling back coverages or cutting reimbursements to physicians and hospital providers. When you do the math, it doesn't work out in the state of Nevada's favor to do a block grant."
Republican Nevada Assemblyman James Oscarson, director of community relations at Desert View Hospital in Pahrump, said the health care industry has been "in complete flux" this year because no one knew what was going to be repealed.
"If they're going to change the law at the federal level, what do we do to fill the gap? Who's going to be left out? Are the mentally ill not going to have service or people in nursing homes not going to have as much reimbursement or is it going to affect moms with babies in ICU? Who do you cut and where is it going to go?"
Bill Welch, president and CEO of the Nevada Hospital Association, said the Medicaid expansion has been significant because those people added to the rolls were a "very sick population" who didn't go to doctors previously. He said there are aspects of the ACA that could be reformed but any repeal without a replacement to "something comparable would be devastating" to the health care system.
"Even though Medicaid pays nominally, it's some level to reimburse the cost," Welch said.
Catherine O'Mara, executive director of the Nevada State Medical Association and ex-officio member of the Clark County Medical Society, said there's members of the physician community who embrace it and those who are hurt by it. The ACA has contributed to high deductibles but has resulted in getting coverage for people who never had it before, she said.
"We know payers (insurers) are desperate for certainty as are hospitals," O'Mara said. "We need to do some reform but as Nevadans is hard to not care about cuts to federal funding."
Republican State Sen. Joe Hardy, a doctor and associate professor at Touro University medical school, however, expressed skepticism about a federal role in the nation's health care system.
"I have to go back to (President) Ronald Reagan saying about knocking on the door, and 'Hello, I'm from the government. I'm here to help.' " Hardy said one of the problems with the Medicaid system is that people have "no skin in the game" and that needs to change to prevent people from misusing the health care system and going to more expensive treatment at emergency rooms rather than to a doctor's office.
"Quite frankly as long as we have free, people are going to take advantage of free," Hardy said.
Other panelists said the problem is educating people, but also having enough physicians to treat patients rather than them waiting four weeks to get in and see a doctor for an illness or problem that needs immediate treatment. Oscarson said one solution is doctors setting aside 60 to 90 minutes for walk-ins.
Hardy and other panelists said there will continue to be discussion about Nevada moving to a single-payer system where people pay premiums and are covered through a government system rather than private insurance.
"As long as there continues to be pressure on premium increases, there will be a motivation for ways to help relieve that," Welch said of a discussion of a single-payer system. "Senate Bill 394 requires a study on the possibility of expanding Medicare for all, and we will have a debate on that."
The forum brings together most of Nevada's health care leaders covering a broad section of the industry, from physicians and nurses, to hospital executives, insurance executives, academia, politicians and consumers.
Issues discussed this year also included artificial intelligence, cybersecurity, telemedicine, Medicare's new reimbursement system, genomic treatments for diseases. Even the subject of grumpy doctors was broached.
It came up in the context of a study saying doctors being overworked by seeing a caseload of patients from 8 a.m. until 5 p.m. with no lunch break and afterward talking on the phone and calling in prescriptions, Lefkowitz said. Many doctors then do work at home and it's not unusual for them to wake up and do work on their computer at 2 a.m., he said.
More and more doctors aren't self-employed but work for a large system, Lefkowitz said.
"They are spending less than 50 percent of their time doing patient care and more than 50 percent doing administrative work, and they're tired of it and grumpy," Lefkowitz said.
The forum's host and affiliate organization include the Nevada Chapters of the American College of Healthcare Executives (ACHE), Healthcare Financial Management Association (HFMA), Healthcare Information and Management Systems Society (HIMSS) and Nevada Medical Group Management Association (NVMGMA), in conjunction with the Clark County Medical Society, Case Management Association of Las Vegas, Nevada Advanced Practice Nurses Association, Nevada Executive Women in Healthcare, Nevada Health Information Management Association, Nevada Nurses Association, Nevada State Board of Nursing, Nevada Organization of Nurse Leader and Washoe County Medical Society.