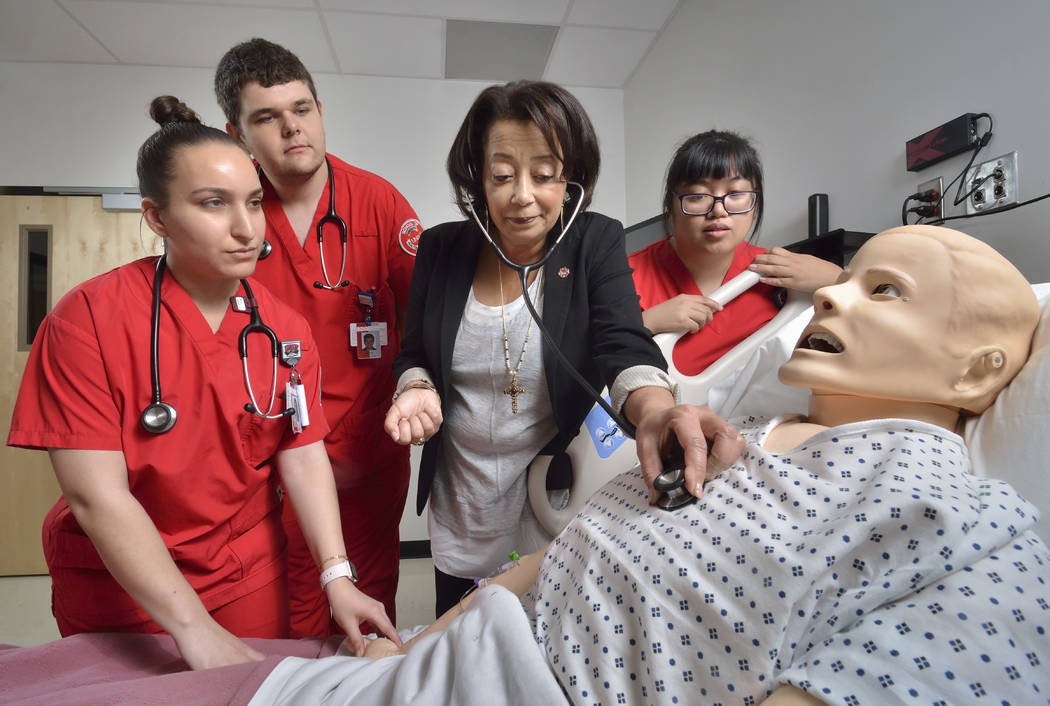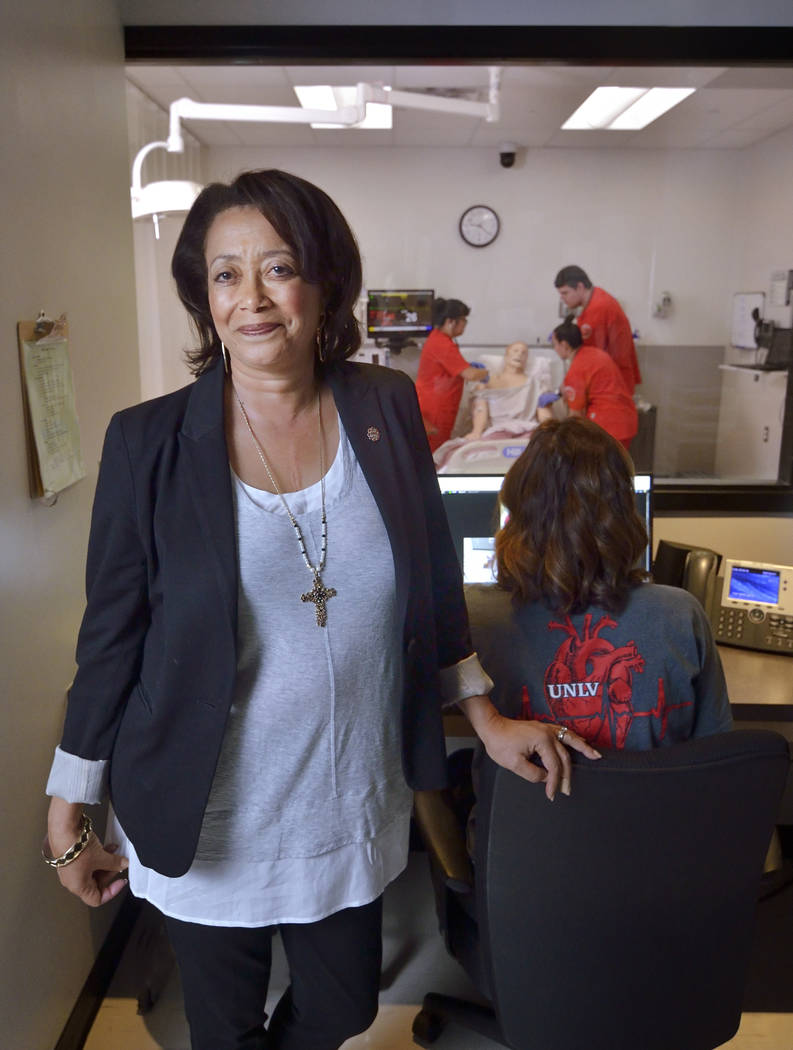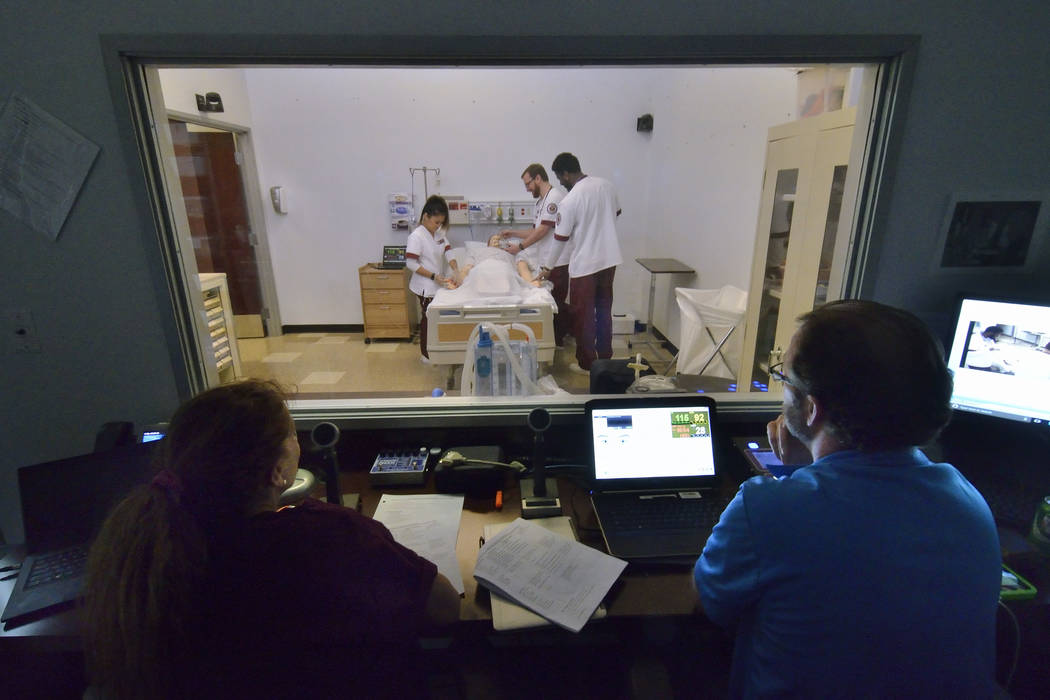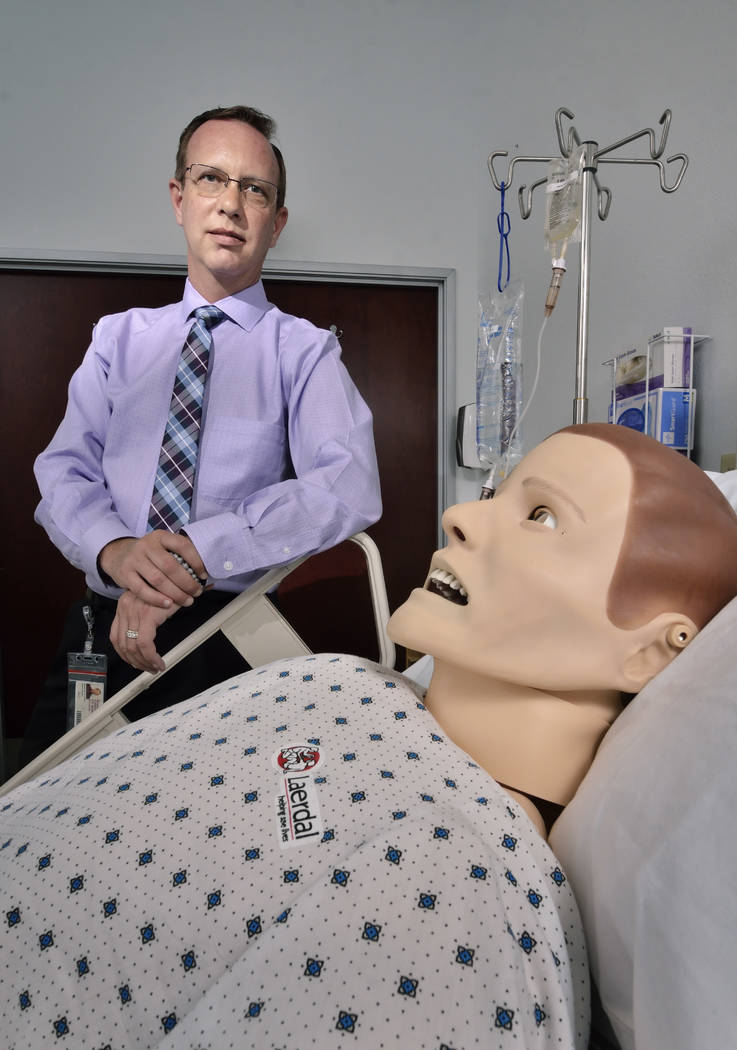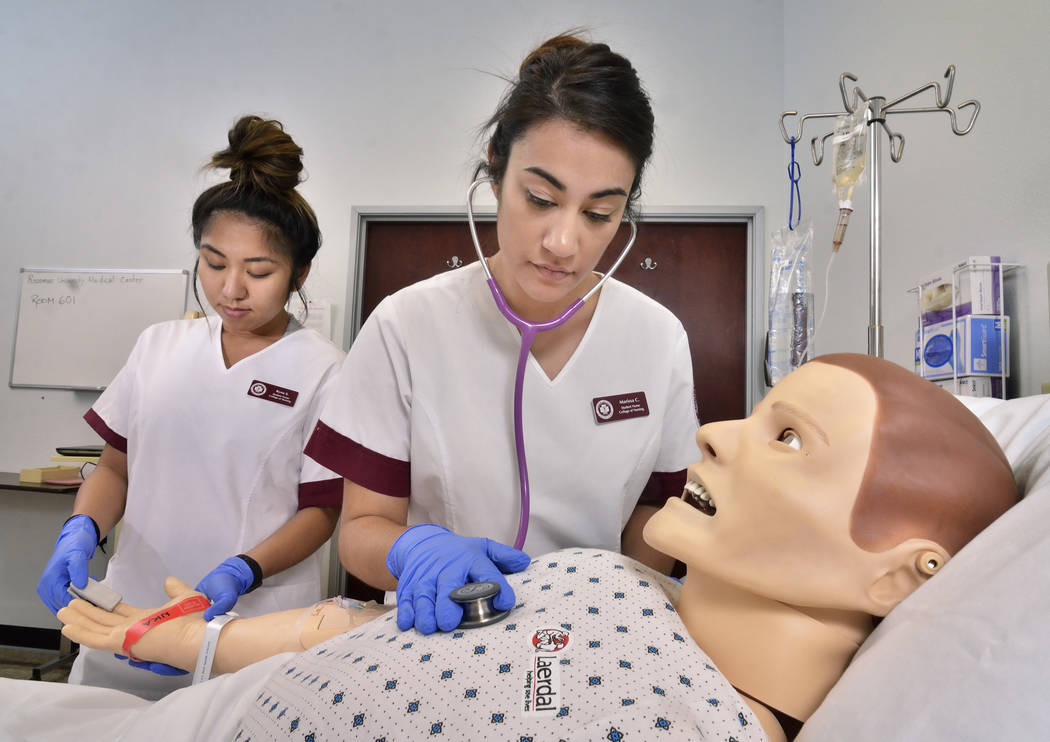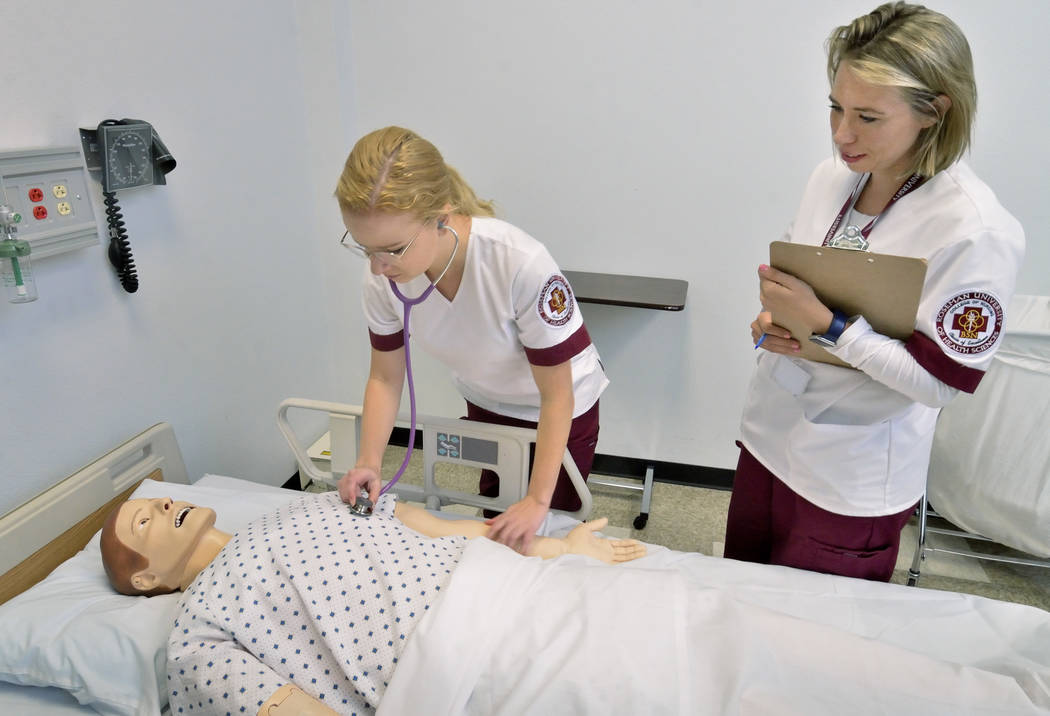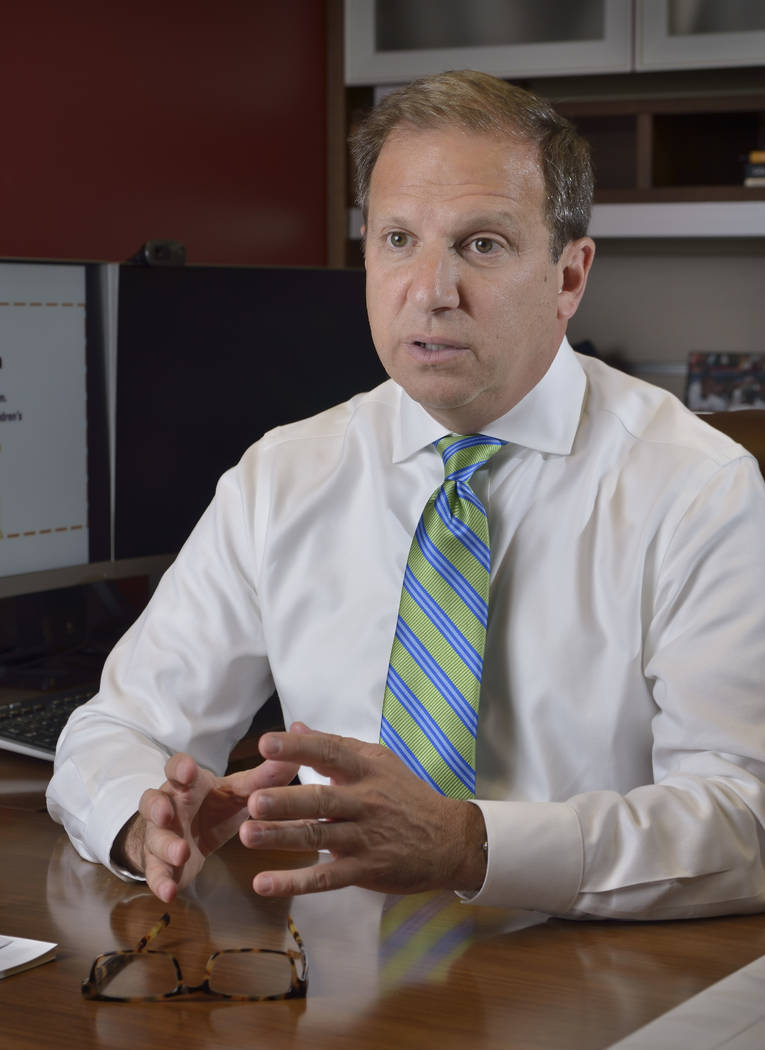 Nursing is one of the fastest-growing occupations in the country. But challenges facing the health care industry could affect the ability to adequately staff the profession in a profound way.
These challenges include an aging baby boomer generation that faces a higher incidence of chronic disease, an aging nursing workforce, the limited capacity of nursing schools, lack of nursing educators and an unprecedented shortage of primary care physicians.
"They are constantly trying to hire new people," said Mary Toftey, who is a medical ICU nurse at Sunrise Hospital, and has spent the last 26 years providing care for patients. "Our unit is happier when we are staffed well."
Sunrise Hospital hired 250 nurses in 2017, and currently has 120 openings. The hospital is adding 72 inpatient beds in a 250,000-square-foot addition, which will increase the need for additional staffing.
Making up the largest segment of the health care workforce, currently there are over 3 million registered nurses practicing in the U.S., according to a 2017 Henry J. Kaiser Family Foundation report. The Bureau of Labor Statistics expects the employment of registered nurses to grow by 15 percent between 2016 and 2026. During this time period, the Bureau forecasts a 7 percent growth of other occupations.
Nevada's nurse workforce also also shown tremendous growth over the last eight years. Tabor Griswold is a health research analyst at University of Nevada, Reno School of Medicine, Office of Statewide Initiatives. He said Nevada's nurse workforce increased at a higher rate than the national average, pulling the state up from the 51st ranked position in 2010 to 39th in the country.
This means there are 762.3 RN's per 100,000 population, equivalent to 23,364 RN's. Griswold noted the nurse workforce is almost at pace with the year's 13.3 percent population increase. Griswold stated that to meet the national average of nurses per population Clark County needs to add an additional 3,960 nurses.
"As for a 10-year estimate, looking at the state ranking belies the idea that Nevada is "treading water" as we had jumped 15 spots," Griswold said. "It is a lesson that states rankings move in tandem based on both RN and population growth."
One reason for Nevada's significant growth in the rankings is it pays top dollar for registered nurses with a mean wage of $84,900. In Clark County, the 15,620 employed registered nurses earn a mean wage of $87,200.
Though this is good news, many experts express concern that neither the current workforce nor the projected growth levels equal the level of staffing required to provide adequate care. In fact, the number of practicing nurses may be at deficit to the need unless widespread changes occur.
BOOMERS
A key factor for the nursing deficit is the aging of a large segment of the population with the baby boomer generation.
Dr. Peter Buerhaus, Ph.D., RN, FAAN is a professor of nursing and director at the Center for Interdisciplinary Health Workforce Studies at the Montana State University College of Nursing. He said the approximately 76 million boomers are turning 65 at the rate of 10,000 a day.
"That will go on for over a decade," Buerhaus said of the retiring boomer generation. "What I don't know is for every 10,000 coming in, how sick they are. We know on average people over the age of 65 consume more health care because of multiple chronic health conditions."
As boomers enter the retirement sector, a rising incidence of chronic disease among them is imminent. The National Council on Aging says approximately 80 percent of adults 65 and older have one chronic disease, while 68 percent have at least two. The Council also reports that chronic diseases account for an estimated 75 percent of the approximately $3.2 trillion the nation spends on health care.
"The demand for nurses will grow and the (level of) care required of nurses will also accelerate," said Buerhaus, who has performed extensive research on the economics of the nursing workforce for the last 25 years, publishing over 100 articles on his findings. "This is at the very time the baby boomer generation of nurses is retiring."
The boomer-aged nursing workforce is also aging out of the system at a significant rate.
In a 2017 blog penned by Buerhaus, David Auerback and Douglas Staiger, "How Should We Prepare For The Wave Of Retiring Baby Boomer Nurses?," the number of boomer RN's peaked in 2008 at 1.26 million. Since 2012, roughly 60,000 RN's exited the workforce each year. By 2020, over 70,000 RN's will be retiring annually. In 2020, the number of practicing boomer-aged RN's is expected to be at half the 2008 peak.
In 2000, Buerhaus issued an alarming prediction in the Journal of American Medical Association that the country would be short over 1 million nurses by the year 2030 because of boomer nurses retiring.
"At the time we made these projections there was no indication of people coming into nursing in numbers that could replace the baby boomers," Buerhaus said. "Let alone add to the number of nurses."
His study sparked federal legislation. Several states started commissions investigating how their own states would fare in the coming years while Johnson and Johnson developed a campaign to invest in nursing.
Buerhaus stated that these combined efforts played a significant role in an unprecedented influx of people entering nursing as a career. In fact, he sees millenials entering the workforce at nearly double the rate of the boomer generation. Based on this, Buerhaus believes the nursing shortage is now a problem of distribution predicting the workforce shortfalls will be stronger in New England and the Pacific regions. He estimates the East South Central and West South Central regions will grow significantly over the next 12 years. Nevada has and will continue to face deficits in health care workforce.
But this influx does not seem to be enough. According to an American Journal of Medical Quality article titled "United States Registered Nurse Workforce Report Card and Shortage Forecast: A Revisit" anticipates a national shortage of 154,018 registered nurses by 2020, and 510,394 by 2030.
"With the average age of registered nurses now surpassing 50, a large wave of retirements is expected within the next 10 to 15 years," said Dr. Ann Cary, chair of the board of directors for the American Association of Colleges of Nursing. "Academic nursing leaders are acutely aware of this fact and are taking steps to maintain enrollment capacity to ensure that the nation's need for professional nursing services is met into the foreseeable future."
These retiring nurses take with them extensive knowledge and experience acquired throughout their careers, leaving a younger workforce to fill in the gap.
"The generation of nurses coming into the work force is the millennials and they will have far less experience compared to the retiring workforce." Buerhaus said. "I'm not saying the quality of care will suffer, but I think organizations need to understand nurses aren't substitutable one for one."
Krystle Zulueta graduated from UNLV in 2017. She is currently working in the Pediatric Unit of Sunrise Hospital where she relies on her seasoned teammates in her unit.
"I appreciate all the experienced nurses," Zulueta said. "I tell any new grad coming in don't be afraid to ask for help."
"There has to be a balance of experienced nurses and new graduates," Toftey said. "I don't think it's fair to the new grads when there isn't enough experience people to help."
EDUCATION CHALLENGES
The limited capacity of nursing schools caused by retiring faculty and lack of clinical placements — residencies — also poses a significant challenge.
"The greatest myth about the nursing shortage is that it is the result of a failure to recruit new individuals into the profession," Cary said. "Not true! American Association of Colleges of Nursing data clearly shows that more than 60,000 qualified applicants are turned away from baccalaureate and graduate nursing programs each year because schools have reached enrollment capacity."
According to Angela Amar, UNLV Dean of School of Nursing, aging faculty and the lack of programs to replace the retiring educators limit the nation's nursing programs ability to train the next generation of nurses.
"The biggest factor that people don't realize that affects the nursing shortage is the lack of nursing faculty," Amar said. "And that is the one that is going to hit us hugely. So I foresee the faculty shortage is going to get worse, which in turn will make the nursing shortage worse."
Cary referred to an article published in Nursing Outlook on "Retirements and Succession of Nursing Faculty in 2016-2025" by Dr. Di Fang. The article anticipates that one-third of the current nursing faculty workforce in baccalaureate and graduate programs will retire by 2025.
"This finding underscores the urgency for the nursing education community to address the impending exodus of senior faculty," Cary said, "And to develop younger faculty for succession."
Another survey on vacant faculty positions released October 2016 by AACN, surveyed 821 nursing schools across the country and identified 1,567 faculty vacancies.
"At AACN, we are most troubled by the shortage of nurses prepared at the baccalaureate and graduate levels," Cary said. "Right now, only 55 percent of the registered nurse population is prepared at the baccalaureate or higher-degree level."
This lack of higher-education training affects Nevada as the state requires nursing educators to have a master's degree.
A lack of clinical residency programs also presents challenges to increasing enrollment in all nursing programs. Specialty units like pediatrics, maternity, labor and delivery and psychiatrics offer less space for student demand.
"The bottleneck for the nursing program across the nation is really the clinical piece," said Delos Jones, director of Clinical Resources for the College of Nursing at Roseman University. She said students are required to work 700 hours in a clinical setting. "They have to practice in a real environment and it's getting more and more difficult to find that clinical space."
A 2011 National Council of State Boards of Nursing study stated students could incorporate as much as 50 percent of clinical training in pre-licensure nursing programs without affecting outcomes.
"It is very effective," Amar said about simulated training to account for part of the residency requirements. "Students love this idea. In simulation they can make mistakes where as in hospitals we have to stop them"
Nevada allows nursing students to incorporate simulation learning for up to 25 percent of the clinical training hours.
According to Jones, structured simulation provides students with realistic experiences they may not get exposure to during hospital clinical time.
"We can give them experiences they may never see in their clinical time," Jones said. "We can cherry-pick some of the high-impact experiences and make sure they get to experience them in the simulation lab."
SOLUTIONS
Amar said there are health resources and services administration programs that offer loan repayment programs for students to enter into nursing education. She also has seen other incentives like tax credits to hospital preceptors' work effectively in other states.
According to Cary, the AACN is addressing the shortage in several ways. These initiatives include advocating for federal legislation and increased funding for nursing education, developing a post-baccalaureate nurse residency program to aid in nurse retention and encouraging innovation in nursing programs, such as the development of fast-track programs for second-degree Bachelor of Science in Nursing and Master of Science in Nursing programs.
AACN is also working with Johnson & Johnson and the Nurses for a Healthier Tomorrow Coalition on national image campaigns to keep an interest in nursing careers high.
"All stakeholders, including federal and state governments, the business community, foundations and advocacy groups must take a larger role in addressing this crisis," Cary said. "Nursing schools must increase enrollment that prepare nursing faculty. Business and practice partners are needed to fund scholarships, support outreach programs to middle and high school students, provide space for student training, raise money for faculty recruitment and encourage ongoing nursing education.
"Having too few nurses available to provide care can impact access to essential services and the quality of care provided," Cary said. "On units without sufficient numbers of nurses providing care, the nursing staff can be stretched too thin and patients care suffers. A robust supply of registered nurses throughout the health care delivery system is essential to maintaining the health of the nation."