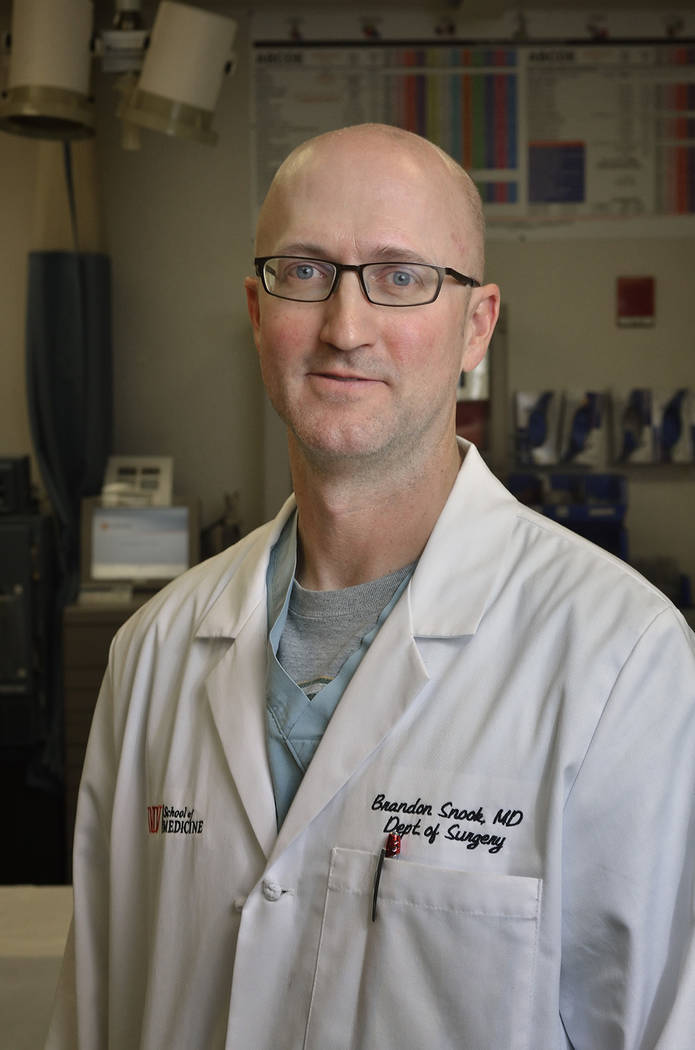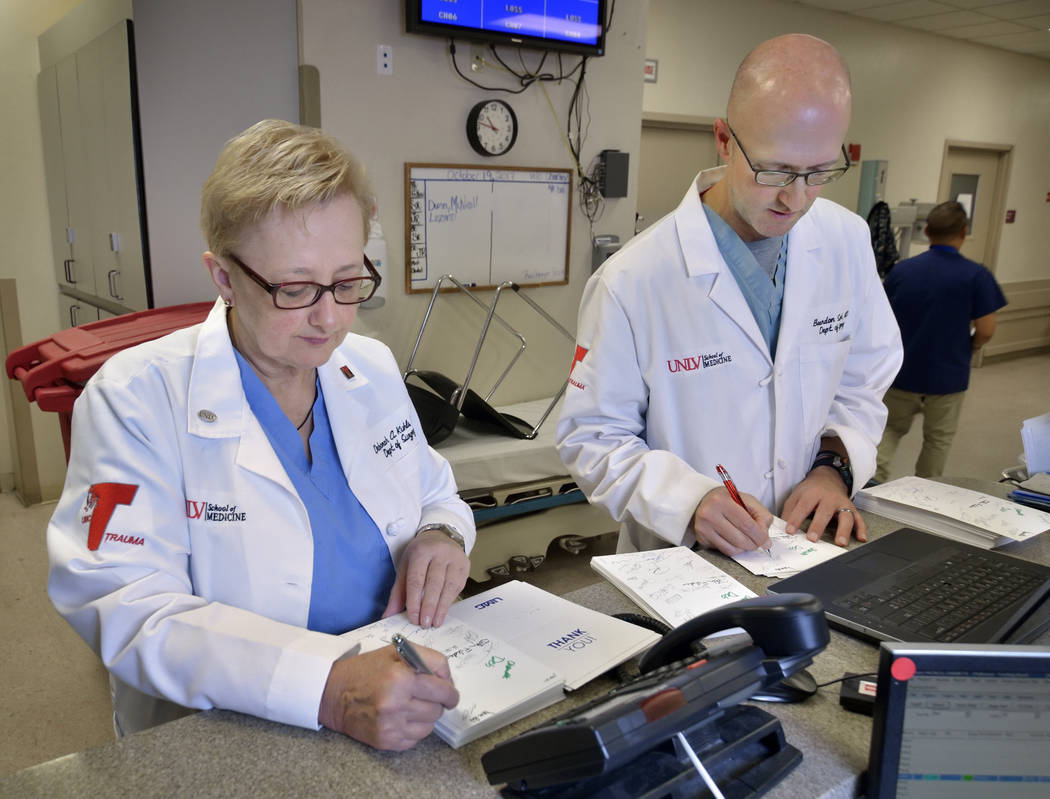 Col. Brandon Snook, a trauma surgeon at Nellis Air Force Base, has served in Iraq and Afghanistan.
He's even transported patients from those locales back to Europe for continued treatment.
But even Snook, who has lived here for 13 years, said that what happened on Oct. 1 in Las Vegas with the mass shooting that left 58 dead and more than 500 injured was difference from what he has experienced overseas.
When he's not at Nellis, Snook, 47, works as a trauma surgeon at University Medical Center. It's part of a program he directs known as SMART — Sustained Medical and Readiness Trained — that brings in surgeons, nurses and technicians not only from Nellis but from other bases from across the country and the world to do two-week rotations.
Snook said he started his week of working the trauma ICU at UMC doing rounds of patients and got home just after 9 p.m. that Sunday. It didn't take long before he got a call that there were multiple patients with gunshot wounds and extra hands were needed.
"The number of patients that were coming through at UMC was honestly the most I have seen at one time, even in a deployment environment," Snook said. "That speaks to only our level of preparedness UMC has an institution to deal with these numbers."
UMC had about dozen Nellis staff participate in the first 24 hours of the ordeal, which included six surgeons, nurses and technicians.
Snook said he was helping with triage of patients and did procedures in the trauma area. He had a patient with a gunshot wound to the abdomen and took them to the operating room sometime after 5 a.m. When he finished, he got a couple of hours of sleep before he had to return to UMC and see patients in ICU.
"It was such a horrific incident but at the same time we were happy to come alongside the folks at UMC and pitch in and help out," Snook said. "The unfortunate thing is those are the injuries that they see every day, but you just don't see those numbers all at once."
SMART started as a local program with Nellis and UMC six to seven years ago and has evolved in 2015 into a partnership where Air Force surgeons have come from across the country to work side-by-side with staff from Nellis and UMC.
It works well because UMC is a Level One trauma center that cares for the most critical patients, Snook said. That provides a setting for important training for doctors and staff because when they're deployed in places like Iraq and Afghanistan they're dealing with traumatic injuries on the battlefield such as gunshot wounds to the head, abdomen, thorax and extremities. Only about half of Nellis staff have been deployed in such settings, he said.
"The typical practice at an Air Force hospital is more along the lines of a community hospital," Snook said. "We don't have a lot of ongoing trauma experience. This partnership allows us to deal with trauma injuries and patients that with gunshot wounds, knife wounds and blunt trauma from crashes that we wouldn't see at our hospital. It's very beneficial because our Air Force providers, nurses and physicians can go to work at Nellis one day and easily go to UMC the next day."
In addition to the SMART program, Nellis has had an ongoing relationship with UMC and now with the UNLV School of Medicine that launched in 2017. It is an emergency medicine and surgery residency program.
The Air Force has similar relationships like Nellis has at UMC in places like Baltimore, St. Louis and Cincinnati, Snook said. The Army has a similar program in Miami, he said.
"There's kind of a national push to integrate the military and civilian (sectors) to foster these partnerships like we have here," Snook said. "We're so appreciative from the Air Force standpoint with the partnership we have been able to develop and hope to continue to grow with UMC and the UNLV School of Medicine. They are great partners, and this is helpful for Nellis and the hospital here. This is what keeps us ready to treat soldiers and sailors and all the folks deployed that get injured on the battlefield."
What happened Oct. 1 with the massing shooting has served as a learning experience for the entire medical community in Southern Nevada, Snook said. He said: "We were reasonably well-prepared," but these incidents are hard to predict and everyone hopes it never happens again.
"Even as a city just being able to coordinate and work together was very helpful," Snook said. "I think continuing to exercise and drill scenarios like that is helpful. It's one of those things you can practice for but at the same time if there is another event, the next one may be different from this."
Snook said the medical community can always look back and see what could have been done better, but said it's important to note that the bulk of the patients that got to the hospitals survived.
"It was a pretty horrible night, and a lot of people survived and they did because of the hospitals and coordinated efforts and moving patients to the hospital," Snook said. "We should be proud as a city with what we were able to do and respond as well as we did."