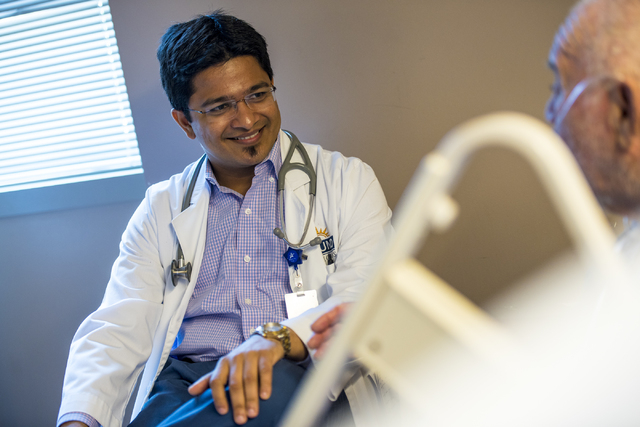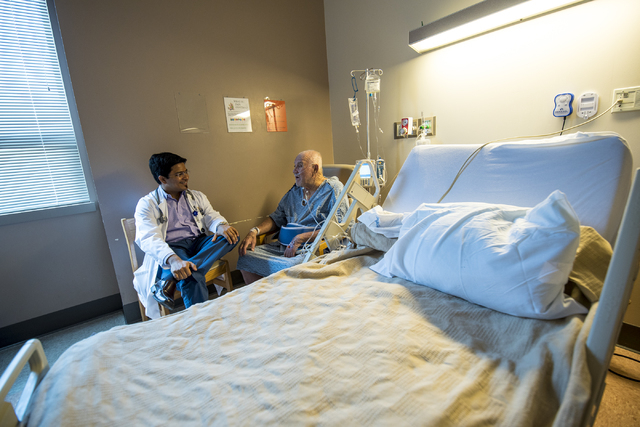 It's a profession few people outside the medical community know exists, but it's a role patients are becoming more familiar with every day. It's the hospitalist.
The days of a family doctor doing his daily rounds at the hospital and overseeing a patient's care after he's finished at his clinic have been taken over in large part by doctors whose only role is to oversee care in the hospital. They're internal medicine doctors primarily, but also family practitioners and some pediatricians who are entering this blossoming field. A hospitalist is a specialized physician who operates exclusively or primarily in an acute hospital setting, and his primary job is to take care of admitted patients. That runs the gamut from emergency room patients who need to be placed in the hospital for treatment or assisting local physicians who want their patients in the hospital for work-ups or therapy.
"The hospitalists have arrived," said Mason VanHouweling, CEO of University Medical Center. "That's a model I see continuing on, and it's been embraced by health care in Las Vegas. It's improved health care because you have a doctor in the hospital 24/7 who can attend to a patient's needs. The days of a doctor working Monday through Friday to 3:30 or 4:30 and then making rounds late in the afternoon are over."
The Society of Hospital Medicine, which was an informal organization 10 years ago, holds an annual conference that attracts 30,000 people, said Shivesh Kumar, chief hospitalist at Spring Valley Hospital Medical Center. Kumar says the profession may number 50,000 and is rapidly becoming the fastest growing specialty of physicians. The hospitalist movement started when it was coined in the New England Journal of Medicine in 1996, and doctors started self-identifying as those who work in hospitals caring for patients for other physicians, Kumar said.
"It took a life of its own, and different hospitalist groups started coalescing and were able to independently support themselves as a practice in a hospital or multiple hospitals," Kumar said. "It has been growing at a rapid clip since then, especially the past five or six years. This is a major paradigm shift in medicine. It's not just the clinical medicine but business of medicine that I think is here to stay."
Medicare and many insurance companies are requesting and in some cases demanding dedicated hospital staff members to serve patients, Kumar said. Hospitalists take phone calls from local doctors who are unable to come to the hospital, and hospitalists provide care for their patients and admit them from the clinic to the medical ward, he said.
"We see them in all settings," Kumar said. "Hospitalists are like any general physician that you see in any workplace. We are able to see people in the ER, floors, medical wards, the ICU and cardiac care unit. We even go down to the post-op unit to admit people after surgery. Sometimes we are going to the operating room, and on difficult cases when we need to admit a person, we are there to assist."
Family practitioners still come to the hospital, but the reason to have a separate doctor in the hospital is for immediate treatment and care, Kumar said. Many outpatient physicians think they can be more efficient and better serve patients by being available in their clinic so they can see more patients, Kumar said.
"A lot of times patients have outpatient physicians, but for a variety of complex reasons, sometimes outpatient physicians or providers are unable to see their patients in the hospital," Kumar said. "We provide a safety net for folks, especially in Vegas, which is a unique market … There are a lot of tourists and visitors, and some unfortunately do get ill or indulge or have chronic medical conditions and they need to be seen by somebody."
Kumar called a hospitalist one cog in the machine but "a fairly important cog because we run the show." When someone is admitted for multiple medical issues that may require up to six specialists, hospitalists are the ones who coordinate that care.
Hospitalists find the right specialists, and when the patient leaves the hospital, hospitalists ensure that they receive the correct medications and care. The importance of a hospitalist is the ability to recognize immediately if there's a problem with abnormal labs and examinations that ring alarm bells and require action, Kumar said.
"We adjust medications and write prescriptions, and if we feel the patient needs a close follow-up, we make an appointment for them," Kumar said. "A lot of times we will spend an extensive amount of time at a bedside. A lot of physicians don't have the time to be able to counsel patients. There's a lot of personal touch that goes into sitting down with a patient and getting them through whatever they're going through.
"Almost always, being in a hospital is extremely stressful both emotionally and financially for a patient, and we try to help them through that."
Lonnie Empey, a hospitalist and practice group leader at Desert Springs Hospital Medical Center, said hospitalists are great at coordinating care between whatever specialists the patient is seeing, from a cardiologist to a pulmonologist.
"A cardiologist can manage blood pressure and heart disease, but they can't manage stomach medicines and anti-depressants and things like that," Empey said. "We coordinate the care for everybody within the facility. Technically, when the rubber meets the road, it's the hospitalist that makes the decision to send somebody somewhere to put them in the hospital or move them to another floor or discharge them from the hospital."
A hospitalist decreases the length of stay because so many procedures can get done. A five-day stay or longer can be shortened to two or three days because of the intensity of medicine, Empey said.
Hospitalists are not a separate certified specialty yet, but the profession is moving there, Kumar said. Most are internal medicine doctors who train in a three-year residency program of 80-hour to 100-hour weeks, and many times after that they go to a fellowship of three to five years of additional training, he said.
"As I tell my patients, I am a head-to-toe doctor," Kumar said. "They see so many patients that they need to know what you do. I tell people that we take care of everything that the patient may have needs of. That goes from your brain to your toes."
In Nevada, no hospital system employs physicians directly. Kumar works for Sound Physicians, a national hospitalist company that manages hundreds of programs across the country.
Another is IPC Healthcare Inc., which operates a physician group in 28 states and in hospitals and skilled nursing and rehab centers. It contracts with hospitals and insurance companies and operates at Desert Springs Hospital Medical Center, Sunrise Hospital and Medical Center, MountainView Hospital and Southern Hills Hospital, said Mike McCarthy, IPC's director of operations in Las Vegas.
"Even though it's not well known by the public, it's a proven concept that's been around 20 years and grown to be quite strong in the past 10 years," McCarthy said. "People may not have realized it, but in a large part, most of the patients who are taken care of and have in the last half-dozen years have been taken care of by hospitalists. It's an ongoing trend that's not going away. It will get bigger."
Most hospitalists work 10- to 12-hour shifts and aren't on call when they leave the hospital because there are other staff members to cover patients, Empey said. That makes the profession attractive, and he said more internal medicine doctors will leave their practice and become hospitalists.
"Internists are choosing this career so when they leave the facility they're not worried about all the patients they saw during the day who may call tonight," Empey said. "It's a much better lifestyle, and it's going to grow like crazy."
Robert Pretzlaff, chief medical officer with Dignity Health-St. Rose Dominican, called the role of the hospitalist an evolving one. The case of a doctor admitting a patient and caring for him there was sufficient 25 years ago, but many people admitted to a hospital today are far sicker than in the past.
It's nearly impossible for a physician in an office to maintain a practice in his office and also take care of patients in the hospital, Pretzlaff said. And for that reason the hospitalist was born. It's not a trend that will reverse, he said, but the role will grow with the way health care is evolving.
"When my uncle was a doctor he worked all day in the office and might stop in (at the hospital for) 30 minutes at lunch, but most of the time he was late for dinner because he was dropping by and seeing patients on the way home from the office," Pretzlaff said. "The demands are so great, and there are some who are old-school who do a fantastic job, but they were working hard to do that great job."