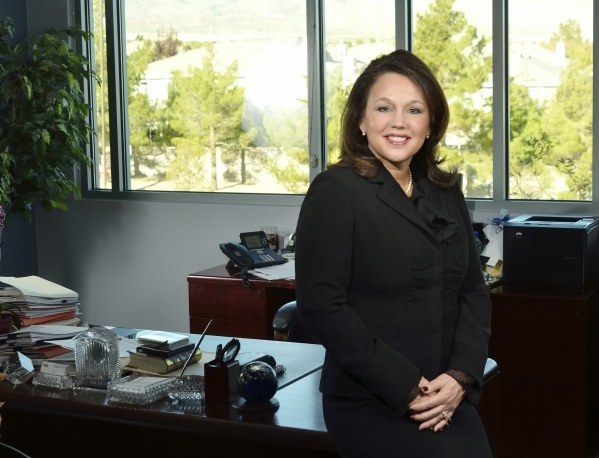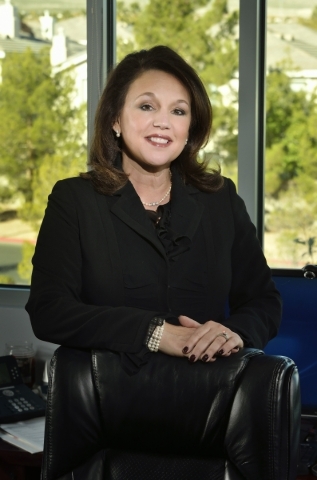 The hospital industry is booming in Southern Nevada.
There will be approximately an 11 percent expansion of hospital beds within the Las Vegas market by the end of 2016, estimates Karla Perez, regional vice president of the Valley Health System.
"You're not seeing that (kind of expansion) anywhere in the nation," said Perez.
And she ought to know.
Since 2009, Perez has overseen Centennial Hills, Desert Springs, Spring Valley, Summerlin and Valley hospitals, which are all part of Universal Health Services (UHS). She also holds the corporate position of vice president of the Acute Care Western Division of UHS, which includes the Northern Nevada Medical Center in Sparks and Palmdale Regional Medical Center in Palmdale, Calif.
Perez attributes hospital expansion to the overall improvement in the local economy and the perceived increase in accessibility brought about by the Affordable Care Act.
"I say perceived because we still had a lot of people that used our emergency rooms and we treated them whether they had insurance or not."
The Business Press recently asked Perez to look into her crystal ball to predict the future of healthcare in Southern Nevada.
"I really think there's going to be a greater focus on integrated healthcare delivery systems instead of this fragmented style of delivery that we have today," said Perez.
She explained that in the future, networks will include physicians, hospitals, skilled nursing facilities, rehab centers, home health agencies and ambulatory surgery centers all sharing information.
Valley Health System has already partnered with Evolution Health to expand its network of integrated healthcare. According to the Evolution Health website, the company has hospital-based physicians and community-based paramedics and emergency medical technicians (EMTs) who care for patients with chronic conditions. Evolution Health helps manage many of these patients in their own homes, thereby reducing gaps in care.
"When we identify patients who are high-risk for either compliance after going home (from the hospital) or high risk for potential readmission, Evolution then comes into the hospital and meets with the patient before they are discharged and we talk about the discharge plan," explained Perez. "Someone from Evolution does a home visit within 24-48 hours after the patient gets home."
"We typically do it for about 30 days post-discharge but what we've found is that people want to continue well beyond that because we find out that they don't have advocates and they don't know what to do," said Perez. "For many of our patients, their first response is just call 911."
Innovation 'in Henderson, of course'
For an example of how healthcare may look in the future, Perez points to the new 170-acre Union Village at US 95 and Galleria Drive in Henderson. Billed as one of the first and largest integrated health complexes in the country, the project is expected to generate 17,000 new jobs and pump billions of tax revenue dollars into local and state economies.
Construction on the $1.2 billion project began with Valley Health System's newest hospital, the 245,000-square-foot Henderson Hospital which is slated to open in 2016. The 142-bed hospital will anchor Union Village.
The complex will include medical offices, a 165-bed sub-acute care facility, an exercise center, and ultimately therapy and pharmacy services. Senior residential units ranging from independent to assisted living to memory- care and a variety of retail spaces are also in the planning stages.
"I think the uniqueness (of Union Village) is that it's kind of a one-stop shop for health care services," said Perez. "I honestly don't know how seniors maneuver the system today – it is so fragmented and difficult," she said.
All health care entities within Union Village will work together and share information within a secure network.
Experts agree that as technology and widespread use of health information move forward, appropriate safeguards must address privacy and security concerns.
Perez points out that finding the right technology to safeguard privacy has been harder to find in the healthcare field.
"Other industries have been using smart technology communication for a long time but there's always been this concern about HIPPA – patient identifying information – how do I know that text really came from so and so," said Perez. "We really have to make sure that the system is secure."
In search of quiet
Another change involves paging for doctors and nurses and ending the constant ding – ding – ding from patients' rooms.
The new paging system at the Henderson Hospital will be delivered with smart technology using Voalte, a company that calls itself a comprehensive communication platform that lets care teams inside and outside the hospital access and exchange information securely.
"What happens sometimes today is there may be a consultant at the hospital who wants to speak to the primary care physician – first we'll page the primary care physician," Perez described a typical scenario. "The primary care physician calls back and someone else answers the phone and she'll say 'did anyone page Dr. So and So?' – nobody seems to know – so they hang up. It's very inefficient," said Perez.
To further cut down on the noise level, the new nurse call system using hand-held technology is connected to the patient's bed. The remote will have pictures on it showing if you are in pain or need to use the restroom. That message will immediately go to your assigned nurse who will carry a smart phone. The nurse will be able to respond to you verbally and bring the appropriate pain medication to you because she knows exactly why you are calling, explained Perez.
Shopping for care
Perez thinks in the future, people will shop for their healthcare needs based on value.
"The ultimate goal is you create more value for the consumer – you deliver a higher quality of care – you then create a narrower network based on quality," explained Perez. "Patients are going to want to choose you because they are paying a lesser premium because they've chosen a plan with a narrower network," said Perez. "But in exchange for choice, you get greater value."
Climbing the corporate ladder has always involved a mix of skill, timing and networking. But in a world where mergers and acquisitions can change the road overnight — nowhere is this more obvious than in the field of health care — what does it take to move ahead?
The Business Press recently sat down with someone who has climbed that proverbial ladder — health care industry expert and local business leader, Karla Perez. As regional vice president of the Valley Health System and corporate vice president of the Acute Care Western Division of Universal Health Services, Perez was promoted 14 times in 27 years before assuming her current positions in 2009.
"I'm probably a poster child for promotion from within, but I have to tell you UHS has that culture across the company," Perez said.
According to its website, UHS is a diversified business model with 25 acute care hospitals and 225 mental health facilities in 37 states, Washington, D.C., Puerto Rico, U.S. Virgin Islands, and the United Kingdom. It also has an Independence Physician Management program, a physician network with direct employment which offers physician practices expertise in several services including billing and collections.
"UHS has a strong desire to invest in our employees, and we therefore spend a great deal of time with mentoring junior executives — looking for high potential employees across the company," Perez said.
Perez came to Valley Hospital in 1983 to complete an eight-week internship requirement and earn a degree in medical record administration from the University of Wisconsin, Milwaukee. Instead of leaving at the end of her internship, she stayed and within six months was promoted to director of medical records.
So how did she go from medical records to regional vice president?
Perez credits "three tips which interestingly enough Alan Miller, CEO and chairman of the board of UHS, shared with me very early on when I was a junior executive about how do you get noticed in a corporation and how do you become a leader. I call them the 3 i's:"
1. Integrity: "I think that is probably the most important characteristic that one can have — to be honest, to be credible, to be trusted. Tell people the right thing at the right time even if it's not what they want to hear."
2. Intensity: "To me, intensity is about the energy you bring to your job. I can't teach you that — it has to be part of your fabric — of who you are."
3. Intelligence: "It isn't about IQ or SAT scores or GPA — it's about do you have the intelligence to surround yourself with the right people, the intelligence to know what resources are available to you and to use those resources to the best of your ability to make appropriate decisions."
Perez also explained some leadership intangibles.
"I was a cheerleader in my past life, and that comes in real handy because there's a lot of aspects to leadership. You have to be able to motivate."
Tom Warden, senior vice president of community and government relations for the Howard Hughes Corp., acknowledged that trait in a recent email, saying: "Karla Perez is a strong and dynamic leader, but those are not the only qualities that make her a business standout. She is fun. Her quick wit and ready laugh make meetings both productive and entertaining."
Staying positive when problems arise is another intangible leadership trait. How does Perez handle them?
"All the CEOs of the hospitals (within Valley Health System and Acute Care Western Division) report directly to me," Perez said. "I hold them accountable for the business of running their hospitals. If there are issues, I challenge them to fix them."
For Perez, it is less about what or who caused the problem but more about what to do to fix it.
Sig Rogich, president of Rogich Communications group, said Perez "works overtime to solve problems and solutions. Her openness, cordiality and professionalism is second to none, and those qualities make her one of the best executives I've ever had the pleasure of working with throughout my career."
And Rogich should know – he has been active in business, media and crisis management in Nevada and nationally for more than 40 years.
So does Perez believe the glass ceiling still exists for women?
"I don't think today," Perez said.
"I remember once, when I was first starting out, I had a superior who said to me at one point, as a female (that) I was going to have to work harder than everybody else to get ahead," she recalled.
But times have changed.
"My daughter would even question why you would be asking that — her and her generation, there is clearly no difference anymore," she said. "There are a lot of women in very powerful high-ranking positions and I think — who knows — we might have our first woman president."