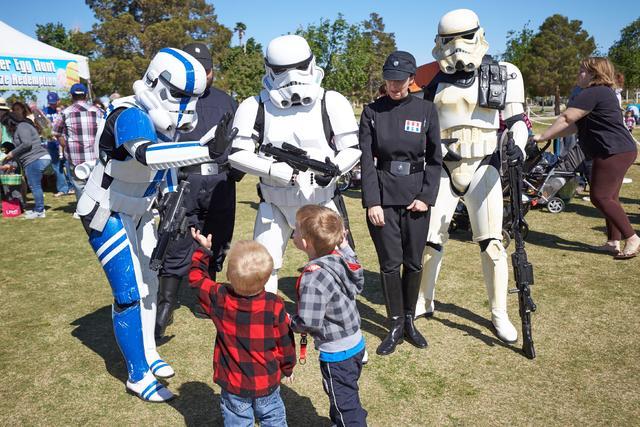 Credit One Bank has brought together two of it long-time partners, HomeAid Southern Nevada and U.S. Vets – Las Vegas, to meet the needs of at-risk veterans in Southern Nevada.
A $434,000 commercial kitchen remodel, funded partly by Credit One Bank and designed and built by HomeAid, will enable U.S. Vets to better serve three meals daily to formerly homeless veterans living in the residential facility.
U.S. Vets has provided transitional and permanent housing and employment services to veterans in the Las Vegas community since 2001. HomeAid Southern Nevada was founded in 2004 to support the valley's homeless through housing and community outreach.
The bank recognized that U.S. Vets – Las Vegas needed a new kitchen to more efficiently serve veteran residents, and that HomeAid, which is sponsored by Southern Nevada Home Builders Association, could build one.
The new facility will feature a walk-in refrigerator and food storage areas, a commercial-size oven and stovetop, and will be wheelchair-accessible. The expansion will expand the kitchen 1,000 square feet.
Construction is to start in August; the goal is to be serving veterans by Thanksgiving. For information, contact U.S. Vets – Las Vegas at lvinfo@usvetsinc.org or 702-947-4478.
Dress for Success
to hold power walk
Dress for Success Southern Nevada will host its fourth annual power walk "One Mile in Style," with check-in at 7:30 a.m. July 16 at Miracle Mile Shops inside Planet Hollywood Resort, 3663 Las Vegas Blvd. South.
The event benefits the nonprofit organization, which helps women achieve economic independence. During July, Miracle Mile Shops will also collect donations in its fountain for Dress for Success Southern Nevada.
Registration is $28, adult; $20, student; $10, child. To register or sponsor an event, visit dressforsuccesssouthernnevada.org, call 702-684-6412 or email eventinfo@dfssouthernnevada.org.
Employees donate time
to benefit children's charities
Astellas employees attending the global pharmaceutical company's national sales forum put on their running shoes and volunteered time to benefit 11 charities.
The company's inaugural One Astellas Spirit Run on June 21, a 5K race down the Strip for 550 employees, benefited seven charities — National Alliance on Mental Illness, Tyler Clementi Foundation, Dress for Success Southern Nevada, Fisher House Foundation, Hispanic Scholarship Fund, ZERO–The End of Prostate Cancer and Ellen Meadows Prosthetic Hand Foundation.
Astellas employees have already raised nearly $18,000 to support the charities. Astellas will also contribute $5,000 to each charity to supplement the employee donations.
Approximately 1,200 employees volunteered time June 22 to serve four local children's charities — Boys &Girls Club of Southern Nevada, Nevada Childhood Cancer Foundation's Camp Cartwheel, St. Jude's Ranch for Children and Clark County School District. Volunteers assembled toys, bicycles, school kits and care packages for local children.
Cancer Foundation plans
20th annual summer camp
Nevada Childhood Cancer Foundation will hold its 20th annual Camp Cartwheel at Torino Ranch Summer Camp for critically ill children and their siblings July 20-23 and 27-30.
The event, created and managed by the Nevada Childhood Cancer Foundation, is a 24-hour medically supervised, outdoor and overnight camp experience for children diagnosed with cancer, or other life-threatening illnesses.
Camp Cartwheel at Torino Ranch includes four days of swimming, scuba diving, arts and crafts, canoeing, outdoor games, rock wall climbing and more.
The Nevada Childhood Cancer Foundation's staff and volunteers let more than 200 campers, ages 5 through 17, form positive peer relationships, develop greater independence and self-esteem, and have the opportunity to feel healthy and happy. Children are given a cost-free camp experience thanks to donations from Brett Torino and local businesses, community leaders, caring individuals and other supporters.
Call 702-735-8434 or visit www.nvccf.org for more information on the Nevada Childhood Cancer Foundation.
Best Mattress to donate $10k
to Opportunity Village
Best Mattress will present a $10,000 donation to Opportunity Village from its Memorial Day sale, during which $5 of each mattress sold was donated. Best Mattress president, David Mizrahi and his wife, Linda matched the final donation. The gift will go toward the programs and services offered by Opportunity Village that benefit adults with significant intellectual disabilities.
Homeless youth facilities
renovated by realty firm
Many home improvements awaited Nevada Partnership for Homeless Youth's Independent Living Program clients when they returned home from school and work recently.
Associates and business partners of Keller Williams Realty Las Vegas renovated and upgraded the partnership's six aging housing properties, emergency shelter and new expansion project.
The 160-member Keller Williams team volunteered through its national RED Day (Renew, Energize and Donate) service project. Work at the housing sites and emergency shelter involved advanced landscaping, roof repairs, fixing showers and bathrooms, installing new flooring and providing new furniture where needed. This was along with general cleaning, weed removal, and basic improvements covering plumbing, flooring and painting.
The partnership's Independent Living Program is a transitional housing program providing homeless youth with housing, utilities, transportation, food and clothing, case management, education and employment counseling and assistance, tutoring, life skills classes, crisis counseling, and enrichment.
In 2015, all partnership teens who graduated from the program exited to stable housing.
Wienerschnitzel raises $70k
during Homeless Tour
Wienerschnitzel said it contributed $20,000 to the second annual Hot Dogs for Homeless Tour for a grand total of nearly $70,000 in donations. All funds generated benefit tour partner Skate For Change, an organization dedicated to encouraging youth to give back to the less fortunate in their communities through skateboarding.
For 30 days, the Hot Dogs for Homeless crew traveled 4,100 miles across 18 cities throughout the southwest in a Wienerschnitzel-wrapped recreational vehicle and, handing out more than 35,000 Wienerschnitzel hot dogs.
The crew visited shelters and areas with large homeless populations, handing out nearly 7,500 pairs of socks and providing hot meals, hygiene kits and other necessities.
KLAS, Project 150 drive
helps homeless students
KLAS-TV, Channel 8, and nonprofit organization Project 150 called on viewers to help homeless high school students by providing items of essential need. The effort was in honor of the 20th anniversary of 8 News Now's parent company. During the June anniversary celebration, the station partnered with Project 150 to help homeless, displaced and disadvantaged students make it through the summer.
More than 2,500 homeless students in the Valley don't have the basic necessities to keep up in class, yet they need help all year long, particularly during the summer hiatus.
Members of the public delivered more than 22,000 pounds in donated items, from shoes and socks to towels and blankets, ready-to-eat foods and beverages to much-needed hygiene products and school supplies.
Monetary donations exceeded $3,000; 125 volunteers donated 480 hours to help sort and organize donations received at Channel 8's studio and deliver them to Betty's Boutique in Project 150's Brady Caipa Volunteer Center. Visit Project150.org for information about Project 150.
Helping Hands receives
new Toyota minivan
Helping Hands of Vegas Valley received a $28,000 2016 Toyota Sienna minivan from Toyota Financial Services. The donation was received at AutoNation Toyota Scion on June 7.
Helping Hands of Vegas Valley, a nonprofit agency that assists the senior community with food, transportation and respite care vouchers, added the minivan to its four-vehicle fleet that transports senior citizens to appointments.
The new vehicle will replace one that is more than six years old and has more than 200,000 miles. Visit hhovv.org for more information about Helping Hands of Vegas Valley.
Nevada State Bank
makes $10k donation
Nevada State Bank donated $10,000 to Nevada HAND to support its mission to provide affordable, quality housing and support for seniors and families.
Attending he June 2 celebration were Terry Shirey, president and chief operating officer of Nevada State Bank; Mike Mullin, NV HAND founder and president; Drew Zidzik, senior vice president and community relations manager of Nevada State Bank; Shannon Petersen, executive vice president/corporate banking manager of Nevada State Bank; Peg Freman, NV HAND chief financial officer and chief operating officer; and James Rimpo, Nevada State Bank corporate banking relationship manager.
Golf 4 The Kids Raises
$60k for nonprofits
The fourth annual Golf 4 The Kids Tournament raised $60,000 through corporate sponsors and donations.
The tournament, held June 6 at Red Rock Country Club, benefits Cure 4 The Kids Foundation and the Nevada chapter of the National Hemophilia Foundation, which will split the proceeds equally. The Nevada chapter of the National Hemophilia Foundation will use the proceeds to send children with inherited bleeding disorders to a medically supervised summer camp, known as Camp Independent Firefly. Cure 4 The Kids Foundation will use its proceeds to fund the Charity Care Program.
MGM Resorts fights hunger
with $50k donation
MGM Resorts International donated $50,000 to Three Square Food Bank, providing 40,000 meals to children in need, to ensure Three Square's program, BackPack for Kids, continues through the summer.
BackPack for Kids is normally funded through the regular school year. Following a ceremonial check presentation June 24 at Three Square, MGM Resorts employee volunteers began packing BackPack for Kids bags for summer delivery. Thousands of Clark County School District students rely on school meals as their primary source of nutrition. BackPack for Kids provides shelf-stable food so hungry children can eat over the weekend.
UnitedHealthcare, SW Medical
donate Roseman scholarships
Roseman University of Health Sciences has received a $10,000 donation from UnitedHealthcare and Southwest Medical Associates to fund scholarships for pharmacy, nursing and dental students at the university's Henderson and South Jordan, Utah, campuses.
Roseman University's curriculum is delivered through its six-point mastery learning model, to train students to thrive and practice in medicine and patient care.
Community joins Wal-Mart
campaign to fight hunger
Wal-Mart said Las Vegas residents generated more than $110,400 for Three Square Food Bank to help fight hunger in Clark, Lincoln, Nye and Esmerelda counties.
Wal-Mart's campaign, "Fight Hunger. Spark Change." has encouraged people across the nation to take action against hunger and help needy families through support online and in-store purchases and donations. The campaign called on the public to help fight hunger by sharing campaign messages via social media or donating to local Feeding America food banks in-store at the Wal-Mart register. Nationwide, the campaign raised more than $17.4 million to support the Feeding America network of food banks.
Lev Brands raises nearly $5,000
for Opportunity Village
Lev Brands partnered with Opportunity Village for a fundraising promotion, Spread the Love with Lev, at multiple The Coffee Bean &Tea Leaf and Jamba Juice locations. The event raised $4,827.
Tronox makes donation to
United Way of Southern Nevada
Tronox presented a check for $2,000 to United Way of Southern Nevada on June 23. The two organizations have had a strong partnership over the years. Tronox has consistently supported United Way and its mission to continue helping the community and providing the necessary tools to educate children about financial responsibility.