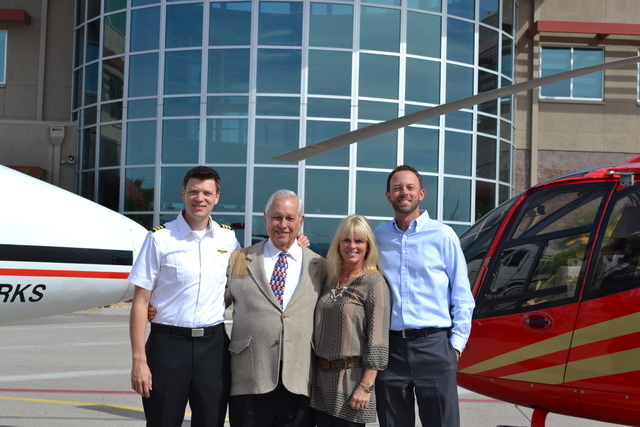 Papillon Group, featured in the Feb. 23 issue of the Las Vegas Business Press, will unveil its Golden Helicopter on April 16 to mark 50 years and three generations of one family.
The Golden Helicopter, also known as "Copter 50," will arrive at Papillon's Boulder City Aerocenter as part of a five-helicopter formation. This ceremonial formation symbolizes five decades of operation for the helicopter tour company.
On board the helicopters will be three generations of the Halvorson family, including Elling Halvorson, the Papillon Group's chairman and founder. Members of the Hualapai tribe will bless the brand-new helicopter when it lands.
"This dazzling helicopter was created to commemorate our golden anniversary and to celebrate the greatest aviation team in the tourism industry," Papillon Group President and CEO Brenda Halvorson said in a statement.
Beginning April 23, the Golden Helicopter will be added to Papillon's regular tour rotation and will be used throughout the year.
Papillon Group began in 1965 when Elling Halvorson, then a young contractor, was in charge of building a 13.5-mile-long water pipeline from the North Rim to the South Rim of the Grand Canyon. During this project, Halvorson was introduced to helicopters, which he used to lower sections of pipeline into place. After completing the project, he recognized the opportunity to use helicopters for air tours and Grand Canyon Helicopters was born.
Halvorson's daughter, Brenda, and son, Lon, both joined the company in the late 1980s. Brenda has served as Papillon Group president and CEO for the past two decades; Lon has served as executive vice president, overseeing fleet acquisition and financing. The company is welcoming a third generation of family into the business to ensure the legacy continues.
For more information, visit www.papillon.com.
Connector debuts downtown
CatalystCreativ, an experience studio funded by Zappos CEO and venture capitalist Tony Hsieh, has launched its new Catalyst Connect mobile app in collaboration with Attendify.
Catalyst Connect is a platform that bridges communities, enabling individuals with common interests and passions to link up, sync up, and connect.
With Catalyst Connect, introductions start with conversations and can lead to collaborations.
Whether at home or while travelling, users can search for locals based on common passions and expertise, send messages, find places to meet, and use Catalyst Connect as a resource to find and engage in upcoming events.
Users of Catalyst Connect, which is designed for events and conferences, can view event schedules, event and company descriptions, attendee bios, contact information and social media profiles. Users can also post a status or photo to event minifeeds.
Reading is alementary
Andre's Cigar Lounge and Culinary Library, which debuted at Monte Carlo on March 31, showcases nearly 700 of chef André Rochat's personal collection of cookbooks.
The books on display have been collected over the course of Rochat's more than 55 years in the culinary industry.
Highlights of the culinary library include a French print edition of Georges Auguste Escoffier's "Le Guide Culinaire"; more than 100 volumes of the culinary magazine, Art Culinaire; a 1892 print of "The Everyday Cookbook, The Encyclopedia of Practical Recipes" by Jean-Pierre Gauthier, and signed books from legendary chefs such as Julia Child and Jacques Pepin.