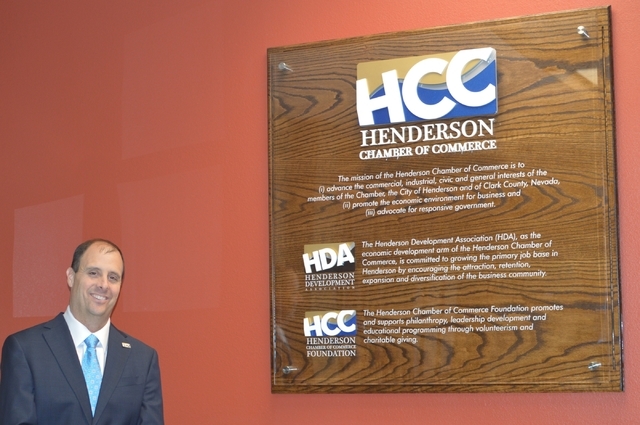 The Henderson Chamber of Commerce is more than a business organization.
Through a variety of programs, it has become a focal point for the community and a resource to both startup businesses, nonprofits and foundations.
"We promote corporate responsibility by creating opportunities for companies to give back to those in need in the community," said Scott Muelrath, president and CEO of the Henderson Chamber of Commerce.
The chamber's foundation, Muelrath explains, "is where we have our leadership program" and "where we have our Henderson Business Resource Center, which is the longest running resource center in the state of Nevada for 15 years now."
The Henderson Business Resource Center offers a multitude of resources — small-business services, mentoring programs, educational programs and more.
"We have subsidized office spaces that we provide there; so we do a lot out of our HBRC (Henderson Business Resource Center) that's really for the whole chamber not just the foundation," Muelrath said.
Startup nonprofits receive guidance and services through the Henderson Chamber of Commerce.
"We really customize what we do," Muelrath said. He pointed to two educational programs —Road Map to Success and Foundations for Success.
Part of the program includes having different professionals, including accountants, lawyers, public relations and social media experts, explain their crafts. So, if a 501(c)3 started and didn't have a business plan or a way to tackle social media, it could get the help it needs.
"New startup companies, 501(c)3s, they're just one or two people. Often, they don't have resources or understanding of where to find them," Muelrath said.
These programs and complimentary services fill a void in the community, Muelrath said. "With the decline of the newspaper and the published community calendar … where a nonprofit could put their event … it would all be on one page for the community to go find. That went away a decade plus ago. So, when I view our role as the chamber, we're that community page for our nonprofits."
The Henderson Chamber of Commerce helps both nonprofits and businesses "find who they need to meet in the community; whether or not their looking for specific mentoring and business planning or if they just need to raise money," Muelrath said.
"We have a Community Day program, once a quarter, sometimes more often, where we'll select one of our nonprofit members and we'll figure out a way to go to work for them," he said.
One particularly special program helped Foothill High School's band participate in the Macy's Thanksgiving Day Parade in New York City in 2014. Approximately 30 band members couldn't afford the trip.
"A handful of (chamber) corporate partners stepped up in a big way, donating close to $30,000 that was able to fund every one of the kids to be able to go with the band," Muelrath said.
The Henderson Chamber of Commerce, Muelrath said, serves "as the conduit to connect the business conscience to the members in need, or nonprofits." Muelrath explains, "By creating the opportunities to give, and raising the awareness, we in turn promote the concept that giving back is good business."