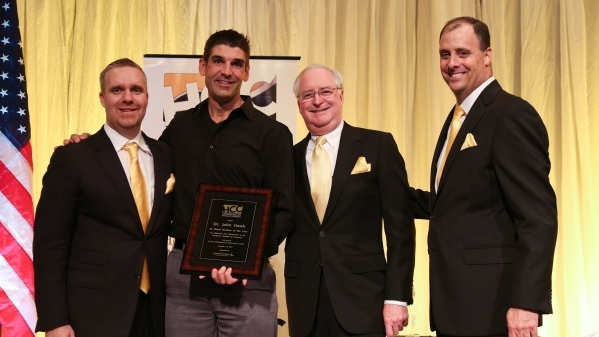 Henderson and the Henderson Chamber of Commerce are hosting the 16th annual Economic Development & Small Business Awards on Nov. 19 at Green Valley Ranch Resort.
The event aims to recognize new companies that are expanding in Henderson and celebrate successful small businesses.
Three businesses were nominated in each category: All in the Family, Business on the RISE, Customer Service, Green, Innovation, Outstanding Community Service and Outstanding Nonprofit organization.
Nominees for the All in the Family Award included Born and Raised, a sports bar and restaurant; Design Builders, a general contracting company; and Thurlow Wealth Management, an independent wealth management firm.
Business on the RISE Award nominees include Dg Realty, Lucky Foo's Restaurant & Bar and ToeShark Visual Communication, which specializes in visual communication design, brand development and marketing.
Customer Service Award nominees are Bishop Air Services, an air conditioning, heating, refrigeration and solar energy systems company; Success City Online, which helps small businesses owners create an online presence; and Voice Plus Communications, a full-service communications solutions provider.
Nominees for the Green Award are Blue Heron Design Build, which designs custom-built, energy-efficient homes; Harsch Investment Properties, a real estate investment company; and Modo Yoga Las Vegas.
Innovation Award nominees include The Juice Standard; Matzinger Institute of Healing, holistic wellness center; and Quertle, an information technology company.
Outstanding Community Service Award nominees are Cal Pac Painting of Nevada, a painting contractor; Crazy Pita Rotisserie & Grill; and LIUID, a shoe company.
Nominees for the Outstanding Nonprofit Award include Habitat for Humanity Las Vegas, which provides low-to-moderate income families with affordable, permanent housing; Hopelink of Southern Nevada, which aims to prevent homelessness; and Spread the Word Nevada, an educational nonprofit organization that offers low-income children books, family literacy and mentoring.
Tickets are $75 per person before Nov. 4, and $85 after. To purchase tickets, visit www.hendersonchamber.com.
Business alliance set
Premier Business Centers, a nationwide privately owned executive suite operator, announced a business alliance with Foothill Ranch, Calif.-based Portero Concierge Inc. and the launch of Premier Concierge Service.
Premier Business Centers boasts nearly 80 locations across the U.S., including one at 5940 S. Rainbow Blvd., and provides a variety of monthly plans for access to concierge services.
"When you're running a business, finding the time to get everything done, every day, is next to impossible," Jeff Reinstein, CEO for Premier Business Centers, said in a statement. "That's why we've created Premier Concierge Service. Now our clients have the convenience of a service to take care of the little things, while they stay focused on the big picture."
Services include document delivery, notary assistance, errands, dry cleaning, transportation, banking, catered business meetings, travel planning, staff recruitment, product research and comparison, and vendor and event management.
"We are thrilled to be the power behind the new Premier Concierge Service," Marni Ellison Smith, CEO of Portero Concierge, said in a statement. "Our services not only add convenience to Premier's client's workday, but help them hold on to those precious hours reserved for relaxation when the workday is complete."
Philanthropist Sparks to be honored
The Sunrise Children's Foundation will host "As Seen On T.V." on Nov. 21 to honor philanthropist Carolyn Sparks.
The foundation, which was founded in 1993, is a nonprofit corporation organized solely for pediatric health and education. It provides multiple programs throughout Clark County, all free of cost.
Money raised from the event will help support Sunrise Children's Foundation programs, which focus on optimal child development including prenatal care and breast-feeding education; infant and toddler health and development; wellness, nutrition and health education; parent education; reading and literacy skills; and positive family relationships.
The foundation delivers a full scope of services from birth to 5 years old and provides a comprehensive continuum of care for children in Nevada.
The event will start at 6 p.m. at the MGM Grand Conference Center, 3799 Las Vegas Blvd. South.
For more information, visit www.sunrisechildren.org.