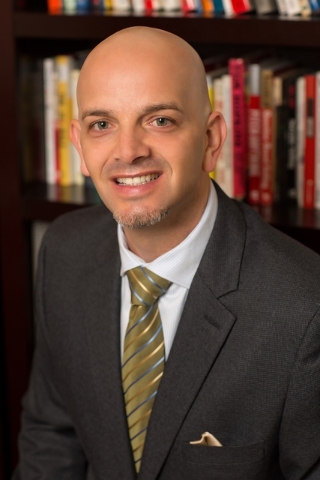 Kenny Atcheson, the owner of the Henderson-based marketing agency CreativeProfitPros.com and author of Marketing Battleground: How Deploy Under-the-Radar Strategies to Explode Your Profits, is spending a lot of time these days talking about politics.
That's just fine with him. He sees clearly the intersection of political campaigns and marketing. It's all about connecting with the buyer – whether that's a voter or a consumer.
Atcheson is a well-respected keynote speaker at conventions, trade shows and other events. He shares his take on popular topics like politics. While mentioning candidates, he is not making an endorsement of anyone. Politics has its own unique marketing strategy that can be applied to businesses as well.
Having grown up in the restaurant and bar business, Atcheson said "service is really important to me."
"Your service is actually a part of your marketing. Word of mouth has always been important but it's bigger now than it ever was — online reviews and such — and so the way your employees and systems and processes work affect how your customer feels, which in turn affects what they say about you, or how passionate they are when they say it."
Atcheson left the service industry to pursue a career in real estate where he was introduced to the world of marketing. "I had an interest in homes and I had an interest in people," he recalled. "I ran a little ad; it was a useless ad… it didn't do anything but cost me money." That experience, he said, compelled him to learn more about marketing because "I wasn't going to just keep throwing money at things."
Atcheson soon realized he liked the marketing more than the real estate and went on to build a successful career as a marketing consultant. "Once I decided that (marketing) is what I was going to do and nothing else, then the business took off."
His product line includes marketing, advertising, and employee training programs. Atcheson also is a business advisor who offers private consulting.
Q. How did you move from marketing into the political arena?
A. I studied; I worked for some individuals and speakers on their marketing; and much of what they do is very similar to what politicians do. A politician is like a business of one. They have a lot of people working for them and helping them. But I just have an interest in politics on a personal level. So, I study, and the politicians use a lot of very high-paid marketing/advertising consultants. They'll do a lot of testing; it's something I do, and preach all the time. They'll run two ads simultaneously and then figure out real quick which one's preforming and remove the other. They figure out what's working quickly and get rid of everything else. So, I study their marketing.
Q. How do candidates running for any office design a successful marketing campaign?
A. The critical piece of it all is that all of their marketing — everything the people are viewing, hearing, reading, watching, or seeing — needs to relate somehow to that person. You'll recall when Romney was running; they (the people) had a hard time relating to him. This is going to fly in the face of what's happening now with Trump, but I'll try to address that. I'm not taking any side, I'm just commenting on what they've done. Bill Clinton was known for being really good at it; people related to him, he related well to them. And his wife, she gets the opposite effect. She's trying real hard to change that. So, regardless of the type of media, the candidates need to be able to relate and the people need to relate to that candidate.
Q. Because he's considered "rich," why is Trump so popular?
A. Trump is the obvious question. How/why is he so popular; how can they relate to him? It's not so much his up-bringing as the way he's acting. He's a billionaire — almost no one can relate to that — so, he doesn't talk a lot about his personal story. He talks about other people's stories but he is also relating to people in showing his frustration and anger with politicians. Actually, both sides are relating to that. Some of the same reasons Trump is getting so much attention is the same reason Bernie Sanders is getting so much attention. They're showing and sharing their frustration with politicians and politics in general, and Washington. So, regardless of the media used, you've gotta relate to the people.
Q. What communication techniques are new, important, and work well?
A. It's the telling of other people's stories. That's necessarily new … or at least it may be new to some people. It's something that's always gone on. You just see more people doing it.
Q. Why is it important for politicians to be good story-tellers?
A. Stories resonate. Everyone — from the time we are little kids after you say mommy and daddy — one of the first things kids learn how to say is story. They want to hear stories. So, it starts at a very young age. Someone in there 30's or 40's, you ask them things that they remember from elementary school…they might say math…but specifics, they'll remember The Little Engine That Could and tell the whole story. You might ask me about Ted Cruz or Marco Rubio, for example, and it's something that I have to go look up. But one thing that's very easy for me to remember is parts of their story. So, you remember stories and a big part of marketing, advertising, and communications is to be remembered.
Q. Let's talk about your book "Marketing Battleground: How Deploy Under-the-Radar Strategies to Explode Your Profits." How are sales, and what are are the important takeaways you hope readers gain from the book?
A. Sales are good. It's not a best seller yet. I'll be honest; we haven't put any effort into (marketing). No matter how good your book is unless you've already had a best seller, you're not going to have one unless you put some effort into marketing it. We didn't do that yet. Business itself is booming and so I haven't put a lot into the book yet, in terms of book sales. We've sold quite a few books; so, book sales are good but I will say that's not a focus for me.
The goal is for people to get the book and be able to apply that to their business.
The one thing that I would want people to get from the book — stories is a big part of it. An overlying theme of the book, it's military-themed to make it more interesting and fun to read. There are many strategies in media you can use that will work for your business. You don't have to do everything digital. A lot of people in my business want to tell people digital, digital, digital, you gotta be digital, social media.
They tell them all this stuff and most of the people who say that are people who have those services for sale. Part of the reason I focused mostly on things that aren't digital is because everybody else is talking about digital.