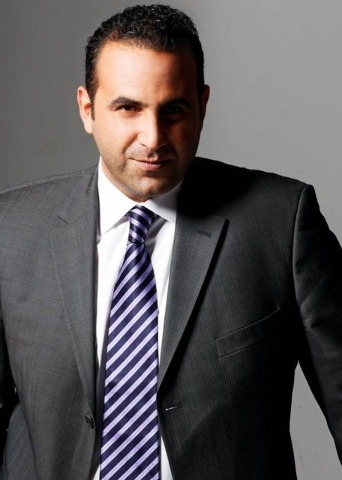 Sam Nazarian, founder, chairman and CEO of the company behind the SLS Las Vegas, has put his 14,464-square-feet Las Vegas home on the market for $17.5 million.
Nazarian founded SBE, a Los Angeles-based global hospitality and entertainment company, but ran into issues gaining a Nevada gaming license for his role at the SLS. Last fall, he relinquished control of the SLS to Stockbridge Capital, a major investor in the project.
Variety reported that Nazarian acquired the property in 2012 for $8.35 million. His home is centered on 1.65 acres in a triple-gated section of the Ridges development on the west side of town. It has six bedroom, six bathroom and three half bathroom.
Features include Strip views; a professional theater with tiered seating in black-leather recliners; a climate controlled walk-in wine storage room; a 10-car garage with glass doors; half-court basketball court; security and surveillance system; gym and adjoining spa with massage suite, beauty salon and steam room.
Berkshire Hathaway HomeServices, a real estate brokerage franchisee network, is managing the listing.Leaving Las Vegas — Part 2
NBA center JaVale McGee left Las Vegas less than a year after buying a condominium on the Strip, Realtor.com reported.
The real estate website said McGee purchased the 2,406-square-foot condo at Panorama Towers for $800,000 in October. He has listed it for $849,000.
The condo features two bedrooms, and 2½ bathrooms and a vantage-point view of the Strip from the 21st floor.
The 7-foot-tall, 27-year-old is a free agent after having played for the Philadelphia 76ers, the Washington Wizards and the Denver Nuggets.
Realtor.com reported that McGee paid $2.4 million for singer Marc Anthony's home in Encino, Calif.
Four Smith's renovating
Smith's is remodeling four Las Vegas Valley locations and building three new fuel centers, bringing its 2015 investment in Southern Nevada to $40.5 million.
The newest fuel center is at 1000 N. Green Valley Parkway in Henderson; the other two are set to open later this year.
"We are committed to the Southern Nevada market," Smith's President Jay Cummins said in a statement.
The four Smith's stores will remain open during the remodeling, which is expected to last about six weeks: 10616 S. Eastern Ave. and 55 S. Valle Verde Drive in Henderson, and 7130 N. Durango Drive and 10100 W. Tropicana Ave. in Las Vegas.
The Smith's Southern Nevada 2015 investment plan began in March with the opening of six new area Smith's stores that were Food 4 Less locations, representing a $25 million project. Smith's operates 37 locations and 14 fuel centers in Southern Nevada.