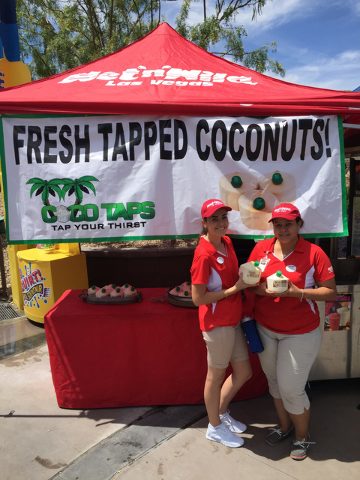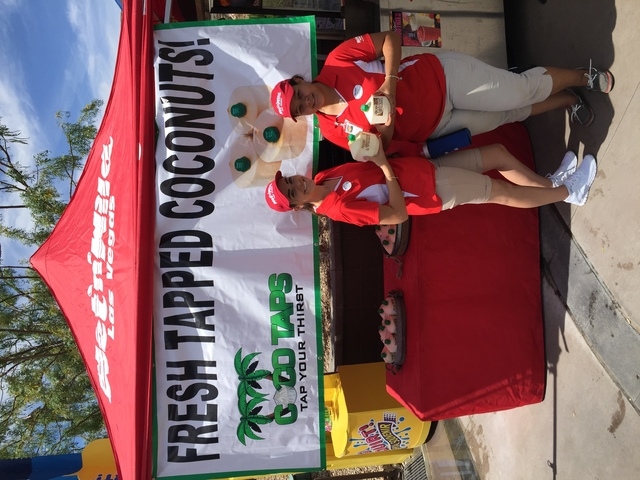 Las Vegas will likely attract hundreds of thousands of visitors this summer for conventions and sporting events.
The NHL Awards, UFC Fight Week, NBA Summer League and USA Basketball Showcase will hit the valley in the coming months along with championship tournaments and trade shows related to bowling, table tennis, basketball and roller derby.
"The incredible diversity of groups that visit during the summer months really showcase Las Vegas' broad appeal as a group business destination," Las Vegas Convention and Visitors Authority said CEO Rossi Ralenkotter said in a statement. "Summer was once considered one of the slower periods in Las Vegas. Now these months are filled with a wide variety of special events and conventions that attract visitors and stimulate the economy."
Summer isn't just for sports-minded visitors either. Las Vegas will host eight large-scale conventions each attracting more than 10,000 attendees. Collectively, these shows will bring more than 250,000 visitors and nearly $207 million in direct visitor spending.
SuperZoo West will showcase the latest pet product innovations and emerging trends from July 21-23 at the Mandalay Bay Convention Center. An estimated 20,000 attendees are expected to attend.
The summer convention season will wrap up with MAGIC Marketplace, which regularly draws an estimated 80,000 attendees from more than 120 countries. The fashion marketplace will host luxury brands and debut the latest trends while pumping more than $60 million into the local community.
Last summer, more than 4,000 meetings, conventions and trade shows came to Las Vegas during June, July and August with a total attendance of more than 1.1 million people. The meetings and convention industry supports more than 54,000 jobs and contributes more than $7.4 billion in Southern Nevada's economy.
Coconut water
Las Vegas-based COCO TAPS launched at Wet'n'Wild on July 4 in an effort to deliver a healthier organic alternative to hydration for kids and parents at the water park.
The patent-pending COCO TAPS system lets consumers drink coconut water straight from the coconut using the COCO TAPPER to twist a hole in the coconut before screwing in the COCO TAP to drink straight from shell.
Founder Vincent Zaldivar said the Hard Rock Hotel has signed on as the company's first casino client.
He said COCO TAPS will be branding coconuts with the logo from Rehab, the casino's beachside dayclub, where they'll be serving them with rum.
For more information, visit www.cocotaps.com.
Rubber meets road
Toyo Tire &Rubber Co. filed supplemental information at a judge's request, bolstering its argument before the Nevada federal district court for permanent relief in a trademark action against a Chinese tire maker, according to a Tire Business report.
Kabushikiki Kaisha Tokyo Hihoon Rubber Corp., a Beijing-based holding company, and its associated business Japan Toyomoto Tire Corp. have been counterfeiting and infringing on Toyo's trademarks since around 2010, Toyo claims in a lawsuit it filed in November 2014.
On June 29, Toyo filed a supplemental brief at the request of Nevada Judge Cam Ferenbach.
Ferenbach issued an order June 15 in response to Toyo's motion for default judgment and a permanent injunction against Kabushikiki and Toyomoto. Specifically, Ferenbach sought information on whether his court had jurisdiction to issue such an order.
Toyo argued that because of Toyomoto's presence at the Specialty Equipment Market Association Show in Las Vegas in November, at which it exhibited the infringing trademarks and tires bearing those trademarks, the Nevada court unquestionably has jurisdiction in the case.
Although Toyo is fighting Toyomoto around the world for trademark infringement, the tire maker does not expect the Nevada court to issue a worldwide injunction, only one that applies to the U.S., Toyo said.
The company also added that its request for relief cannot be construed as violating the Lanham Act, the major law covering trademark infringement in the United States.