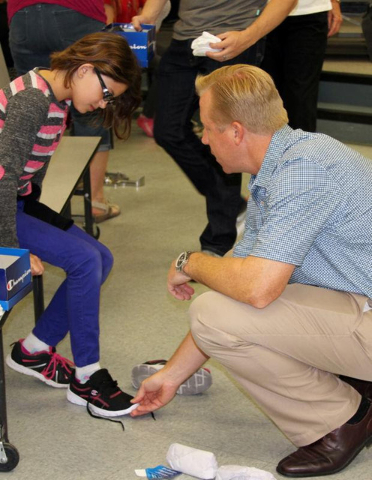 For the first time, the Public Education Foundation has awarded more than $1 million in a single year through its Scholarship Program to students seeking a post-secondary education. A total of 630 scholarships were awarded, the most in the program's history.
In two decades, the Foundation has awarded more than 5,400 scholarships totaling $10.5 million. The scholarships are based on academic achievement, motivation, planned area of study, diversity, overcoming obstacles and/or financial need, and are provided by community leaders, businesses, organizations, individuals and families. The awards range from $500 to $5,000 annually and some are renewable.
The foundation celebrated the achievements of the students receiving these awards this month, with a Scholarship Recognition Luncheon held at The Venetian.
Cox Las Vegas presents $35K
in scholarships
Cox Las Vegas, partnering with local organizations, hosted the Cox Diversity Scholarships at TPC Summerlin, with $35,000 in higher education diversity scholarships presented to 10 college-bound, local high school seniors.
The telecommunications provider has awarded $105,000 in Cox Diversity Scholarships since 2014, as part of a $175,000, five-year Cox commitment to fund higher education diversityscholarships.
The recipients, all attendees at Clark County schools, each received a $3,500 scholarship in support of their post-secondary education. The program, managed through the Public Education Foundation, requires applicants to graduate with at least a 2.5 grade-point average, provide demonstrated leadership and community service, and submit an essay focused on a significant leaderfrom their respective diverse communities.
Event raises $25k for
Alzheimer's cause
Affinity Gaming presented A Wine to Remember, in partnership with the Alzheimer's Association Desert Southwest Chapter, May 14.The event raised more than $25,000 toward local programs, services, treatments and preventions for Alzheimer's.
Affinity Gamingkicked off its corporate citizenship commitment with the Alzheimer's Association in March, pledging to contribute at least $100,000 in 2016 across the regional chapters where its 11 casinos are operated in Southern and Northern Nevada, Colorado, Missouri and Iowa.Affinity Gaming CEO, Michael Silberling presented Desert Southwest Chapter Southern regional director, Albert Chavez with a $10,000 check toward that goal.
Allstate agents' efforts bring $7k
in awards
Local Allstate agents earned $7,000 in awards from the Allstate Foundation for their commitment to community service.
The GalexFoundation received a $1,000 grant as a result of agent Dwain Frazier's volunteerism; Honor Flight Southern Nevada received a $1,000grant as a result of agent Jayna Magliaro's volunteerism; Palo Verde High School received a $1,000 grant as a result of licensed salesprofessional Chelsey Okpych's volunteerism; Las Vegas Force Baseball club received a $1,000 grant as a result of agent Samuel Peters'volunteerism; Nevada Youth Football League received a $1,000 grant as a result of agent Samuel Peters' volunteerism; Boys and GirlsClub of Southern Nevada received a $1,000 grant as a result of agent Brandon Santos' volunteerism; St. Baldrick's Foundation Inc.received a $1,000 grant as a result of agent Michael Westra's volunteerism.
National Security Technologies staff pledges to United Way
Employees of National Security Technologies LLC pledged more than $207,000 to the United Way of Southern Nevada for 2016. Thecompany also made a $10,000 donation, part of its commitment to helping those in need. Money pledged will assist United Way, itsaffiliated agencies, and other nonprofits throughout Southern Nevada.
National Security Technologies' participation rate in pledging includes more than 75 leadership donors, or those who pledge a minimumof $1,000 throughout the year.
Las Vegas Natural History Museum hosts Sundown in Downtown
Las Vegas Natural History Museum's annual summer soiree, Sundown in Downtown, returns for its 5th year celebrating the museum's 25th anniversary June 10 from 6 – 10 p.m. at Heritage Park. All proceeds from the event will benefit the museum's mission, to inspire individuals through educational exhibits and programs to gain a better understanding and appreciation of the natural world.Tickets start at $35; VIP admission starts at $55. Purchase tickets online at http://bit.ly/1qh2KKc or by visiting www.lvnhm.org.
21st Century Oncology of Las Vegas supports Brain Tumor
Awareness Month
21st Century Oncology of Las Vegas was a platinum sponsor for the 2nd annual Desert Grey Matters 5k. The event took place at SunsetPark May 1 in observance of Brain Tumor Awareness Month during the month of May. The event raised over $36,000 for the Musella Foundation for Brain Tumor Research.
The foundation is dedicated to finding a cure for brain tumors while serving as a resource for both financial and emotional support for patients and their families.
Venetian, Palazzo, Sands Expo
participate in food drive
In honor of World Hunger Day May 28, Las Vegas Sands Corp. partnered with Three Square Food Bank for the third annual "Hunger is Not a Game" food drive, May 20 to June 20.
The month-long team member initiative culminates with an innovative "Can Construction"challenge, pitting departments against one another to build a piece of artwork with the cans collected.
The collection goal for teammembers this year is 17,000 food items to commemorate the 17th anniversary of the Venetian, which opened May 3, 1999.
Last year,team members collected 30,254 food items, and this donation helped to distribute 25,000 meals for those in need in the community. For the "Can Construction," participants will create artwork using the theme "Sustainable Summer."
The friendly competition amongcompany departments will take place mid-June.
Part 2 of annual Race for Hope and Fun Walk set for June 11
Grant a Gift Autism Foundation will continue its 7th annual Race for Hope and Fun Walk June 11, with the Kidz Run, Fun Walk, AutismFamily Resource Fair and KidZone.
Festivities were halted by rain in April. Participants are invited back to finish the event and enjoythe family-friendly activities with "Part 2" of the Race for Hope and Fun Walk to support youth and families affected by autism living inSouthern Nevada. The morning begins at 7 a.m. with registration and the Autism Family Resource Fair.
Opening ceremonies begin at 8 a.m. followed bythe Kidz Run at 8:15 a.m., Fun Walk at 8:30 a.m., and recognition and awards ceremony at 9:30 a.m. for the timed finishers who ran the 5K April 30. Online registration is available at GrantAGiftFoundation.org. Fees for the Fun Walk are $30, adults; $15, teens; and $10 for children.Kidz Run participation is $10 per child. For more information, call 702-564-2453 or email 5K@GrantAGiftAutismFoundation.org.
Terry Fator, Arthritis Foundation hold annual Voices for A Cure benefit
The Arthritis Foundation will host its annual Voices for a Cure benefit event starring Terry Fator June 8, in celebration of Fator'sgenerosity for the seventh year as a headliner in Las Vegas. The event will take place inside the Terry Fator Theatre at the Mirage.
Voices for a Cure helps raise awareness and funds to help the 464,000 adults and 2,300 children diagnosed with arthritis in Nevada.This year's honoree is 11-year-old Youth Honoree, JT Stephens, who was diagnosed in 2013. VIP Reception will be 5 – 7 p.m., followedby Terry Fator: The Voice of Entertainment at 7:30 p.m. For tickets, contact Laura Landon at 916-368-5599 or emailLLandon@arthritis.org.