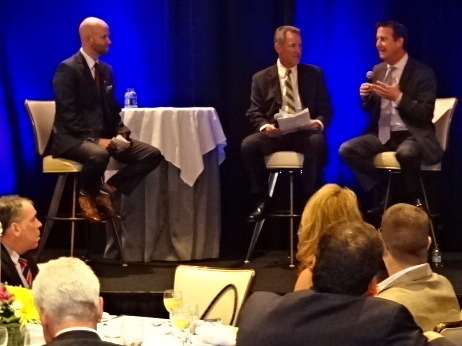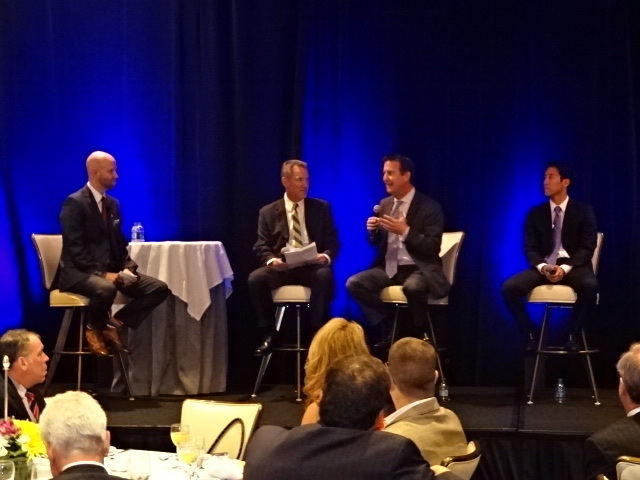 "I am tired of talking about the recession! The recession is over, and Las Vegas is moving forward."
That was the message delivered by Jeremy Aguero, principal of Applied Analysis, during the 2016 Las Vegas Perspective presentation June 16.
Aguero, an economic analyst, posed a series of "What if" scenarios, asking what Southern Nevada would look like if it attained certain levels in education, employment, and other economic indicators. The questions were mostly rhetorical; he posted slide after slide showing that Southern Nevada had already met or exceeded his proposed benchmarks.
In the past year, Las Vegas ranked fifth among metropolitan areas in the nation for population growth.
Clark County has recaptured nearly all of the jobs that were lost during the recession. The state employs 936,100 people, just 700 fewer than were employed in May of 2007. The area has achieved that employment growth with 50,100 fewer construction workers.
"At the height of the construction boom, we were building homes for the construction workers that were building them," Aguero said.
Taxable retail spending is at its highest level ever at $38.8 billion. Average hourly earnings are up 15.9 percent since January 2007 at $22.43, ranking Nevada as the having the nation's fourth-highest hourly wage.
The number of business in Clark County grew by more than 2,000 in 2015 for to 53,468.
Besides the record number of visitors, increased visitor spending and convention revenues, Aguero also described educational achievements.
In the past year, the Clark County School District has had three National Merit Scholarship winners and been named as a College Board AP District of the Year. Vanderburg Elementary ranked in the top 50 best public elementary schools in the nation while Palo Verde High School was named an International Baccalaureate World School and both Bonner and Dooley Elementary were named National Blue Ribbon Schools.
Meanwhile, a panel discussion with Bo Bernhard, executive director, UNLV's International Gaming Institute; Marcus Prater, executive director, Association of Gaming Equipment Manufacturers; and Christopher Oh, vice president of strategic operations for MGM Resorts International, highlighted how the gaming industry has changed and continues to change.
"Twenty years ago, more than 60 percent of the profits came from gaming," Oh said. "In 2015, almost 65 percent of the Las Vegas resort industry's revenue came from nongaming activities such as hotel room rates, nightclubs, pools, and dining. By its self, the Hakkasan nightclub at the MGM Grand generated over $100 million in 2015."
Besides the hotel-casinos, many other businesses support the gaming industry, including gaming equipment manufacturers. Prater said Southern Nevada's gaming suppliers and manufacturers have annual sales revenue of around $7 billion and employ about 16,500 people who earn about $1 billion annually.
Oh predicts that the casino floor will look different in 20 years, partly because of millennials.
Bernhard said millennials dislike the current slot machine options. To remedy that, skill-based gaming could be developed with variable payback winnings based on the player's skill level.
The newest trend in gaming is e-sports, in which an audience watches two people play video games. Competitions are held across the country with prize money ranging from $10,000 to $7 million. Analysts estimate that there is a global audience of 100 million fans watching teams of players compete for the top dollars.
Gaming manufacturers and hotel-casinos want to take advantage of this trend and add skill-based gaming to the casino floors.
This was the 36th year for the Las Vegas Perspective presentation. It was started by the Nevada Development Authority, which rebranded as the Las Vegas Global Economic Alliance.
The 208-page book of statistics about every public and nonprofit agency, major employers, housing, and other economic drivers in the Southern Nevada region is available online at https://www.lvgea.org/sponsor-the-perspective/, for $50.