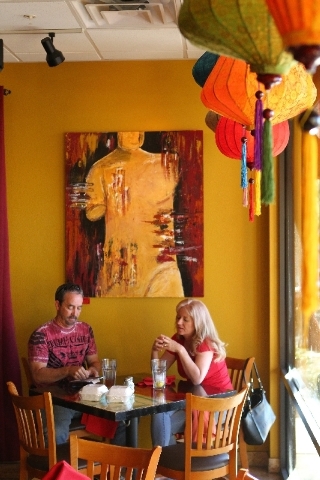 The Small Business Administration is looking for entrepreneurs who have created a product or service that has a measurable impact on the lives of women and families to enter their competition InnovateHER.
Throughout the month, businesses can enter the competition with their product or service that has the potential for commercialization and aims to fill a need in the marketplace.
According to the Small Business Administration, balancing the needs of work and home can be challenging for women, who make up nearly half of the labor force.
"It's a very different workforce today than 50 years ago and women play a critical role in our region's economy," SBA Nevada District Director Bob Holguin said in a statement. "March is Women's History month, and in this business challenge we look to the entrepreneurial spirit of our community for innovative products to support women and families."
Businesses entering the competition may be owned by either a man or woman. However, the product or service must be targeted to women and their families.
For entries in Clark County, the competition is hosted by the SBA Women's Business Center in Las Vegas.
The competition is hosted for applicants outside of Clark County by C4Cube, a 2014 recipient of an SBA incubator grant. Local competition judging will be held at the end of March in each location. A local Nevada winner will be announced by each host, and local winners from across the country will be forwarded to Washington.
Up to 10 finalists who best satisfy the criteria and have the greatest potential for success will be chosen nationally.
Finalists will be offered the opportunity to make a live marketing pitch in Washington to a panel of expert judges drawn from the private sector. Cash prizes of $30,000 will be awarded among first, second and third place winners.
For additional information about the InnovateHER competition, visit www.sba.gov/innovateher.
Twelve days of Restaurant Week
For the first time since 2011, Las Vegas Restaurant Week will take place for 12 days instead of separate spring and fall events.
Three Square Food Bank is encouraging restaurant owners and chefs to register early for the culinary event, which is scheduled for June 15-26.
"This year, by concentrating Las Vegas Restaurant Week into a single event spanning 12 days, our goal is to unify the culinary community and maximize restaurant participation, giving locals and visitors a greater opportunity to taste all that our Valley has to offer," Three Square President and CEO Brian Burton said in a statement.
Las Vegas Restaurant Week participating restaurants will offer prix-fixe menus at price points ranging from $20.15 to $50.15, with all proceeds donated to Three Square to provide meals for more than 315,000 Southern Nevada residents.
The mobile-friendly website, helpoutdineoutlv.org, will launch two weeks prior to the event and offer a complete list of participating restaurants, prix fixe menus, directions and the ability to make reservations via OpenTable.
Interested restaurants should call Three Square's Kari Goldberg at 702-644-3663 ext. 332 or email her at restaurantweek@threesquare.org.
Workplace cuisine
Speaking of food, OperationsInc, a human resources consulting company, said as more and more businesses feed their employees as a workplace perk, they need to start looking at the kind of food their offering.
OperationsInc President &CEO David Lewis said while offering food to employees is a selfish act by employers, it's also convenient.
"By having coffee and drinks in the workplace, you limit the time otherwise taken traveling to and from the cafeteria or local store for refreshments," he said in a statement. "The same can be said for lunch, which when secured from an off-site vendor can easily consume 30-60 minutes of time out of the office. So the strategy for feeding your employees is a sound one but can backfire as well."
Lewis said that if employers offer food to their employees, they should promote healthy eating.
"Replace the snack foods and junk with fruit and vegetables," he said. "All the sugar and carbs you find in the junky stuff actually hurts productivity and has negative effects on those who consume it."
Ultimately, Lewis said having a healthier workforce is less expensive to insure and has less absentism. Also, having healthy options on hand is attractive to future employees.
"From the simplest bowl of fruit to fresh bananas to filtered water, all of these are amazing tools of attraction for new prospective hires, as well as tools of retention," he said.