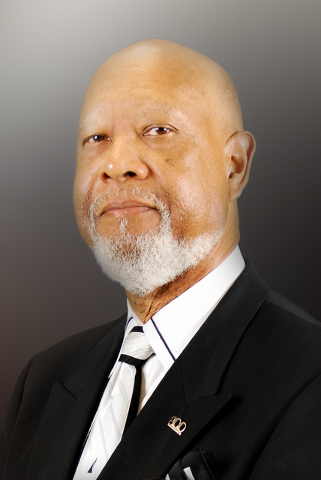 Joe Jones came to Las Vegas 13 years ago after a career in technology in the Bay Area. He followed his passion into education, both as a teacher and as a mentor.
Since 2014, he has been president of The 100 Black Men of Las Vegas Inc., a chapter of the nonprofit organization The 100 Black Men of America. The Las Vegas Chapter, established in 2000, was founded by Larry Mosley and Randell Bacon.
Major league baseball player Jackie Robinson formed The 100 Black Men of America in 1963. Today, over 100 chapters exist, including a chapter in London and the Caribbean island of Turks and Caicos.
Jones said he evaluated Las Vegas to identify "where the greatest challenge" was and "it was evident, back at that time, the biggest need was in education."
He was in his 50s but still eager to work, so he set out to become a teacher.
Jones has an educational background that includes an MBA from Golden Gate University. Still, in the complex world of teacher credentialing, he started out in Las Vegas as a substitute teacher for the Clark County School District before landing a long-term assignment.
Jones took the Alternative Route to Licensure, a program the school district offers together with UNLV for those already holding a bachelor's degree. He received his master's in education through UNLV and worked as a teacher about five years.
Jones said he saw teaching as an opportunity to work with young people and motivating them to believe they can achieve the very best version of themselves. His focus was on academic instruction and career prep.
The organization's annual celebration and fundraiser, the White Linen Affair, takes place June 4 at Eastside Cannery.
Q. How did you become involved with The 100 Black Men Inc. and what is the mission?
A. I worked as a teacher for about five years. Along the way, I heard about The 100 Black Men and the great work they do mentoring young people. The mission of The 100 Black Men is to help develop people from grade three through college to develop good character, be responsible and respectful, and to get some of those soft skills so that they can respond better in the academic environment.
Q. What programs are offered and what is the main focus of The 100 Black Men Inc., the Las Vegas chapter?
A. For the most part, all schools are very competitive. You've got to come to that arena prepared, be offensive and a risk-taker. Our main program is mentoring and we also have some other programs we focus on as well for the overall health of the communities where we primarily just serve — education, health and wellness, and economic empowerment, and another program that we started in leadership. The main program and focus is mentoring.
We mentor at three schools in the valley:
■ The 100 Academy of Excellence which is a school we initially helped found in 2008; it's an elementary and middle school. We mentor elementary students, fourth- and fifth-graders, every Tuesday and we mentor sixth through eighth grades on that same day.
■ We also mentor elementary school kids over at Wendell P. Williams, fourth- and fifth-graders.
■  Lastly, we just entered into a new mentoring program at the high school level over at Centennial High School just over the last two months.
Q. How long are students involved in this program?
A. Our intent is to cover student engagement and mentoring across a lifetime. We had the elementary and middle school components in place for a long time and now we're at a point where we've added a high school component and expect to expand.
We also started a recent engagement with the local community college, CSN, to work with male students there who are fairly new to the campus, to help enter their partner program to help students get familiar and comfortable with the challenges in a college career.
Q. Why is teaching chess to children so important?
A. On Saturdays we have, what I call, a catch-all program where we mentor. Our main emphasis on Saturday is teaching chess and chess competition. We have mentees from the third grade through high school.
We emphasize chess because it is a great game of strategy that helps students develop critical thinking skills. As they develop the ability to think ahead and become more strategic, they will learn that there is a direct correlation between making decisions in real life and the consequences of those decisions on ones life's circumstances.
Q. As president, what is your personal goal for the organization?
A. My main goals and mission when I became president in December 2014 were to expand our membership — we have around 50-55 new members — and to expand our mentoring program to include high school. Mentoring is a good way to make sure that students who come from a challenged economic environment receive support to help them as they navigate through the school system.
Q. Why is mentoring so important to success and the future of the children?
A. It's extremely important when you focus on many of the challenges that young people find themselves in who come from challenged communities where the community might be economically underserved. (The) 100 Black Men feels strongly that there needs to be some intermediaries who are willing to step in as surrogates, big brothers, to help young males in particular, develop and understand some of the responsibility and focus they need to have in order to be successful long term.
Q. What is the outcome you hope to see for the children involved?
A. All students are required to go to school; that's compulsory, that's law. So, we've got to find ways to help them maximize their response in the school setting, especially when they have other challenges outside of school that could impact their performance in the school setting.
Schools are very competitive when it comes to learning. So we're there to supplement with some of the soft skills that kids need to have developed in their home or in their community so that they will be as competitive as the next kid about learning. And, also, to provide networking opportunity for these kids as they go through school and get ready for college.
Q. What is SOAR?
A. This plan was introduced in 2012 and The 100 Black Men of America spent the last three years defining an implementation plan and infrastructure to support the rollout of SOAR to its chapters. It is a strategy committed to high-performing schools and academic achievement by black students through all educational opportunities designed to improve student outcomes and reduce dropout rates.
Our national organization has put a new layer of management in place responsible for execution of the strategy and established a budget over four years to achieve these goals. They are encouraging all chapters to join in this partnership and become advocates in the communities they serve. The Las Vegas chapter has already began participating in this game-changing program with the execution of a grant to allow us to start hosting community conversations and meetings on education options in Nevada.