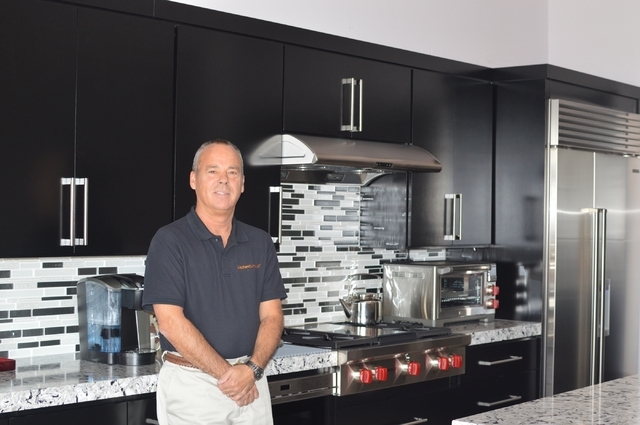 Paul Climer, owner of Kitchen Tune-Up in Las Vegas, had been a homebuilder in Michigan for almost 20 years before coming to Las Vegas during the height of the "Great Recession" in April of 2008. Smartly, Climer and his wife decided to purchase the Kitchen Tune-Up franchise rather than continue in the homebuilding sector.
"Kitchen Tune-Up seemed to be a good fit because they had other processes other than just new cabinets," Climer explained. "New cabinets are very competitive and we were wanting to be able to service people with less expensive propositions." Considering that at the time, people were looking for more affordable options, it was a successful strategy.
During those hard economic times, Climer said, "we did really well." Climer attributes that to the fact Kitchen Tune-Up was offering services priced around $1,000. "That's really inexpensive for kitchens," he said.
The business is customer-service-driven, Climber emphasizes. "Kitchen Tune-Up also has these trust points which are really important." Those trust points include returning calls and messages within 24 hours, showing up on time, cleaning the job site daily. The main trust point is that "we do what we say we're going to do," said Climer.
Paul Climer recently received a national customer service award from Kitchen Tune-Up at the brand's annual reunion. He was selected from more than 100 franchisees. This award is based on customer comment and feedback cards. "It's a team effort," Climer said graciously.
Q. What led you to start a Kitchen Tune-Up franchise in 2008, during the height of the "Great Recession"?
A. I'd always been in my own business since I was in my early 20s. I couldn't see me going to work for somebody, much less because there weren't any jobs. So it seemed like the thing to do. Jumping into franchising was a big leap because I had always been independent. Now here I'm going to pay somebody a percentage of my sales.
After I met with Kitchen Tune-Up, we flew to Aberdeen (S.D.) to meet with them and my wife and I were both really sold on their program. The services they were able to teach us and the support they gave us helped us through the economic times.
With a down economy, you can hire really good people because they're readily available. We were able to do that and we just offered services at a reduced rate trying to keep us afloat. And it worked.
Q. What are you seeing in the marketplace post-recession?
A. Well, it's kind of funny. We went from doing just minor repairs and restoring kitchens in 2008 through 2010. And then, in 2010 through 2012, we started doing inexpensive remodels where we'd maybe change the doors out with inexpensive doors, dress up the kitchen a little bit. People would use their charge card and they'd do it for Christmas presents or birthday presents, back and forth.
In about 2014, it just broke open. Everybody's doing major remodels; they're doing big kitchen jobs, kind of like the one you see pictured here.
Our main process is refacing. That's where we replace doors and drawers on a kitchen. I can get pretty pricy if they're going to put in cherry doors and things like that and it really makes the house look like brand new when we do that.
Q. What trends are you seeing?
A. Well, Shaker's been really hot for about three years, four years. The big trend right now is black and gray. I've sold three gray kitchens this week. And this is all Sun City, so this is not out in the trendy areas and the high-rises.
In Las Vegas, we have some high-rises, and we're seeing high-gloss, colors, woodgrains and whites, and things like that — very contemporary looking. But in the regular single-family house in Las Vegas, we're seeing more gray, black and white. We're not seeing the traditional raised panel cherry door that much.
Q. Who's your target market?
A. My actual target market is somebody who's been in there home about eight years, so they're vested in the home. We don't really go by age because we have Sun City that we deal with and then also deal with younger buyers; but more of an income range of $50,000 to $150,000. And a home value of, say, $150,000 to $500,000. We really don't get into the higher-end homes.
Q. What challenges and adversities have you overcome, in opening this business, in dealing with the recession, and the recovery?
A. Well, during the recession, we dealt with the obvious thing, lack of sales and lack of profit. Luckily, we came here with a fairly good savings account. We did invest in the business heavily for a few years.
But, now, the big problem is employees; finding people to work for you that are skilled and will stay working for you. It's kind of a tight labor market for skilled employees.
It seems like during the economic downturn most of the really good carpenters just left Las Vegas … and I don't think they're going to come back after that because it was shocking how quickly it turned.
A lot of those guys walked out of here, just lost everything, and so they're not going to come back to Las Vegas.
Q. Why do you feel that you've become successful in this business through the recession?
A. Well, it's really simple practices. I came from a very small town and when we talk about customer service, we didn't give lip treatment to it. We started out from the minute we met the customer; we walk them through what we have available; we call them up and talk with them quite a bit; communication's key.
All my employees have the ability to service a customer in any way they need to right on the spot without calling me and asking. So if somebody asks for something to be done, we do it. No is not in our vocabulary as far as customers are concerned.
And then, after the fact, a lot of communications — how they're doing, how their job's going, and we offer referral fees if they send their friends.
We always guarantee them that job will be done perfect and their friends will come to them and say 'Hey thank you' for sending us their way. So it's from the beginning to the end.