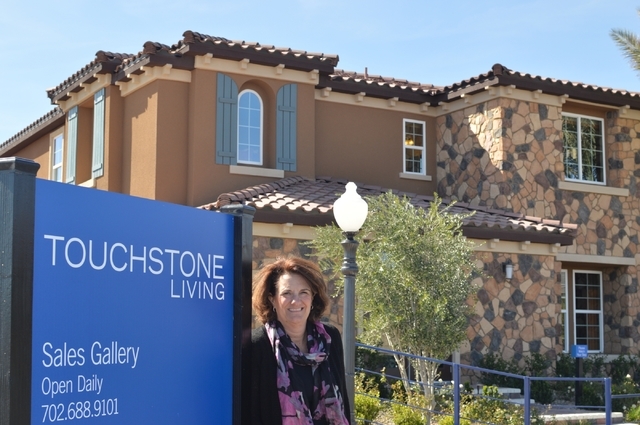 Tracey Lee, a third-generation Las Vegas native, is the vice president of design for Touchstone Living, a premier home builder in Southern Nevada owned by Tom McCormick.
Lee is also the owner of TDL Design Construction Solutions which she started in 2009 during the recession. She also holds a general contractor's license but, for now, her focus is with Touchstone. "Touchstone is really taking off and I'm just excited about the direction of that," she said.
Lee started drafting as a student at Chaparral High School and went on to a technical school in Arizona. She honed her skills and talent by simply never turning down an opportunity — working on casino remodels, hotel remodels, projects for other builders and contractors, including designing kitchens and space planning for offices and commercial projects.
Today, she is one of the few females leading the industry.
When technology advanced and it seemed she'd need to learn computer architectural drafting, McCormick was smart enough to see her artistic flare. He encouraged her to stick with the old-school method of artistic drafting. Today, Lee has an assistant who takes her artistic drafts and enters them into the computer program so she can focus on the artistic nature of design.
Flexibility is one of the best features of the homes, Lee explained. "You'll grow with it. It'll change. You can make it change to your lifestyle."
Lee noted indoor/outdoor spaces are "very popular right now. I think people embrace wanting to go outside."
Outdoor living trends are becoming popular and Lee's designs are on the cutting edge.
Q. Being one of the few women in a male-dominated industry, what has that experience been like?
A. I actually have to say it has not been as difficult as maybe some people have had. My first job, I had two guys who just really supported me, encouraged me to learn as much as I could, and so I really didn't run into that. Every once in a while you'd run into people who just didn't think you should to be in that position. But, for the most part, everybody was really supportive. I really had a lot of mentors and people that really supported my wanting to learn.
Q. What is Touchstone Living?
A. Touchstone Living is a home builder and we concentrate on designing homes and creating lifestyle for people to live and grow. What we're trying to do is bring elements of custom homes into the production levels. We're trying to do stuff that people don't see all the time, or do a better job of what they've seen.
Q. What makes your brand unique?
A. I think the thing with Touchstone is I'm in-house. Most builders, homebuilders, outsource. We work in-house; Tom and I've been working together almost 20 years. Together we're able to really concentrate on the Vegas market. We can make decisions; we don't have to wait for answers. We can answer the guys in the field right away.
We're hands on. We do everything in-house. And we try not really to duplicate floor plans. Each neighborhood is going to be a new original setup, floor plans. I do the site design, too. So if we buy raw land, I'll figure out how we're going to lay out the streets, and the lot sizes. Then from there we can go over the product.
Q. What do you like best about being in-house and on location?
A. I love it; I mean I just love solving. I love the challenge of coming up with a floor plan, whether it's an entry-level floor plan or it's a 6,000-square-foot floor plan. The challenges are all unique; they're great. Can we get five bedrooms in 1,600 square feet? It's just the challenge. I love the challenge of designing, I love the challenge of taking it to the next level, and I love seeing it built.
Q. Is drawing something that came naturally?
A. Oh yeah, I was always creative. I loved drawing. But I found drafting was kind of more technical; it's more challenging because it was more restrictive; it had guidelines.
Q. Where do you get inspiration when designing?
A. It can be something small that you see. See other products. Usually try to go to California once a year. Read, look at magazines, but usually it's just one little idea that triggers something. And I think it's just paying attention to how your friends and family live. How people entertain. Lifestyles change. People still want the space but I don't think they want the space the way it always was designed.
Q. How does it feel to know you're ahead of the trends and even setting trends?
A. I don't know if anything's ever original. I think you just try to improve on it, to be honest. I think trends just keep improving. So, I think you just try to improve on what we're doing.
Q. Do you think being a woman helps your creativity?
A. I definitely do. I think we look at things differently. How we want rooms to look. Storage is really important; I don't think men necessarily always invest that much into that.
Q. When you sit down to design a home what is the first room you think about?
A. Start with the front door. Just figure out how you want the foyer to be. I like a sense of foyer; kind of shielding. You're not necessarily letting the world into your space. This works in my mind because of the courtyard (a feature of some Touchstone Living models).
Q. Why is it so important to have the transitions when you're designing?
A. I guess my sense of it is, if you have someone at the door that's more of a stranger or something, you're not letting them be exposed to your whole house, your lifestyle, everything. It's kind of just a holding area. I just kind of like that separation.