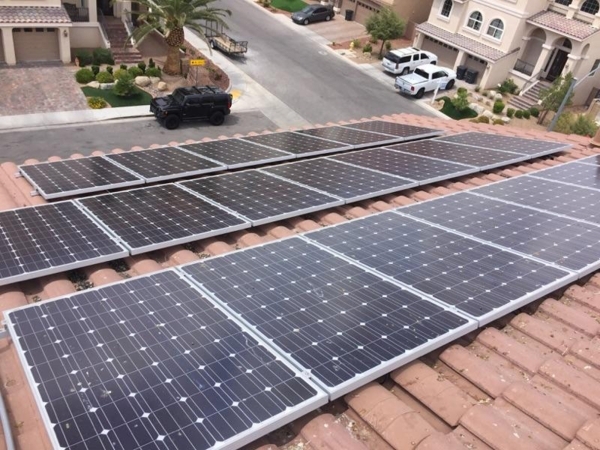 The issue of solar net metering was not on the agenda of the state's Public Utilities Commission meeting Dec.2. However, when it came time for public comments, the group calling itself "We Are Solar" had plenty to say.
In a scene reminiscent of the final courthouse scene of the Christmas movie "Miracle on 34th Street," volunteers placed stacks of postcard-sized petitions, neatly tied with green and yellow ribbons, on the table before the commission while members of the public pleaded for the continuation of the current net metering program.
A total of 31,650 signed and digitally signed petitions were produced by those in favor of fair metering rules.
Each card read:
Dear Commissioners Thomsen, Burtenshaw, and Noble,
As you consider long-term rules for rooftop solar in Nevada, we ask you to protect competition and our freedom to choose affordable, clean, abundant solar energy. The rules proposed by NV Energy would eliminate choice for Nevadans.
Please adopt fair net metering rules and lead Nevada to a more prosperous, self-sufficient future.
Unlike in the movie, where a mountain of letters addressed to Santa swayed the judge to rule in favor of Kris Kringle's sanity, solar advocates will have to wait a little longer to find out solar power's fate. The PUC is scheduled to make its final ruling during the regularly scheduled Dec. 22 meeting.
There are at least 10,000 solar customers participating in the net metering program in Nevada. They make up around 1 percent of NV Energy's customer base. However, unlike NV Energy's large contract power suppliers, solar net metering customers don't pay to transmit the energy from their solar panels to the grid or other grid upkeep charges. And that, according to NV Energy, is the heart of the problem.
According to NV Energy, other non-solar ratepayers are subsidizing the ability for solar customers to access the grid when the sun is not shining.
Net metering customers receive a nearly 12-cent per kilowatt hour credit on their power bill for every kilowatt hour that they generate but don't use and send to the grid. That's the same rate non-solar customers pay for the electricity they use.
NV Energy's answer is to reduce the amount paid to residential rooftop solar customers for their excess energy from 12 cents down to five cents per kilowatt hour, and charge those customers a monthly fee to connect to the grid.
Rooftop advocates claim that this will make rooftop solar no longer viable for the consumer, and will make rooftop solar residents pay more for their electricity than non-solar residents.
A comparison of power bills in Southern Nevada showed that the average home paid $1,439 annually without solar and $168 annually with the installation of a rooftop solar system. With savings of $1,271 per year, the cost of purchasing a 7kw system (minus a NV Energy rebate and 30 percent tax credit), will have a payback of 5.5 years.
However, under the NV Energy proposal a residential solar customer would pay $1,534 annually for power, which equates to $95 more than non-solar customers. The NV Energy proposal calls for a monthly basic service charge of $18.15, along with a 1.43-cent generation meter charge, $78.82 demand charge, and receive a 5.5-cent credit (as opposed to the current 12 cents), for excess power that is delivered to the grid. Under this scenario, the customer will not see any payback on the system but instead will pay an extra $2,375 over the span of the projected 25-year life of the system.
A formal hearing on this matter was held before the PUC Nov. 18-20, generating thousands of pages of testimony.
Included was a recommendation by the PUC staff that residential solar customers pay monthly fees that include a $12.75 basic service charge, 1.48 cents for a generation meter charge, a $22.55 demand charge, and receive a 3.1 cent credit for each kWh of electricity delivered back to the grid.
Under this plan, there would not be any NV Energy rebates for the installation of the system but customers would still be able to take advantage of the federal 30% tax credit. It is estimated that the customer would pay $999 per year for electricity for a saving of $440 on their electric bill compared to the $1,439 paid by non-solar customers. At that rate, the system would have a very undesirable 32-year payback.
On the side of the consumer and the solar advocates is the State of Nevada Attorney General's Bureau of Consumer Protection, which represents ratepayers in PUC hearings. It filed a Notice of Intent to Intervene, allowing it to provide formal testimony and said NV Energy's proposal had "serious flaws." "The BCP is concerned that all residential customers — solar or not — will be overcharged," said William Marcus, a consultant hired by the consumer advocate to research the proposal.
While the 31,650 petitions is the largest number ever presented to the PUCN, it is unclear as to whether it will be enough to sway the three-member commission to decide in favor of Kris Kringle's sanity —or rather, the wallets of residential rooftop solar advocates.