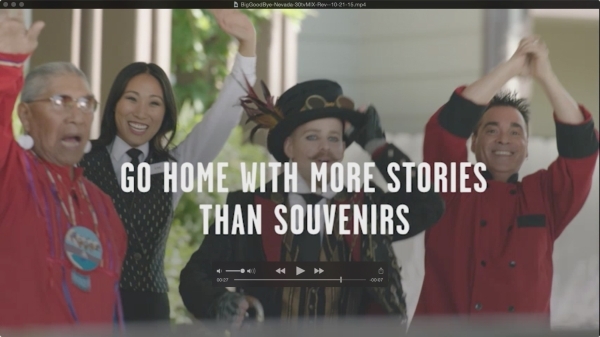 The marketing of Nevada and Las Vegas in particular has been a case study for public relations firms, marketing consultants and the business world as a whole for most of the 21st century, and now the state Department of Tourism is looking to add another chapter to that legacy with its new Travel Nevada campaign, which launches Nov. 16.
"We have such great synergy with the Las Vegas Convention and Visitors Authority (LVCVA) that we are both able to cover the different Las Vegas experiences available and show people that this is truly a state that is a world within itself," says Claudia Vecchio, director of the Nevada Department of Tourism and Public Affairs.
The motto for the rebranded marketing campaign for the department is "A World Within. A State Apart." The campaign isn't solely focused around Las Vegas, Reno and Tahoe but also covers popular state events such as cowboy poetry in Elko and opal exploration and ghost towns in the eastern part of the state.
The campaign also heavily focuses on the fact that it is only a six-hour drive to get from Las Vegas to the northern part of the state, mainly Carson City, Lake Tahoe and Reno.
"Our state is full of bucket list experiences, and we need to show both Nevadans and tourists alike that there is a lot of depth in what we offer," Vecchio says. "All Nevadans should go see Lake Tahoe because it is truly an amazing natural resource in our state that offers so many activities to enjoy and places to relax and enjoy life. We live life differently from everyone else in Nevada and this campaign shows that we are proud of that."
Visibility for Vegas
The Department of Tourism and Cultural Affairs leaves the marketing of the Strip to the LVCVA, while it focuses more on the blossoming downtown area, natural attractions and day trips.
"The revitalization of downtown Las Vegas, and the energy it has brought to the entire state, really captures one of the worlds within we offer," Vecchio says. "Downtown Las Vegas has a unique character that we maximize throughout the campaign because it has big attractions that are personifications of that area. This includes the Neon Museum, Mob Museum and Container Park."
In October, the Travel Nevada campaign spent several days shooting scenes in downtown Las Vegas, during both busy times and off-peak times for use in different marketing campaigns in print, online, broadcast and social media platforms.
Besides the hustle and bustle in downtown Las Vegas, the Department of Tourism and Cultural Affairs also makes sure to market the natural, serene part of the Las Vegas area that can be found in attractions such as Mount Charleston, Red Rock, Hoover Dam and Lake Mead.
"It sounds like an oxymoron that you would come to the desert to ski, but the entire state of Nevada is about giving people experiences that they would never expect," Vecchio says. "We cover our proud tradition of Native American heritage, public parks and hundreds of festivals across the state so that we have every angle covered."
Travel Nevada's rebranding campaign is using the natural attractions to lure international visitors for day trips in Las Vegas, surrounding areas and even out of state, with them returning to the city in the evening to continue to generate the hotel and lodging revenue that is the backbone of the Silver State.
"It makes it easy to do a rebranding campaign like this when you have so many wonderful experiences to offer," Vecchio says. "But we want to make it clear that this campaign is just as much for state residents who have never traveled to any of these interesting places in Las Vegas, or anywhere across the state of Nevada."
Creating a campaign
Two distinct Travel Nevada campaigns have been rolled out for both domestic and international markets. In the United States, television advertisements have been bought in Las Vegas, Reno, Los Angeles, Phoenix, San Francisco, Salt Lake City and Boise. The international campaign focuses on Canada and Mexico, with selected markets in Asia.
As a sign of the times, 50 percent of the media advertisements are in digital format, including social media, movie theaters and banner advertisements on websites. The target age demographic for the domestic campaign is age 18 to 45.
"We are targeting millennials and those who like outdoor adventures and those adventures lead them to meeting the characters of Nevada, who are one of a kind," Vecchio said.
The characters of Nevada are on full display in the advertising campaign, including the Pioneer Saloon in Good Springs and cowboys at the popular poetry reading festival in Elko. The advertisements feature relatable portrayals like Mike and Jenny, a couple traveling across Las Vegas, who meet the unique characters of Nevada, from entertainers to taxicab drivers and everyone in between.
"The characters of Nevada make our state what it is and we will never forget that, and the characters in Las Vegas exemplify that in many areas," Vecchio says. "Nevada is all about adult freedom, fun experiences and having something for everyone, and we are very proud to pass along that message with the world."