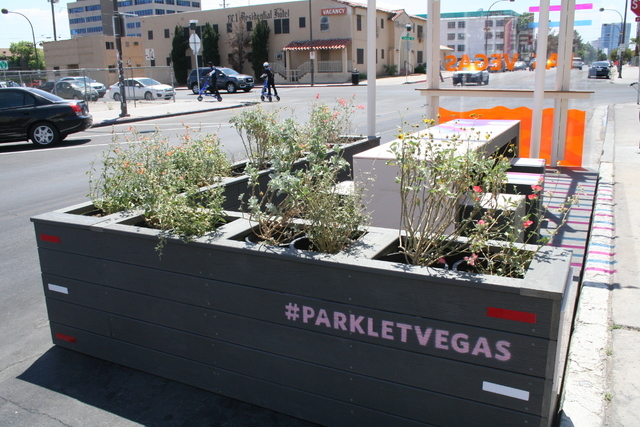 Downtown Las Vegas unveiled the city's first parklet, a small public area complete with a table and chairs for passers-by, on April 21.
Located in front of the John E. Carson building on the corner of Sixth Street and Carson Avenue, the parklet was built with recyclable materials and features colorful accents, seating with built-in games and educational information about local wildlife.
"The downtown parklet was designed with Downtown Project's three C's (collisions, co-learning and connectedness) in mind," John Curran, parklet creator, said in a statement. "We hope to help connect individuals and spark spontaneous interactions that can lead to expanding networks, innovative ideas and new businesses."
The parklet was created and built through the collaboration of Downtown Project, Iowa State University, University of Nevada, Las Vegas, Resort Gaming Group and the Nature Conservancy.
Visitors and residents are encouraged to enjoy the outdoors while visiting the downtown parklet and post a photo to social media using #ParkletVegas.
Dating website debuts
More singles are trading marriage, children and the white picket fence for promising careers, nontraditional families and rental housing, according to Calvin Guess, CEO and co-founder of a new dating website that launched in Las Vegas earlier this month.
First Impression aims to shift the focus of single people from marriage to creating memorable intimate experiences.
"Even though millennials don't feel as much societal pressure to marry, everyone is looking for a connection," Guess said in a statement. "Our goal is to use innovation to recreate an old-fashioned 'gentlemen &a lady' courtship experience."
First Impression's "Match. Meet. Share" model sets it apart from its competitors and motivates users to participate in live events.
"We provide a fun and highly interactive atmosphere for singles to meet, connect, socialize, build friendships and hopefully find love at the same time," Guess said.
Guess, who is single, was inspired to create the dating site after watching his single mother go through heartache and break-ups while he was growing up. He wanted to help others find love by sharing his first-hand knowledge of what to do and what not to do in courtship — beginning with the all-important first impression.
Las Vegas, which is home to almost 1 million singles, according to the 2010 U.S. Census, is known for its difficult dating environment. Guess, along with co-founders Marce Cotton and Anthony Lee, chose to launch the site in Las Vegas because of the city's nightlife and high visitor volume.
Membership is free, open to all age ranges and includes a simple sign-up process. First Impression plans to host four singles events over the next quarter, including an alter-ego party complete with a photo shoot.
"I'm passionate about providing singles opportunities to meet, have live experiences in cool venues," Guess said.
For more information, visit www.Firstimpressionlove.com.
Spying on (water) leaks
Las Vegas Valley Water District and AT&T are working to implement a smarter water management solution along the 4-mile stretch of the Strip.
Sensors, which have been placed at both ends of the underground water pipes as well as one every half-mile in the middle, use acoustical algorithms to identify leaks. Wireless broadband networks send the data collected by the sensors to utility workers who are able to track down the leaks in real time.
According to Susan Diegelman, director of public affairs at AT&T, this solution gives the Las Vegas Valley Water District an opportunity to monitor the pipes over time instead of scrambling to fix large water main breaks.
"With continuous monitoring, utilities can identify leaks early instead of realizing there's an issue once the full system is struggling and, quite possibly, suffering a catastrophic event," she said.
AT&T is also gearing up to run similar tests in Atlanta and Los Angeles.
"Equipment will be installed in the cities in the next few weeks then the data will, literally, start pouring in," Diegelman said.
"Everyone is anxious to see what data is collected and how that data might be used to anticipate leaks in the system and save more water, one drop at a time."