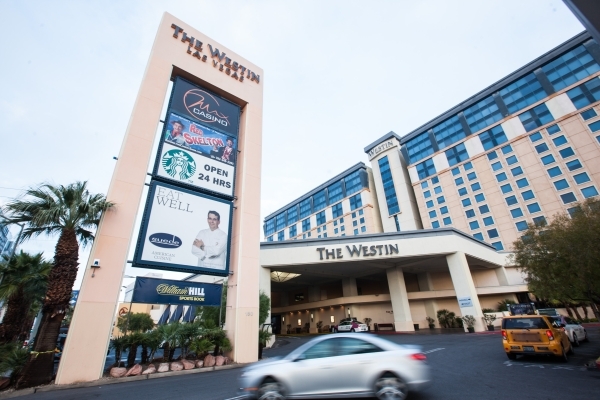 The loan on the Westin Casuarina Hotel & Spa, just east of the Strip, has been resolved with bondholders incurring a sizable loss on the property, according to New York data research firm Trepp LLC.
The $134.3 million loan on the 826-room property was sold off for $66.7 million, or a loss of $66.6 million.
Sean Barrie, a research analyst with Trepp in New York, said the "loan was expected to sell for a loss," but it "exceed the expectations." The loan had been carrying an appraisal reduction of $64.9 million as of August.
The Westin Casuarina's loan was part of the WBCMT 2005-C22 deal, and made up 13.1 percent of the C22 deal before the resolution. The loss wiped out the G and H classes of bondholders and about 85 percent of the F class, Trepp reported.
"The deal now has no delinquencies as of September and there is one loan, a hope note, that is performing but with a special servicer," Barrie said. "The loan makes up only 0.71 percent of the remaining collateral."
The Flamingo Road property, which sits adjacent Koval Road, fell into foreclosure in November 2010, after its owner, Crestview Hills, Ky. –based Columbia Sussex Corp., defaulted on the property's $160 million mortgage.
Columbia Sussex bought The Westin for $38 million in 2002, then launched a $42 million renovation that took a year to complete. The former Maxim hotel changed its name after the company secured a Western franchise.
According to Trepp, the property was appraised in 2005 at $240 million. The appraisal allowed Columbia Sussex to refinance the hotel-casino for $160 million.
But in May 2010, the recession had reduced the property's value to $90.3 million, well below the $148.5 million still owed on the mortgage. Today, the redesigned property features a 10,000-square-foot casino that offers poker and blackjack, along with other slots and table games.
Barrie said the Westin deal was "nice to see," and was a "good for Las Vegas," which still had a commercial real estate delinquency rate of 10.6 percent.