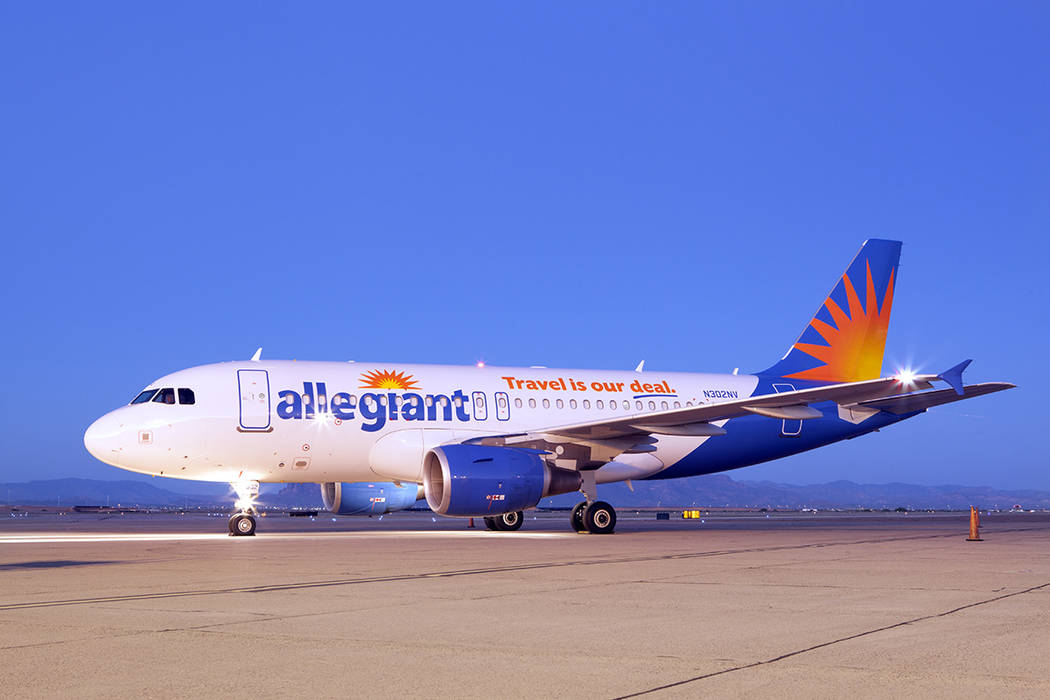 Allegiant Air is spreading its wings in Nevada.
The Las Vegas-based carrier with 1,500 employees saw its annual revenue grow from $1.26 billion in 2015 to $1.36 billion in 2016. It has recorded 57 consecutive profitable quarters.
Its mission is to provide high‐value, low‐cost travel experiences to customers. It does this by driving continuous innovation, structuring the organization to ensure flexibility and nimbleness, a relentless management of costs, and maintaining a "crystal clear vision of who our customers are and what they value," according to spokeswoman Hilarie Grey.
Allegiant has a business model unlike other airlines that focuses on linking travelers in small cities to world-class leisure destinations, Grey said. The company has grown from just one aircraft and one route more than a decade ago to 85 airplanes serving more than 120 cities across the country, she said.
Allegiant carried more than 10 million passengers in 2016 by making leisure travel affordable and accessible, Grey said. Allegiant has more than $11.2 billion in annual economic impact across the U.S., including $2.7 billion in Nevada, she said.
Many small and mid‐size communities are under‐served or ignored by carriers whose focus is business travel, Grey said. By serving smaller cities, Allegiant has made travel accessible to millions.
Grey said Allegiant's service is built around flying only when there's high demand. As an example, Las Vegas flights are typically scheduled around weekends when customers want to travel, and there are lighter midweek schedules.
"At the heart of our success is a robust set of technology tools created in‐house — starting with our own reservations platform," Grey said. "Where most airlines utilize out-of-the box solutions and await new platform-wide releases, Allegiant has been able to rapidly deploy new capabilities."
Allegiant has many industry firsts, Grey said. That includes the ability to implement fees for checked baggage and the deployment of mobile boarding pass scanner technology in every airport it serves.
More than 1,000 employees work at Allegiant's Summerlin headquarters, and 500 are based at McCarran International Airport. A recent economic impact study shows nearly 20,000 Nevada jobs are supported by Allegiant's presence in the state, and that employment creates $820 million in earnings.
The Allegiant campus has 10 buildings – 215,391 square feet of office space on 14 acres. This creates the ability to grow, keep sensitive spaces secure, and encourage work teams to interact, Grey said.
Allegiant's intranet, G4 Connect, is the hub for employee programs such as Share Innovation, that invites team members to submit ideas to save money or improve customer experience, Grey said.
Allegiant has been forward‐thinking in addressing the anticipated industry‐wide pilot shortage by instituting flow‐through agreements with aviation companies such as Nevada's Grand Canyon Scenic Airways, Grey said.
These partnerships create pathways to employment with Allegiant as newer pilots amass the hours and training required to fly with a major carrier, she said.
A process of streamlining Allegiant's fleet is underway, phasing out B757 and MD80 aircraft in favor of newer Airbus A319 and A320s and creating efficiencies in training, maintenance and parts inventory, while increasing operational reliability, Grey said.