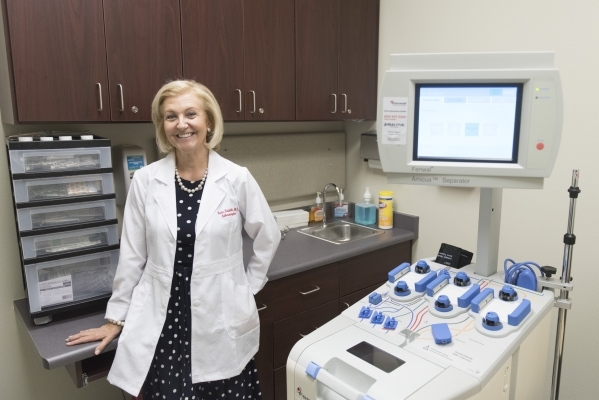 Beata Kwiatowska is a doctor many Southern Nevada residents have relied on for their health and recovery during the last 15 years, but many haven't even met her.
Kwiatowska served as the Nevada regional senior medical director for United Blood Services, a nonprofit that collects blood from donors and provides blood and blood products to patients in area hospitals.
Since July, she has served as medical director at the Fresenius Medical Center in Las Vegas and supervises the collection of white blood cells from patients with prostate cancer. She's also a doctor at CSL Plasma Center in Henderson and laboratory director at the Pain Institute and Medical Center in Las Vegas.
One of the leading experts in Las Vegas on transfusion medicine and blood banking with 24 years of experience, Kwiatowska, 60, who did her fellowship in the field at Stanford University, said her career has been rewarding.
She is a native of Poland who moved to the United States in 1982. Kwiatowska, a clinical pathologist by training, says she choose blood banking and transfusion medicine over other medical specialties because of their clinical orientation.
"It's a very interesting, exciting and relatively new field in medicine," Kwiatowska said. "I like the contact with blood donors and patients. You become a doctor because you like helping people. I can save many people's lives through blood transfusions."
Blood banking is the collection of whole blood that's tested and then separated into multiple components of red cells, plasma and platelets. The blood is sent to medical facilities when surgical, oncology patients and trauma victims and OB/GYN patients need blood transfusions. More than 12 million units of blood are collected a year, and 4 million patients in the U.S. receive transfusions a year, she said.
"Blood is saving people's lives because red blood cells transport oxygen to tissues in the body," Kwiatowska said.
About 30 percent of the blood collected in Southern Nevada is done through the traditional manual method of blood from a single needle collected in a bag. That process takes up to 15 minutes and is the preferred method of many older donors who aren't able to tolerate the automated or apheresis procedure that can take up to 90 minutes.
In that system, donors are hooked up to the apheresis machine where whole blood enters the cell separator and is made into the blood products.
"We can collect red blood cells, the platelets, and we can collect plasma," Kwiatowska said. "If we have the collection of platelets, the rest of the plasma returns to the donor. You can collect red blood cells and plasma and platelets are returned back to the donor. When you collect plasma, red blood cells and platelets return. On one setting, you can collect all three."
With the apheresis machine, it's common to collect one or two products, whether it's a combination of red blood cells and plasma or platelets and plasma, she said. It's rare to collect three in one setting because donors don't always qualify, she said. They need the necessary body weight, platelet levels and hematocrit levels.
The benefit of the automated system, which uses two needles, is the saline fluid replacement when people donate plasma and two units of red blood cells to mitigate side effects such as being more tired, she said.
Older donors with their more fragile veins and lower hematocrit levels aren't always the best candidates for the automated process, she said. The benefit of it, however, is fewer side effects of a drop in blood pressure and heart rate, Kwiatowska said.
"You would be surprised that we have more adverse reactions after whole blood donations compared to automated procedures," Kwiatowska said.
The responsibility of blood bank physicians doesn't end with collection. Once blood is gathered, it's tested for 10 infectious diseases. Those include HIV, hepatitis, syphilis and West Nile virus. There is also dealing with doctors across the valley.
"They're calling sometimes for consultation and my role is to help them," Kwiatowska said. "Sometimes surgeons call during surgery to say the patient is bleeding and what blood products do I recommend."
Blood banking is a growing field, and it's no longer a field of simply blood production, Kwiatowska said. That includes blood component therapies, patient blood management, transfusion practices, adverse effects of blood transfusion, homeostatic disorders, coagulation, therapeutic apheresis, hematopoietic cellular therapy and tissue banking, and organ transplantation.
"This field is changing constantly, and that's one of the things I like about it," Kwiatowska said. "I like that this specialty is diversified, and I like thatyou have blood donors and patients that you interact with."