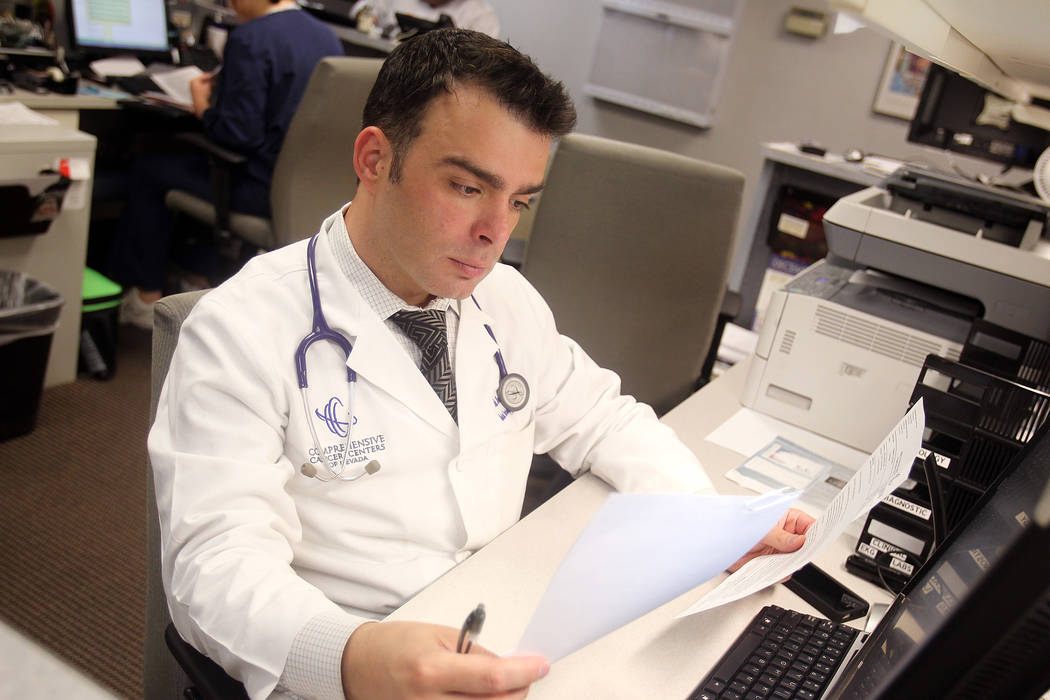 Institutions such as Comprehensive Cancer Centers of Nevada are becoming destinations for out-of-staters seeking medical care, lessening the punchline power of the jocular question on where to go if you live in Nevada and need health care.
CCCN, the physician-owned practice with 14 locations in the Las Vegas Valley, provides diagnostic, therapeutic and research services and has seen an tremendous influx. In five years its out-of-state patient numbers increased nearly 400 percent, bringing in 2,391 patients from outside Nevada in 2016.
An affiliate of US Oncology Network, CCCN offers experimental and established treatments and therapies and participates in more than 170 clinical studies (Phases I, II and III) annually.
It was among the first sites in the country to host immunotherapy trials for certain cancers, and it was one of four to offer trials for Xofigo, a drug used to treat prostate cancer, before it received its U.S. Food and Drug Administration approval in 2013. Last year, Las Vegas resident Carole Kunst was the first patient in the nation to receive the immunotherapy drug Tecentriq for urothelial carcinoma. It became the first FDA approval for a bladder cancer drug in three decades. In some cases, it might be one of only a handful of locations in the country offering certain trials.
"We've had patients call from Utah, Arizona and Southern California," says Khin Win, director of research operations at Comprehensive Care Centers of Nevada. "With cancer patients, they don't want to wait. Every day is precious to them."
Not only have decades of research altered the longevity and lifestyle of those diagnosed with cancer, but clinical trials, required for FDA approval, offer patient experimental treatments that might be more effective than what's on the market. And at CCSN, where the trials are sponsored by pharmaceutical companies awaiting the data, patients in clinical trials participate at no cost.
More than 1.6 million Americans are expected to be diagnosed with a form of cancer this year.
Win says that the demand for research data and the desire for trials to be activated quicker have boosted the growth of community-based research programs such as CCSN, which might in some cases activate a study sooner than an academic institution.
Its 14 locations in the Las Vegas Valley offer services that range from immunotherapy, chemotherapy and breast surgery to CyberKnife robotics surgery. The practice formed after Southwest Cancer Clinic and Nevada Radiation Oncology Centers united and fell under Comprehensive Cancer Centers of Nevada in 2002. In 2010, it expanded its services to include a breast surgery division. In 2015, it added the Lung Center of Nevada to serve patients with lung diseases and sleep disorders. Through its trials and studies, CCCN has played a role in developing more than 60 FDA-approved cancer therapies.
Its access to new drugs and new treatment options, as well as the affordability of flying to Las Vegas, are also draws for informed and connected patients always seeking information about clinical trials online, Win said.