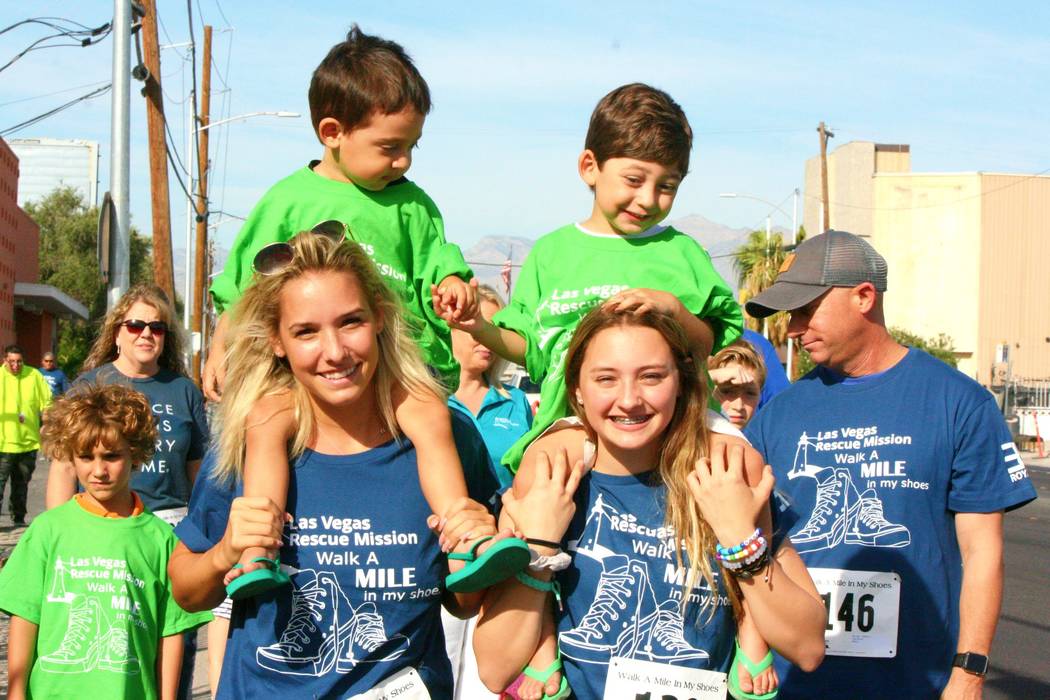 The Las Vegas Rescue Mission will host its eighth annual fundraiser, called Walk a Mile in My Shoes. The event is planned for Sept. 28, 9 a.m.-noon. at the Las Vegas Review-Journal on 1111 W. Bonanza Road.
It's a joint-collaboration between the Las Vegas Rescue Mission (LVRM), Las Vegas Review-Journal and the Las Vegas Metropolitan Police Department.
Participants are to walk from the Las Vegas Review-Journal building on Bonanza Road and Martin Luther King Boulevard to the LVRM headquarters where they will be able to tour the facilities, learn about community needs and the services the Mission offers. Volunteers will also package a sack lunch for someone in need before leaving the facilities and walking back to the Las Vegas Review-Journal.
According to a 2019 survey by Help Hope Home, in Southern Nevada alone, an estimated 13,871 individuals and community members will experience homelessness.
"The Las Vegas Rescue Mission provides support and services to underprivileged
individuals in need of safe shelter, meals, long-term rehabilitation programs and
counseling," said Heather Engle, CEO of the LVRM.
Walkers are also encouraged to participate in the "Extra MILE" challenge by creating
their own fundraising page and raising proceeds leading up to the event. Those who raise $250 by Sept. 6 will be entered in a raffle to win two tickets to the Las Vegas
Golden Knights versus Colorado Avalanche pre-season game.
The Las Vegas Rescue Mission has been assisting homeless men, women and children in the community for nearly five decades.
Since 1970, the Mission has been providing food to the hungry every
day, shelter to the homeless, and an addiction recovery and back-to-work program for
those who have lost their way. The Mission started with a small storefront building that
included the chapel, kitchen and shelter that was able to house a few men. Today, the
Mission campus takes up two city blocks in downtown Las Vegas, helping hundreds of
men, women and children daily, and providing about 30,000 meals each month.
As a nonprofit Christian organization, it provides services to all people without regard to
race, color, creed, national origin, age, gender, religion or disability.