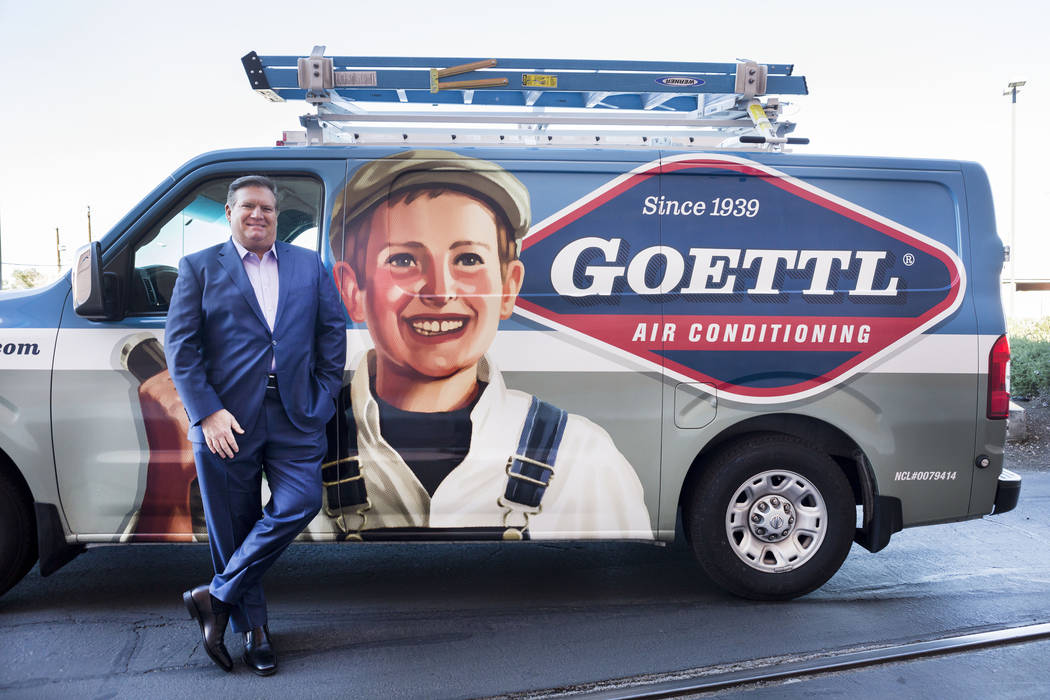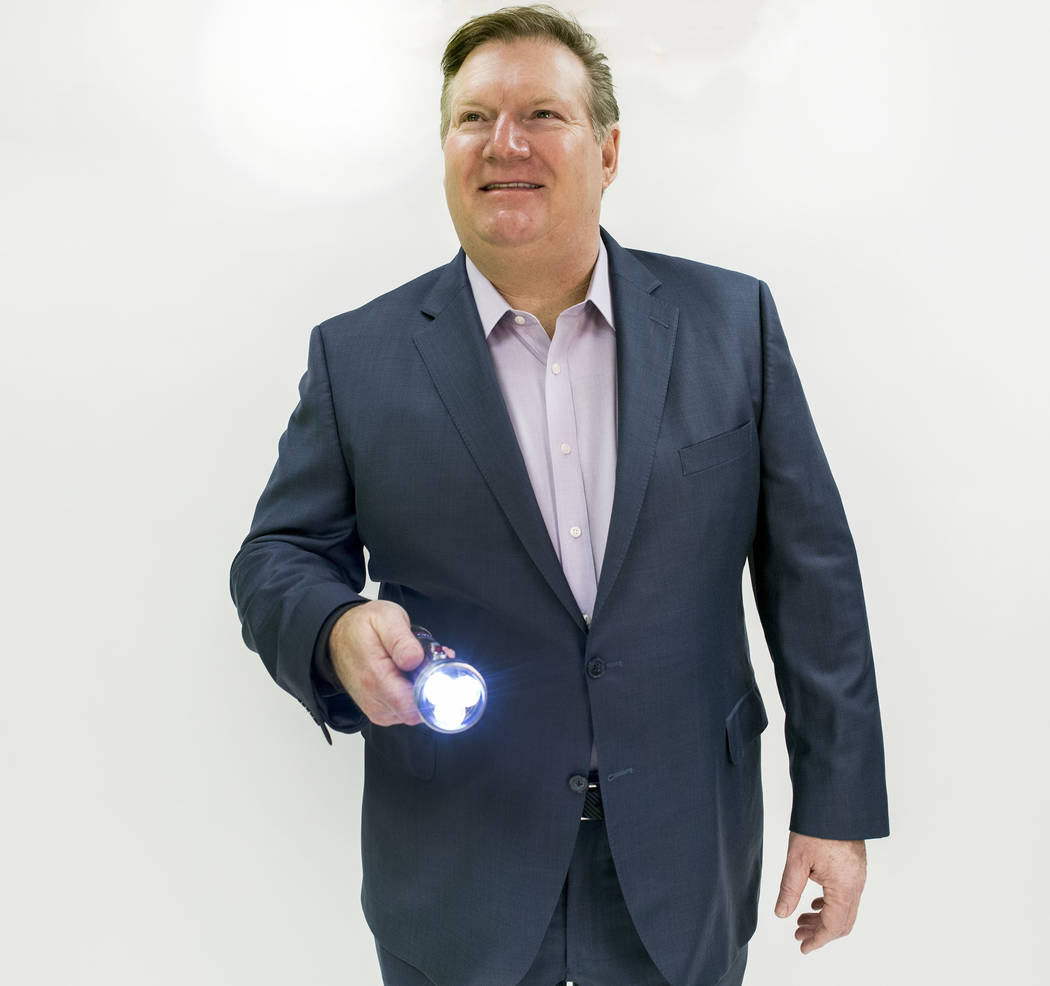 As a young boy, native Las Vegan Ken Goodrich often was by his father's side when he made calls for his air-conditioning business.
Today, Goodrich owns and operates two Las Vegas-based companies: Goettl Air Conditioning and The Sunny Plumber. Goettl AC was established in Phoenix in 1939 by brothers Gust and Sam Goettl. After acquiring the Arizona-based heating, ventilation and air-conditioning company in 2013, which also had a second location in Tucson, Arizona, Goodrich expanded the business to Las Vegas in 2016.
When he purchased Goettl AC, Goodrich also started The Sunny Plumber in Phoenix and Tucson. He expanded The Sunny Plumber to Las Vegas in 2015 and then to Corona, California, the following year.
Goodrich recently acquired two additional Las Vegas-based air-conditioning businesses, and he plans to continue expanding his brands across the Southwest.
Q: How many employees do you have on staff in Las Vegas at this time? What's the total across all your company's locations?
A: We currently are a crew of 56 in Las Vegas and are recruiting daily to get (it) up to 70 before the first 100-degree day. It warms my heart how Las Vegas has embraced our brand, beliefs and message, which have fueled our rapid growth here, especially since I am born and raised here in Las Vegas.
Q: When did you acquire Las Vegas Air and Paradise Air, and how did it come about? What has been the biggest impact overall on your company since you took over these additional businesses?
A: We wrapped up the Las Vegas Air and Paradise Air acquisition in November 2016. I've acquired a lot of businesses in my career, but these were different than most. This acquisition wasn't about adding customer base or taking a big competitor out of the market. This one was about bringing experienced talent to the Goettl brand.
Michael Gamst, Stephen Gamst and Clayton Johnson, the former owners of Las Vegas Air and Paradise Air, who collectively have over 90 years' experience in HVAC, are seasoned operators. Their impact to Goettl started immediately, bringing leadership and energy to the crew, which are key elements of our business growth and the road to create raving fans out of customers.
Q: What do your plans include for continuing to expand your company in the next year? Next five years?
A: Our mission includes becoming the market leader in each market that we serve. In Phoenix and Tucson, Arizona, we have accomplished that mission. In Las Vegas, the crew is laser-focused on taking over the market leader spot in 2018. In California, our acquisition team is busy identifying acquisition targets from San Diego to San Francisco. We plan to be the market leader throughout California, as well. After the western United States are covered, we will be heading east.
Q: Will you be expanding the air-conditioning and plumbing portions of your business or focusing on one area? Any plans to combine them under one company name?
A: Our business model is both plumbing and HVAC service and modernization. We have identified and implemented many synergies that make the model less cyclical due to weather, as compared to an HVAC-only operation.
We made the decision to brand the two trades differently because the consumer focus groups we commissioned early on suggest that most consumers have their plumbing company and their HVAC company. They believe that no one can be an expert at both, and I happen to agree.
Q: What is your ultimate goal for Goettl Air Conditioning and The Sunny Plumber? Are you ever concerned that your company might get too big?
A: Our ultimate goal is to bring our brand, our unique customer-centric culture and processes across the nation and become the gold standard for home service in the U.S.
With regards to being concerned about growing too big, our decentralized model puts the local management on the frontline with our customers, as most of our smaller competitors are structured. To a customer in any market we serve, the relationship is transparent, as they will be dealing with a local crew making swift decisions on their behalf. As we grow, our mantra will become: "Be national, act local."
Q: What do you believe is most important for you to instill in your employees to ensure your company's continued growth and success?
A: First, an unwavering commitment to making the customer happy and doing whatever it takes to make that happen. Next, having a high level of respect for the trade and a commitment from our technicians to "sharpen their saws," aka continuing their education to be the best of the best in the industry.
Last, but not least, while in our customers' homes, do the things that protect our customers' health and safety. Change their smoke detector batteries; replace the screws in the AC unit that the last guy left out; and check the duct system and seal up any open areas that may draw dust and dirt into the home.
Q: The Goettl AC logo features a young boy holding a flashlight; can you explain why you chose that imagery to represent your air-conditioning business?
A: Our brand is about the experience, joy and life lessons a boy learns by holding the flashlight for his dad. Most men have experienced holding the flashlight for their dads and identify that as a positive impact in their lives.
I was a 10-year-old boy holding the flashlight for my dad, Duncan Goodrich, as he worked on an air conditioner for a customer. Through many years of being the official flashlight holder, I became a skilled HVAC technician, learned invaluable business lessons and, ultimately, how to be the best at what I do and make customers happy. By the way, the boy on the logo is a digital re-creation of my son, Duncan, when he was 10 years old. I'm pretty sure he resembled me at that age.
Q: Besides learning from your father, do you have any formal education in air-conditioning and plumbing? Do you think that having a technical background is essential to running the business side of things, and if so, why?
A: My formal education in the trades came from the "school of hard knocks," which I believe I may have enough credits (from) to earn a doctorate. I have attended many trade-related continuing education courses over the years and have read something trade-related every night for 25 years. Most of my management team, however, has no experience or training in the trades. It's just a different skill set — leading and managing people, as opposed to knowing the trades. I was fortunate enough to be trained in both worlds, as I received a Bachelor of Science in business administration and finance right here at UNLV.
Q: What made you decide to support the educational component of the air-conditioning industry? How has being involved in that aspect affected you personally?
A: I'm a believer in giving back to the industry that has done so much for my family and me, and it has been a rewarding experience. I have made trade education one of my personal missions. Helping people with education can have a big, sustaining impact on their lives, their families and the industry. Some of the areas I have supported are providing scholarships for young men and women to receive an associate degree in HVAC and providing tools for post-9/11 veterans upon graduation, so they can be prepared for their first job in HVAC.
Q: What are the other companies you've built and sold during your career? Why did you choose to part ways?
A: I built Racee Air Conditioning, Lang Refrigeration, Economy Air Conditioning, Gardner Refrigeration, Spud Henry Plumbing, Sunset Sheetmetal &Air Conditioning, ASSAP Services and Yes Air Conditioning and Plumbing. I sold these businesses because they gave me an offer I couldn't refuse.
Q: What was your reaction when you found out you were chosen to receive the Contractor of the Year Award from the SNARSCA (Southern Nevada Air Conditioning Refrigeration Service Contractors Association) this past year?
A: It was quite a surprise and an honor to be recognized by my peers. Truth be told, I teared up and thanked my industry fellows for the honor and the recognition of my industry contributions over the past 30 years.