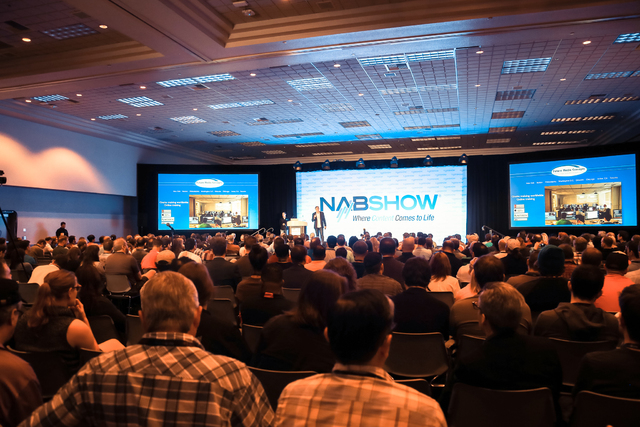 The National Association of Broadcasters Show set for April 18-21 at the Las Vegas Convention Center means different things to its different attendees. For production personnel, the show is a time to review and purchase the newest equipment; for radio stations and broadcast entertainers, it is a time for industry recognition with a high-profile awards show, and for industry employees, the show offers a career fair to start or recharge a career.
Most of all, the show's a place for commerce.
"This is a business-to-business show that we estimate anywhere from $20 to $30 billion of annual sales are generated from our trade show floor," NAB spokesman Dennis Wharton said. "It is a rare combination of a trendy trade show where we have a lot of Hollywood producers and Fortune 500 companies in attendance while there is still a lot of business being conducted on our trade show floor."
The 2015 NAB Show topped 100,000 attendees for the first time since the recession hit in 2008. More than 1,700 companies exhibited wares across 1 million square feet. Attendees, exhibitors and exhibit space are all expected to increase from 5 percent to 7 percent this year.
Still growing
"One hundred and sixty countries are represented at the show, with 25 percent of our vendors from outside of the United States and over 26,000 attendees total," Wharton said. "We are truly a global trade show for media and communications. Every year we add about 200 new vendors, while we still have the biggest brands in the world as exhibitors, including Sony, Oracle, Panasonic and Cisco."
NAB's ability to connect major brands with individual buyers is a main reason for coming, said Terry Patrick, national channel manager for RealLinx, which provides managed nationwide broadband, voice, security and hosting.
"NAB Show is the best for media and entertainment, especially if you are searching for new equipment or industry contacts," said Patrick, who has attended the show for the past five years. "The size of the show has grown over the years and the amount of exhibitors has continued to grow with new ones from all over the world that cover many areas and technical requirements."
The 2016 show will cover many technical areas, equipment and functions from digital signs to online video to 4K video speed.
"We have football field after football field of exhibit space," Wharton said.
Virtual reality
This year that exhibit space will be filled with the inaugural Kaleidoscope Virtual Reality Showcase. NAB has partnered with Kaleidoscope, the largest community for virtual reality creators, to host the event. It will feature virtual reality films and immersive experiences from Europe, North America and South America.
"With the rapid evolution of media and entertainment, it is clear that virtual reality will play a prominent role in the future of film and broadcasting," said Chris Brown, executive vice president of conventions and business operations for NAB. "Kaleidoscope will be a major highlight of our virtual reality educational programming, and we cannot wait to see what this next generation of artists brings to the NAB Show floor."
The next generation of employees in the communications industry will also get to shine at the NAB Show Career Fair from 10 a.m. to 3 p.m. April 20 at the Westgate. The annual event connects more than 1,000 entry and executive-level industry professionals with top broadcast and media companies.
The event, hosted by the NAB's Education Foundation and co-produced with the Broadcast Education Association, features a résumé review and exclusive seminars on topics including optimizing job searches and marketing professional skills.
Hall of fame
Chuck Lorre will be inducted into the NAB Broadcasting Hall of Fame during the show's television luncheon on April 18. Lorre is the creative force behind hit television sitcoms "The Big Bang Theory," "Mike &Molly," "Two and a Half Men" and "Roseanne."
"(Lorre's) biting wit and memorable characters have become a part of our culture and defined an era of scripted comedies," Alexander said. "His comedies remind us about the power of broadcast television on a weekly basis."
For radio, NAB Show hosts the 29th Annual Crystal Awards, which recognize radio stations for outstanding year-round commitment to community service. Winners are announced at the NAB Radio Luncheon on April 19, where ESPN Radio morning duo Mike Golic and Mike Greenberg will be inducted into NAB's Broadcasting Hall of Fame.
Public service
Although the NAB Show is a major event, it is a small function of what NAB does. In recent years, NAB has received its most visibility by producing public service announcements about the value of free over-the-air antenna television.
"Our job year-round is to look after the interests of over-the-air broadcasters in television and radio," Wharton said. "About one-third of the people in the country do not know you can get television for free, and in large markets like Los Angeles, you can receive over 100 television channels for free."
Given the continuous increase in attendees, proximity to Southern California and ease of travel from international attendees, NAB intends to keep its high-profile trade show in Las Vegas.
"The hospitality shown by the city of Las Vegas is second to none," Wharton said. "Our northeastern members love it because it is a chance for them to break away from the cold, and we are always looking to improve the experience for our attendees. Whether we plan to upgrade facilities, or change programming, what we need for a successful show is in Las Vegas, we have definitely learned that through all these years."