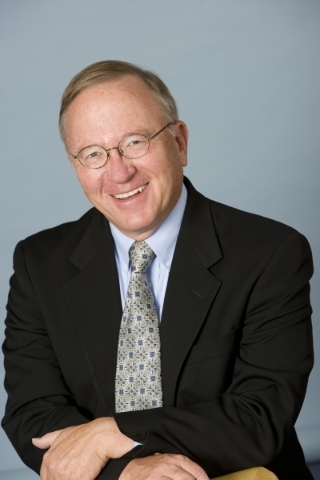 When aviation futurist Mike Boyd talks, the business community listens.
Boyd, president of the Evergreen, Colo.-based Boyd Group International, is bringing his 20th annual International Aviation Forecast Summit to the Bellagio at the end of the month and the changing face of the industry will be discussed on multiple fronts.
It's the second year in a row that Boyd is bringing his gathering of airport, airline and aircraft manufacturing executives to the city.
Boyd is noted for his tell-it-like-it-is style, even though that style doesn't always sit well with airline CEOs and aviation regulatory officials.
Boyd has his own statistical analysts who crunch numbers and calculate projections for where the industry is headed. One of the most anticipated sessions of Boyd's annual summit is the annual airport traffic forecasts.
Boyd's predictions for McCarran International Airport over the years have been nearly spot on. He projected the gradual buildup of traffic through the 1990s, the speed bump of America West's acquisition by US Airways and the huge international buildup that occurred after the opening of Terminal 3.
Is he always right? Of course not. When Malaysian Airlines Flight 370 disappeared in March 2014, Boyd said there was a 50-50 chance that it had landed on a remote airstrip and that someone could be planning to use the plane as a weapon of mass destruction. He made those comments within hours of the plane's disappearance.
One of Boyd's latest forecasts may get businesspeople thinking about their travel budgets and the loyalty they hold to an airline.
Boyd says changes in the airline industry are pushing the major carriers to re-evaluate their frequent-flier programs. He believes existing programs will increasingly morph into exclusive programs aimed mostly at the top-tier customers over the next three years.
"Mere mortals — and we mean even business travelers who may do 50,000 miles a year — are going to be increasingly evicted down into lower ranks of frequent fliers," Boyd said in a recent edition of his Monday Flash aviation blog on Boyd Group International's aviationplanning.com website. "That means many will become unshackled in terms of brand-loyalty."
Why? Because airlines no longer need to give away what customers will willingly pay for. There are also fewer competitors in the market for customers to turn to as alternatives.
"The main reason for establishing frequent-flier programs — to keep the general public on the airline and build brand-loyalty — no longer exists," Boyd said.
"Today, it's likely that most business travelers chase frequent-flier loyalty simply to get the immediate perks — advanced seat selection in the nonchiropractor section of economy, free baggage check and the ability to board early enough not to find themselves standing in the aisle like a hapless refugee, with no overhead space for their carry-on," he said.
Boyd said that 30 years ago, load factors of 55 percent to 60 percent were profitable and there were plenty of seats to give away to frequent fliers. There also were plenty of competitors. Since then, the likes of TWA, Eastern, Continental, Northwest, Republic, Ozark, Piedmont, PSA and Las Vegas favorites America West and Reno Air have been absorbed in mergers.
Today, with load factors of 85 percent being the norm, airlines can sell the seats instead of giving them away.
What will all this mean to business travelers, airlines and airports?
For the business traveler, it means explore your travel options. If you're flying to Los Angeles from Las Vegas, for example, check out the various options on this competitive route. American, Delta, Spirit, United, Virgin America and Southwest fly the route.
Boyd calls the frequent-flier trend a "jump ball" for airlines. More airlines could join the parade of companies changing their programs and when they do, new competition may not be far behind.
Delta, United and American already devalued their programs to customers in 2015 and there have been reports that Southwest may do the same.
As for airports, Boyd believes changes in frequent-flier programs could drive more traffic to hub airports as airlines seek opportunities to capture additional traffic away from carriers changing their programs.
While McCarran is not a hub airport — although some argue that it's a de facto hub for Southwest Airlines — it could benefit from flights offered by new competitors.
Frontier Airlines unleashed a competitive burst with an announcement last month that it is adding daily nonstop flights between Las Vegas and San Francisco, Miami, Milwaukee and Houston's George Bush Intercontinental Airport in October.
Airline route development professionals are hoping some foreign carriers will follow Frontier's lead with nonstop routes to and from China.
That could make the disappearance of frequent-flier programs worthwhile for Las Vegas.
Follow @RickVelotta on Twitter. Contact reporter Richard N. Velotta at rvelotta@reviewjournal.com or 702-477-3893.