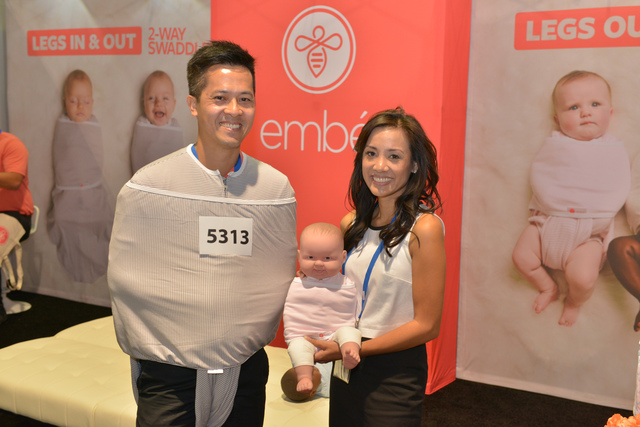 Hosted by All Baby &Child Inc., the ABC Kids Expo was held at the Las Vegas Convention Center on Oct. 18-21. The international juvenile products trade show sprawls over 1 million square feet of exhibit space. More than 1,000 exhibitors and 12,000 attendees, including 5,300 apparel and retail buyers, atteded. Over 2,000 retail stores and 300 first-time exhibitors were also there.
"Our industry is considered evergreen, so it continues to grow," said John Garcia, spokesperson for ABC. "People are still having children, and many of the items at the expo are necessary, such as baby-carriers, car seats and cribs."
The ABC Kids Expo is the largest juvenile products trade event in the Western Hemisphere. Companies from 80 countries will attend, including Australia, China, Russia and Turkey.
"The basis of our partnership is to promote the entire juvenile products industry," Garcia said. "Our board of directors is comprised of an equal number of manufacturers and retailers, allowing us to provide the best decisions for the industry as a whole."
Clark County connection
Several stores and retail brands based in Clark County, such as Bella Blue shops, Kappa Toys and Little Rue Market attended the event.
"We are specifically looking to buy European baby and toddler items," said Stephanie Dodson, owner and operator of the new Las Vegas-based Little Rue Market. "It is a very targeted audience, but at the expo I know they will be there, and I am looking forward to the experience."
This will be Dodson's first ABC Kids Expo, which features exhibitors from more than a dozen sectors of the industry. The most popular industries are baby care and safety products, room decor and bedding, furniture, nursing, apparel, books, games and audio visual items.
"I went to England, France and Norway last year and got inspired to start my company," Dodson said. "So it was a key strategy when I found out we have such a deep industry resource in our own backyard. It really gave me even more motivation to start strong and find more new vendors at the expo."
Programs for parents, buyers
While the products and services at the ABC Kids Expo focused on the young, on-site programming incorporated trends affecting children across the world, from environmental and green-friendly issues to health and nutrition awareness.
"Our Naturally Kids programming focuses on manufacturers that provide environmentally friendly products that are healthy for families and young children," Garcia said. "The companies in this showcase demonstrate a responsibility to our planet and its natural resources."
ABC Kids Expo added a health and nutrition category to this year's event, as childhood obesity and low fitness levels for youths continue to plague the country.
To accommodate the industry's trendsetters the ABC Kid's Expo features the Modern Child program. Modern Child highlights companies that have contemporary design and high functionality in their retail product or service. Many of the companies featured in Modern Child have been recognized for setting the industry standard in the fields of design and branding.
"I want to go to see the best in the industry and to put faces to names of my current vendors," Dodson said. "It is about more than just getting your business card out there, it is about making contacts and building your brand on an international platform. It is one of the real bonuses of living in Las Vegas."