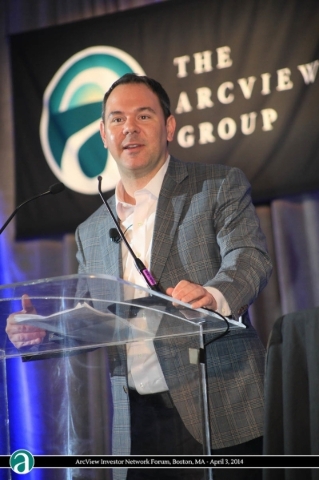 Investors seeking to identify opportunities in the cannabis industry will convene at the Hilton Lake Las Vegas today and Tuesday for the ArcView Investor Network Forum.
More than 20 cannabis entrepreneurs will pitch their businesses to more than 200 investors, according to Troy Dayton, ArcView Group CEO and co-founder.
The ArcView Group, which was founded in 2010 in Oakland, Calif., offers its members an investor network of more than 500 and aims to propel the legalization of marijuana nationwide.
Over the past three years, 82 cannabis companies have received $54 million in investments.
"I was meeting with a lot of high-net-worth investors who were donating money to change the laws and realized there were a lot of investment opportunities in this industry," Dayton said.
The ArcView Group hosts Investor Network Forums every two to three months.
"It's an opportunity for investors to collaborate with each other, do due diligence, share investments and make personal connections with the entrepreneurs who are pitching their businesses," Dayton said. "This industry has taken off in the last two years, so we're starting from scratch and we need an intimate setting to bridge the knowledge and relationship gap so they can invest with confidence."
Grammy Award-winning musician Melissa Etheridge will be among the 20 cannabis entrepreneurs pitching her cannabis-infused wine, Know Label Wine, at the Hilton Lake Las Vegas.
"She's been very outspoken on this issue, and this is the main place that people raise capital in this industry," Dayton said.
He added that the forum is a vital event for the industry.
"More traditional ways companies would find funding aren't open to the cannabis industry, or they don't understand it so it's important for de-stigmatizing the cannabis industry and providing a space for professionals to connect in an industry that's changing the world," Dayton said. "A lot of our investors see it as impact investment because they want to see the world as a safer, freer place so investing in this industry as a means to not just economic opportunity but a chance to see the world be a different way."
Dayton said he anticipates the forum will not only result in companies receiving investments but in raising money for cannabis legalization too.
"So far this year we've seen more than 40 companies raise $34 million and the year isn't even over," he said. "We've also raised more than $650,000 for legalization on our stage and we're hopeful that we'll add to that number."
The ArcView Investor Network Forum will be held today and Tuesday at the Hilton Lake Las Vegas, 1610 Lake Las Vegas Pkwy., Henderson. For more information, visit https://arcview.leadpages.co/lasvegas-2015/.