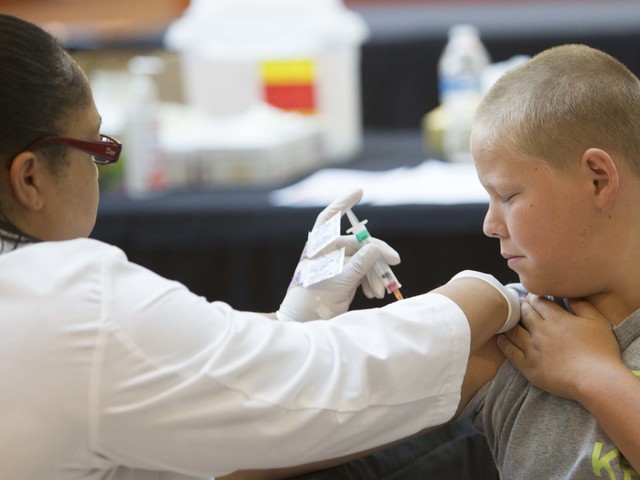 The 19th-century American poet Ralph Waldo Emerson famously observed that "the first wealth is health," but the business of health is proving an effective path to wealth-building of a more material sort. Health care careers are among the most lucrative in Clark County, accounting for six of the top 10 spots in a new list released by the jobs website zippia.com.
General internists practicing in the county are paid an average of $229,040 annually, making them the region's top earners. All other physicians and surgeons collectively rank second, earning $210,520 on average, just ahead of dentists at $186,460. Physicians assistants, physical therapists, family and general practitioners also appear in the top 10.
"Wages are going up because we have a shortage of medical professionals here," said Dr. Stephen Miller, director of the Center for Business and Economic Research. "And as long as there is a shortage, that is going to continue."
Among the contributing factors cited by Miller and other regional economics observers that create an acute need for medical personnel are the growing and aging local population; the inability to attract health care workers from out of state; the historical dearth of local medical schools; and the inability to draw back young doctors who have left the state for specialty internship opportunities not available in Nevada.
"One thing that is especially scary is the shortage of specialists in rural areas (of Nevada)," said Debra Solt, director of Workforce and Economic Development at Vegas PBS. "The rural doctor has to do everything, has to be the specialist. Practicing in an urban setting like Las Vegas, on the other hand, people come here from all over the world and doctors have to deal with diseases you would probably never see in other cities. It is a fascinating place to be engaged in health care and in health care education."
Among other health-related careers that generate incomes high enough to rank in the top 100 are: pharmacists, 13th place, $119,970; optometrists, 17th, $107,730; medical and health services managers, 30th, $100,500; nurse practitioners, 31st, $99,210; psychologists, 54th, $88,080; registered nurses, 65th, $83,880; and dental hygienists, 68th, $83,550.
Solt's team conducts regular outreach programs to educate and excite many of the region's high school students about the opportunities afforded by health care careers.
"They are very attracted to it," she said. "I think they view it as recession-proof. And you also have to be service-oriented — a people person. You definitely see that with these students."
Developers of Henderson's Union Village intend for the project to help change negative perceptions about the valley's health care environment by many residents and out-of-state medical professionals. The 170-acre complex will include the Henderson Hospital, scheduled to open before the end of the year. A senior living facility, fitness center, skilled-nursing facility and retail space are also planned for the site. Proponents hope the complex will encourage a thriving local medical tourism industry, but Solt is skeptical that such initiatives significantly will affect the shortage of medical professionals.
"I think it's great to have projects that showcase for people the potential of health care here, but I'm not sure it will make much difference in terms of the need for personnel. This is a situation we're going to have for some time."
The medical industry is not the only route to a healthy paycheck, of course. The job of chief executive, which is fourth place at $185,420, is predictably lucrative, according to Zippia; as is the category of judge or magistrate in fifth place at $159,000. Computer and information systems managers round out the top 10 with $121,960 in average earnings.
Attorneys, at $121,450, rank 11th on the list, a result that initially might seem surprising to people who have had occasion to hire one, but the profession is notoriously competitive, and individual compensation rates vary significantly among the more than 4,000 sampled lawyers. Real estate brokers, in 12th place at $121,450, appear to be benefiting from the region's still recovering housing market.
Police and fire personnel also fare well in relative compensation. First-line police supervisors have an average salary of $111,430, which puts them in 15th place, followed by detectives in 64th place at $83,930 and patrol officers in 83rd place at $76,460. First-line fire department supervisors earn $83,440, putting them in 64th place, but lower-ranking firefighters do not appear in the top 100 list. It is worth noting that nonsalary compensation for local government officials can be significant — sometimes 50 percent or more of a person's base salary — and is not necessarily represented in this list.
According to Kristy Crane, Zippia public relations manager, results are based on data compiled by the Bureau of Labor Statistics, which conducts semiannual mail surveys that measure employment and wage rates nationwide. Overall, 73.4 percent of the surveys are returned on average, so the accuracy of the sample relies on two critical factors: the truthfulness of participants and disproportionate response rates from jobholders with incomes significantly above or below industry averages.
And what about the people who actually created this list? That information was not provided, but it did reveal that Clark County statisticians earn an average of $78,450 a year, which ranks 79th.