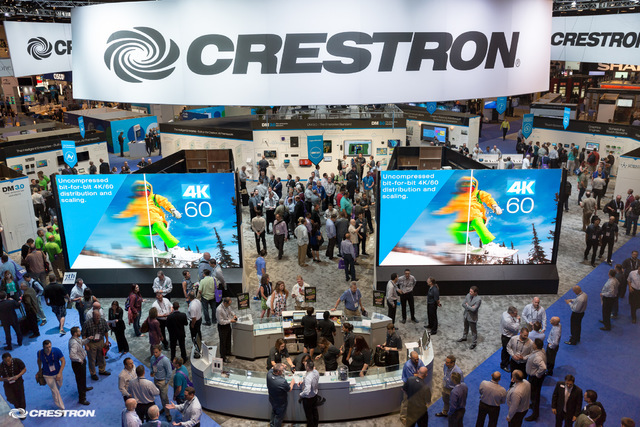 With all of its lights and sounds, Las Vegas is a perfect fit for the largest audio visual technology trade show in the Western Hemisphere, InfoComm 2016, which is being held through Friday at the Las Vegas Convention Center's Central and North halls.
InfoComm 2016 hosts 40,000 attendees from more than 110 countries and has almost 1,000 exhibitors.
"We are in the top 45 of trade shows in any industry in the United States," said Jason McGraw, senior vice president of expositions at InfoComm. "We have attendees from all 50 states in addition to being a global event for our industry."
InfoComm rotates between Orlando, Florida, in odd-numbered years and Las Vegas in even-numbered years. The 2016 edition of the trade show features several new programming, content and networking additions.
"We continue to have enough demand, draw and growth to continue to expand our show," said McGraw. "The number of our attendees continues to grow and we are happy with our new options this year. Our job is to host the event and open up industry thought to explore new possibilities as the technology keeps evolving."
Evolving technology is the source behind the Digital Signage Summit, a new addition to this year's show. The high quality industry content at the summit has never been on display all at one time in the United States. The full-day program includes covering key topics like 4k speed and digital agencies.
"Displays continue to get brighter and have higher resolutions, while touch screen software is popular for both the private sector and in retail use for the public," said McGraw. "Digital signage can now provide automated reality and even translucent display options."
Another new programming feature at this year's show is the Internet of Things Education Program and Pavilion that focuses on both the implications and opportunities that the Internet of Things has for the audio visual industry.
The Internet of Things is the next proposed development of the internet in which everyday objects have network connectivity, allowing them to send and receive data.
"We are also doing a lot of technology tours in Las Vegas," said McGraw. "We are doing a behind-the-scenes tour of Blue Man Group with a technology talk that includes the staff, a tour of the Chandelier Bar at Cosmopolitan and several technology tours on the UNLV campus."
The value of the show's business-to-business climate is what drives high participation for both exhibitors and sponsors.
"InfoComm is always a great opportunity for us to connect with customers, partners and everyone else in the industry," said Nick Harris, vice president of marketing at Crestron Electronics, a manufacturer of home automation systems, building and campus control systems that is a strategic partner at InfoComm. "This year we are debuting our 'Technology for every space' theme, a concept developed around our products and technology enabling people to meet, present collaborate and stream. We will also be debuting some groundbreaking audio products."
Over 250 audio manufacturers will be present at InfoComm this week, and the show features an audio room with 20 products available for demonstration.
One-fifth of InfoComm attendees are international guests, and the trade show has developed programming to accommodate a growing yet shifting demographic. This year's InfoComm features a Women of InfoComm Networking Breakfast on Thursday and the Latin American Breakfast Meeting on Friday. Both events will be held at the Westgate.
"As the nonprofit organization that runs the trade show, we are big in supplying workforce development opportunities and we are trying to grow even more participation from women and minority groups," said McGraw. "We have been a male-dominated industry for decades so we are trying to be as diverse as possible."
The longtime stability of the InfoComm show allows it to constantly adjust to its attendees' ever-changing needs. For Crestron Electronics, which joined InfoComm in 1979 and has been exhibiting at the show for more than three decades, the partnership with InfoComm is engrained in its company history and corporate culture.
"We have a very long history with InfoComm and we also offer training classes at the show," said Crestron's Harris. Crestron also sponsors a large customer party every year at the show. "The party is always a great way to thank our customers."
The changing landscape of Las Vegas is always an added value to InfoComm. It allows vendors to express client appreciation, and McGraw is quick to point out that for most of InfoComm's 2016 attendees, this will be the first chance to see new Las Vegas attractions like T-Mobile Arena, the High Roller and many celebrity chef restaurants.
"As an international organization, it is important for us to be the industry's global resource for the 'how to' part of our jobs while placing the show in an entertaining setting where our works in signage, audio and digital displays can be seen," said McGraw. "As Las Vegas has grown, we have grown, and it is always good to come back to the city."