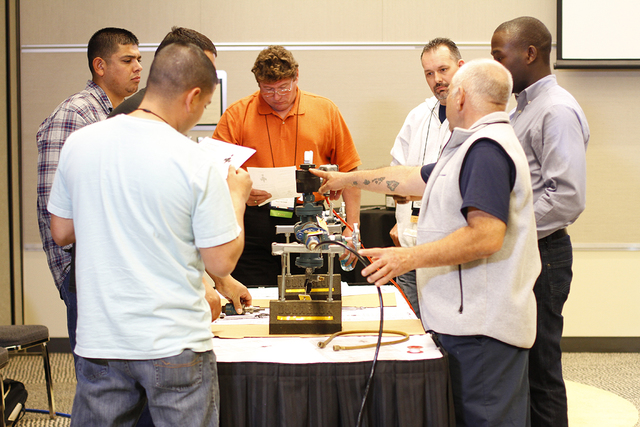 When you think of refrigerators, you think of the small freon-based appliance that takes up the corner of your kitchen, and not the billion-dollar ammonia-based refrigeration systems. Working in that industry can be one of the most dangerous occupations in the United States.
From Oct. 4-7, the Rio will host the annual national conference and exhibition for the Refrigerating Engineers and Technicians Association, the most recognized organization in the U.S. dedicated to professional development of industrial refrigeration operators and technicians.
RETA was founded more than 100 years ago, and the 2016 conference will welcome more than 900 attendees. There will be more than 30 presenters, hands-on demonstrations, round tables and social events. Most of the premier organizations involved in ammonia refrigeration education utilize education materials developed and sanctioned by RETA.
"The person responsible for effective, safe operation and maintenance of an industrial refrigeration facility is usually the one with eyes on the gauges and hands on the dials," said Don Tragethon, spokesperson for Western Precooling, a refrigeration provider for produce growers and shippers. "We also have responsibility for regulatory compliance items and emergency response actions for the facility. The RETA conference offers a broad educational program that gives me access to information and qualified individuals."
RETA has 46 chapters in 24 states and more than 7,000 members. The Association is made up of individuals who work with refrigeration equipment manufacturers, installing contractors, engineering firms, educational organizations and end users of ammonia refrigeration. RETA's corporate members include Albertson's, Tyson Foods and Wal-Mart.
"People do not understand how dangerous it is to work with ammonia in this industry," said Mary Hendrickx, RETA conference manager. "By the time you smell it, you are already in trouble. Unfortunately, refrigeration industry warehouse accidents can cause death, so we take the responsibility to lead the industry in education and best practices in safety."
RETA has increased its international presence with members in more than a dozen countries, including Australia, Brazil, Canada, Finland, Honduras, India, Mexico and New Zealand.
"We are influencing safety and saving lives in Australia, because they do not have federal safety standards for machinery operation that deals with ammonia.," said Hendrickx. "In India, they are challenged because of lack of capital and poor facilities, so our knowledge is valuable."
No matter the language or the land, RETA prides itself in working with the Occupational Safety and Health Administration and providing educational and safety certification programs accredited by the American National Standards Institute. ANSI is highly regarded by regulatory agencies, including OSHA and the Environmental Protection Agency, for establishing and maintaining the highest industrial and safety benchmarks.
RETA's ANSI accreditation means that certified individuals and businesses have met an established competence level to operate ammonia refrigeration systems in a safe and efficient manner. RETA is the world's sole provider of ANSI-accredited certification in the industrial refrigeration sector. It took RETA eight years to complete the ANSI accreditation process.
"Accrediting refrigeration plants and the professionals who work there is a very important value we bring to the industry for both safety and operational benefits," said Hendrickx. "At the conference we will be featuring thought leaders on these subjects as well having a heavy presence of machinery manufacturers."
RETA provides a much more hands-on approach than most conventions that come to Las Vegas. Training sessions include simulated life-and-death situations, in which outside industry personnel such as security guards and cafeteria workers have to know escape routes during an emergency.
"RETA's educational program is geared for the practitioners who come from diverse backgrounds and may not have had the benefit of formal post-high school education," said Tragethon. "The learning materials are presented by instructors with actual operational work experience in the trade, which gives them credibility with the student."
RETA moves annually to different regions and will be back in Las Vegas again in 2019.
"RETA members are truly heroes," said Hendrickx. "We take pride in training them, and we are also proud of our library of instructional materials available as teaching aides. Colleges across the country also use them, and it helps us take care of both our current and future industry personnel to maintain such a high standard of professionalism for a safer world."