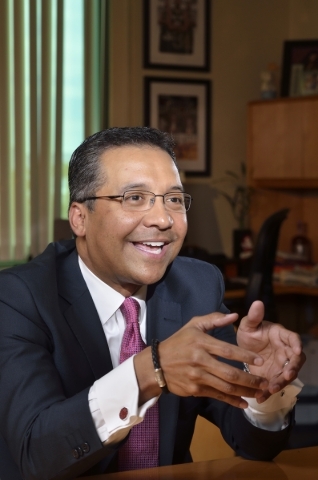 In the past decade, the number of business representatives visiting Las Vegas to attend a convention, conference or trade show has equaled the number of tourists coming to watch a show or play in a casino.
With this change in demographics has come more strategy than ever in planning, executing and dissecting meetings in the Las Vegas market. For MGM Resorts International, these efforts are led by Michael Dominguez, senior vice president and chief sales officer, whose innovative strategies and effective tactics recently earned him recognition as one of the 25 most influential people in the meetings industry for 2015.
The annual listing is published by Successful Meetings, a trade publication for meeting, convention, incentive and trade show professionals. Dominguez has been on the forefront of trending topics like Wi-fi accessibility and wellness concepts, but it is his ability to communicate industry needs to his peers that has earned him his unique place as a leader.
"When our group business disappeared in Las Vegas in 2009, it truly showed us how important it was as part of our hospitality industry," Dominguez said. "We have had 20 straight years as the country's number one trade show destination, but we all know now it is something we have to continuously work on to maintain that ranking. Las Vegas always has to be on the cutting edge of meeting resources, rooms and technology, that is what people expect from us."
Meeting industry halfway
Dominguez is immediate past chairman of Meeting Professionals International, the world's largest meetings organization, while managing 300 MGM employees and hosting about 6,000 groups on an annual basis.
"Las Vegas is becoming more pedestrian in nature, and we had to represent that with our current projects at MGM, whether they be the arena, the theater or the Mandalay Bay Convention expansion project," said Dominguez. "We have had to combine that need to fulfill the pedestrian experience with the demand for customization and on-demand services. This means totally new analysis on what meeting content looks like and how it is accessed, which is a complete shift in this industry."
Dominguez said activity and interaction are just as important in developing meeting content as PowerPoint slides and brochures. One of his best practices for hosting meetings is to do ample research on attendees once they register. By researching the real-time issues faced by meeting attendees, and addressing them in the meeting, it gives the host or panel instant credibility and relevancy that even the best PowerPoint presentations can't create.
"It is a challenge to teach longtime meeting professionals how to put their content into context," said Dominguez. "The meeting content now has to deliver in multiple facets, beyond the four walls of the meeting room. The content also has to have relevancy that extends past the meeting date and that can be transferred to other online meetings and social media platforms."
Finding health in meetings
Dominguez was recently named co-chair of the Meetings Mean Business Coalition, a group that showcases the value that business meetings, travel and events bring to the U.S. economy. Along with discussing the economic value of meetings, one of Dominguez's innovative stances has been incorporating healthy initiatives to the meeting experience for all attendees, from millennials to baby boomers. Taveling opens one up to germs, airborne sickness and other medical variables not faced at home.
In his leadership position with MGM, Dominguez has helped spearhead the Stay Well Meetings experience, partnering with wellness design firm Delos and its advisory board member, Dr. Deepak Chopra, to implement state-of-the-art designs and innovative wellness features for meeting rooms at MGM Grand. These meeting rooms include air purification that reduces allergens, toxins and smoke from the air, aromatherapy for a relaxing, mood-enhancing environment and lighting which is engineered to emulate the properties of natural light, enhancing productivity, energy and experience.
"It feels great to bring these resources into the meeting industry," said Dominguez. "This wasn't a public relations or marketing campaign but a real effort to create a holistic experience while optimizing the physical and spiritual well-being of our meeting guests."
The Stay Well Meeting Rooms also come with health menu options approved by leading nutritionists at the Cleveland Clinic, hydration stations and mobile applications to identify jet lag, encourage activity and wellness.
"The overwhelmingly positive guest response to MGM Stay Well Rooms encouraged us to expand Stay Well features to the meeting spaces and programming so groups can benefit from the proven offerings," he said.
Dominguez has held leadership positions on the boards of the U.S. Travel Association and The Hospitality Sales and Marketing Association International. MGM Resorts International expects him to continue to be an industry leader.
"We want to continue to challenge the meeting industry as a worldwide leader, not just in Las Vegas," said Dominguez. "We will continue to lead in customizing content, providing a healthy environment and offering expanded resources and spaces like we are doing at Mandalay Bay."