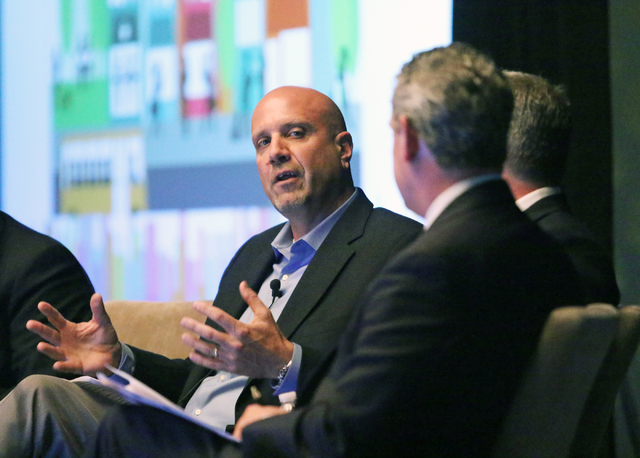 Restaurants and experiences that cater to the tastes of millenials are the hottest trends in the ongoing drive to create consumer traffic at shopping centers.
Nearly 40,000 industry leaders flocked to the Las Vegas Convention Center from May 22-25 for ICSC RECon, an annual global convention for the shopping center sector.
Amid the latest retail products on display and deals being made among the more than 1,000 exhibitors including Burger King, Dressbarn and Famous Footwear, the focus was on restaurants and on delivering products to consumers as quickly and easily as possible.
Garrick Brown, national retail research director with commercial real estate services company, Cushman &Wakefield, said millennials — those born between 1982 and 2002 — are the largest consumer group in the U.S. so embracing their spending patterns is key for retailers and retail developments to survive.
"They spend less on apparel and hard goods and more on experiences so landlords want to add those experiential concepts into their properties," Brown said. "They're also eating out more so restaurants have been on fire."
Dan Hubbard, Las Vegas-based senior director of retail services for Cushman &Wakefield, said there's no shortage of restaurants in the Las Vegas Valley as opening announcements such as Cracker Barrel, Chick-fil-A and World of Beer, which is scheduled to debut by the end of the summer at Galleria at Sunset in Henderson, have been constant.
"A lot of brands are looking to land here," he said. "It's especially exciting when you see those announcements being made at properties in the suburbs."
Increasing health trends are also seeping into the restaurant arena, said Robert Futterman, CEO of RKF, a Las Vegas retail leasing and investment sales brokerage firm and leasing and marketing consultant for Miracle Mile Shops at Planet Hollywood.
"Quick serve restaurants with a healthy spin that offer organic, farm-to-table food, are really hot right now," he said. "Anything to do with wellness is really popular."
Experiential concepts are also pouring into Las Vegas as Topgolf opened in May near MGM Grand with 108 climate-controlled hitting bays, two pools, cabanas, a concert venue, VIP suites, five bars, special event spaces and a retail shop. Dave &Buster's, a restauranat and arcade for adults, announced its first Southern Nevada location debuting at Downtown Summerlin later this summer.
"Experiences like Dave &Buster's bring families into a property and after they're done they'll go get something to eat and go shopping," Hubbard said. "It's very smart to see developers adding those."
Las Vegas is not the only one focusing on restaurants and experiences as shopping malls across the country are incorporating as many of them as they can, said Paul Ajdaharian, executive vice president of WP GLIMCHER, a developer of enclosed regional and super-regional malls and community shopping centers.
"The future of malls is more food," he said. "It's also about creating a sense of place by looking at how to get the most traffic to our property."
Ajdaharian said it can be as simple as inviting a local musician to perform at the property.
"They'll tell their friends and family to come and when they get there, they'll hang out all night and get something to eat, drink and browse our shops," he said. "Retailers want to go where the traffic is."
Delivering a fast and easy experience is also vital for retailers and restaurants as people are turning to their mobile devices to shop and place food orders.
Italian startup WIB (Warehouse in a Box) had its fully automatic, modular, e-commerce enabled automated store on display at RECon filled with food and beverage, electronic and health items to show users how to make a purchase on their phone or at the machine.
Nino Lo Iacono, CEO and founder of WIB, said he sought to close the gap between digital and physical store. The concept launched in Europe last year and is now in 20 U.S. markets including Chicago and Minneapolis,
"We enable a retailer or brand to drive sales and be present in an area that they weren't in before," he said. "The unit can be placed in areas with high traffic such as corporate offices, hospitals and hotels where a brick-and-mortar store might not have been effective."
In the ever-changing retail landscape, Hubbard said restaurants will be the force for the industry for at least the near future.
"It's nice to see restaurants driving the train again and it's not just casual chain restaurants; we're seeing a lot of innovative concepts," he said. "Restaurants are becoming the new anchors for centers today so the more you can land, the more successful you'll be."