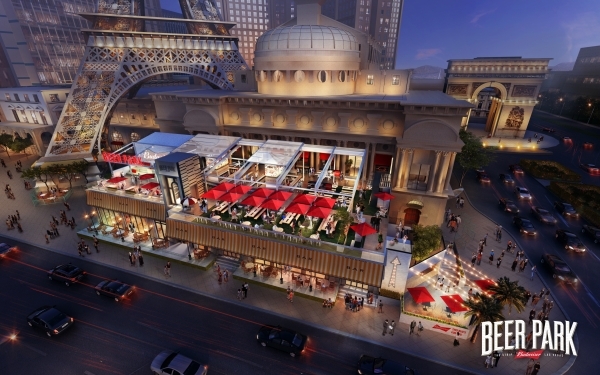 March may be the busiest month on the Strip.
With the three college basketball 'March Madness' tournaments, the Saint Patrick's Day holiday, the opening of dozens of hotel resort pool parties and spring break college students all across the country flying in for fun, it is easy to overlook the dozens of conferences and conventions that come to the Strip.
However, for The Nightclub & Bar Show, the action and energy on the Strip in March is a perfect backdrop for the popular tradeshow that is the nation's largest and most comprehensive educational program that brings thousands of hospitality professionals together under one roof. Now in its 31st year, the show hosts nearly 40,000 nightlife professionals at the Las Vegas Convention Center who represent more than 200,000 establishments around the world with combined annual beverage sales of nearly $20 billion.
"Every year, the Nightclub & Bar Show strives to bring a new and exciting experience to help thousands of nightlife professionals learn, network and grow," says Leo Squatrito, vice president and show director for the Nightclub & Bar Show. "There is nothing like it anywhere else and we look forward to making 2016 our biggest year yet by offering our attendees the best workshops, networking opportunities, keynote speakers and more."
The 2016 program offers 92 seminars and workshops from over 100 industry experts and recognizable brands like Constant Contact and MillerCoors. The eight conference subject tracks cover content relevant to all areas of the food and beverage sector, including beer, food and wine, social media, bartending and mixology, industry trends and research as well as operations and management.
"This year we are interested in the latest in data collection and communication strategies to maintain contact with our clients throughout the year, not just when they are in Las Vegas," says Evan Hunt, vice president of nightlife for the Limitless Management Group (LMG), which operates several Las Vegas venues, including LAX, VooDoo Lounge and Foundation Room. "The show has become a better resource for all of our staff as it has grown, and just like Las Vegas nightlife there is definitely a more corporate presence."
Inviting the influencers
The Nightclub & Bar Show isn't just a time for nightlife industry professionals to share best practices and identify what's new, it is also a time for Las Vegas to demonstrate why it is the nation's nightlife leader. This opportunity is created because of the thousands of influential nightlife professionals that descend onto Las Vegas, especially the ones from 'peer markets' like Chicago, Los Angeles, Miami and New York City.
"It isn't only the influx of bodies, but that this is the key demographic for food and beverage venues across the Strip, and they are looking to experience Las Vegas, spend money and report back to their home markets," says Steve Kennedy, owner of 33 Group that operates Chateau Nightclub at Paris, FIZZ Champagne Bar at Caesars Palace and just opened the Anheuser-Bush Beer Park on Friday. "The smaller Midwest markets are always interested in what Las Vegas is doing so that region always brings a positive economic impact to the Strip for the week of the show."
The week of the Nightclub & Bar Show has become more like an 'open house' to view Las Vegas nightclubs and not a fierce competition. TAO Group, which operates Marquee Nightclub at Cosmopolitan, TAO Restaurant and Nightclub and LAVO Casino Club at Venetian are hosting two events for show badge holders, including the show's popular Platinum Party on March 8. The following day they will host show attendees at the newly rebranded and renovated LAVO Casino Club.
"We have always partnered with the Nightclub & Bar Show for events, including their Platinum Parties at Marquee, but this year with the opening of LAVO Casino Club we are able to introduce show attendees to the new space and host them on a night we are not normally open for them to enjoy," says Andrew Insigne, director of event marketing for TAO Group.
The future of the show
Much like its clientele in the last decade, the Nightclub & Bar Show has grown up from its origins as a party showcase to a valuable resource for corporate entities and entrepreneurs. And as its attendees have developed in their careers, from junior nightclub hosts to supervisors to executive management, the show still offers valuable resources for all.
"I started going when I was new to the industry, and now that I own my own business, my reasons for going are totally different," says Jamel Mitchell, owner and operator of In Ya! Entertainment, who has served as a guest speaker at the show. "I get to host my client-base from Texas, who are always looking to us in Las Vegas for the newest trends. It also allows me the opportunity to meet my peers from across the country, step back for a minute and think about where I want to take the direction of my business as an entertainment entrepreneur."
This year as the Nightclub & Bar Show continues to grow, more emphasis will be paid on the 'secondary' venue issues like sound and light, bottle service presentation and the latest in mixology trends. The show's programming will also reflect the change within the nightlife industry in Las Vegas and other domestic markets as it moves from large 'mega' nightclubs to more niche venues and lounges.
"When the Nightclub & Bar Show comes around it is our time to show influential industry people that they can have just as much fun at a nightlife venue that holds 500 people, as they can in a venue that holds 2,000 people," says Hunt. "It is our week to show that Las Vegas is still the leader in amazing nightlife atmospheres, quality service, and engaging entertainment, no matter what nightclub you go to or the size of your budget."