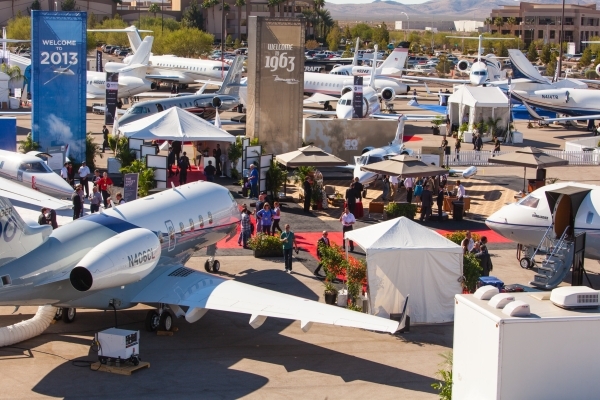 In the fall, Las Vegas' conference and convention season is highlighted by popular major trade shows like the recently completed Global Gaming Expo (G2E) and the upcoming Specialty Equipment Manufacturers Association (SEMA) in early November.
However, there are more than two dozen other trade shows that quietly come into Las Vegas during October and November on a regular basis, bringing large numbers of attendees, yet they often get overlooked.
Owning October
For tourists who come to Las Vegas in October, often the month is viewed in terms of two holidays — Columbus Day and Halloween. However, for the busy convention and conference sector, October is the month that serves as the transition from the social summer season populated by the 21-to-35 age demographic to the more serious trade show season, dominated by the 35-to-49 age demographic with more disposable income to put back into the local economy.
This week, from Saturday to Wednesday, the National Association of Convenience Stores (NACS) hosts its annual show at the Las Vegas Convention Center. The show is a platform for one of our country's everyday landmarks to display its economic power with more than 30,000 show attendees.
"Attendance to our show continues to grow, and the new attendees are people we are better targeted to serve with certain job titles in information technology, human resources and food service," says Bob Hughes, vice president of supplier relations and expositions for NACS. "The vendors continue to grow as well. We will have our largest show ever and still have a waitlist of 300 companies waiting to get on the show floor. The new exhibitor trends of healthy products and pet care have added to our demand and popularity."
To accommodate the new exhibitors, they have devoted an entire section of the trade show floor to this group. Because of the large number of convenience stores, the NACS show also features a popular "Ideas 2 Go" video segment, compiled of new initiatives by retailers across the U.S.
"We have a NACS representative that spends his entire summer visiting and capturing cool ideas that have made a difference," says Hughes. "Everyone loves Las Vegas, and we will be back in 2018 after we rotate cities and go to Atlanta in 2016 and then Chicago in 2017."
Ironically enough, one of the most overlooked conventions in Las Vegas in October is the trade show for professionals in the travel industry, the World Wide Exhibition for Incentive Travel Meetings and Events, known as IMEX America.
IMEX America is occurring this week, Tuesday through Thursday at the Sands Expo and Convention Center. The trend of healthy travel and wellness isn't lost on the industry tradeshow, as IMEX is hosting its first ever 5K run while designating an entire day of the show to focus on well-being.
"Our goal at IMEX is to educate the industry in new ways, from traditional settings to more interactive experiences," says Carina Bauer, CEO of IMEX, which will draw more than 10,000 travel professionals to the Sands Expo and Convention Center, as well as The Venetian.
"Those interactive experiences also involve community service projects, as this year we are working with Sands to work on the garden for the Shade Tree community organization. It is team-building for a good cause, and it allows our travel professionals to work together and get to know each other outside of the regular industry environment."
The environment is always a top subject at the International Sanitary Supply Association (ISSA) annual convention which was at the Las Vegas Convention Center on Oct. 20-23. The ISSA convention has called Las Vegas home for more than 50 years, since hosting its first convention here in the early 1960s. The event is now held here every other year, sharing hosting duties with cities such as Chicago; Amsterdam; Warsaw, Poland; and Istanbul.
"We are in a very fragmented industry, so our convention is a place to do business, network and socialize," says John Garfinkel, outgoing executive director of ISSA. "All companies have interest in cleaning and maintenance, which is a critical element to general health and environmental concerns. Our association is home to international leaders and manufacturers of cleaning products who wholesale and distribute to other service contractors, many of whom are global companies, while others are smaller family-run businesses. We reach out to both types of members."
ISSA plays up its Las Vegas roots with a celebrity-driven keynote speaker list, including Jay Leno and Kevin O'Leary from the hit ABC show "Shark Tank." To honor the military, U.S. Air Force Blue Angels pilots are also keynote speakers.
Return flight
"Our group began coming to Las Vegas in the late 1990s until 2004, and then we returned in 2011," says Dan Hubbard, spokesperson for the National Business Aviation Association (NBAA), which will be hosting its annual convention at the Las Vegas Convention Center from Nov. 17-19.
"We came back to Las Vegas because it fit all of the qualifications we need, including an exhibit hall with over 1 million square footage of space, a nearby private airport where we can display over 100 airplanes and a large hotel and hospitality infrastructure that can host over 26,000 people."
This year NBAA will be overshadowed by the Latin Grammy Awards on Nov. 18, followed by the highly anticipated boxing match between Miguel Cotto and Canelo Alvarez on Nov. 20. But for Hubbard and NBAA, they understand that there are plenty of hospitality and tourists attractions in Las Vegas to satisfy all visitors.
"Since business aviation is such an international industry, Las Vegas has become a perfect destination for our event," says Hubbard. "Our exhibitors recognize that both the show and the city draw people from around the world, and they appreciate it as added value to our association."