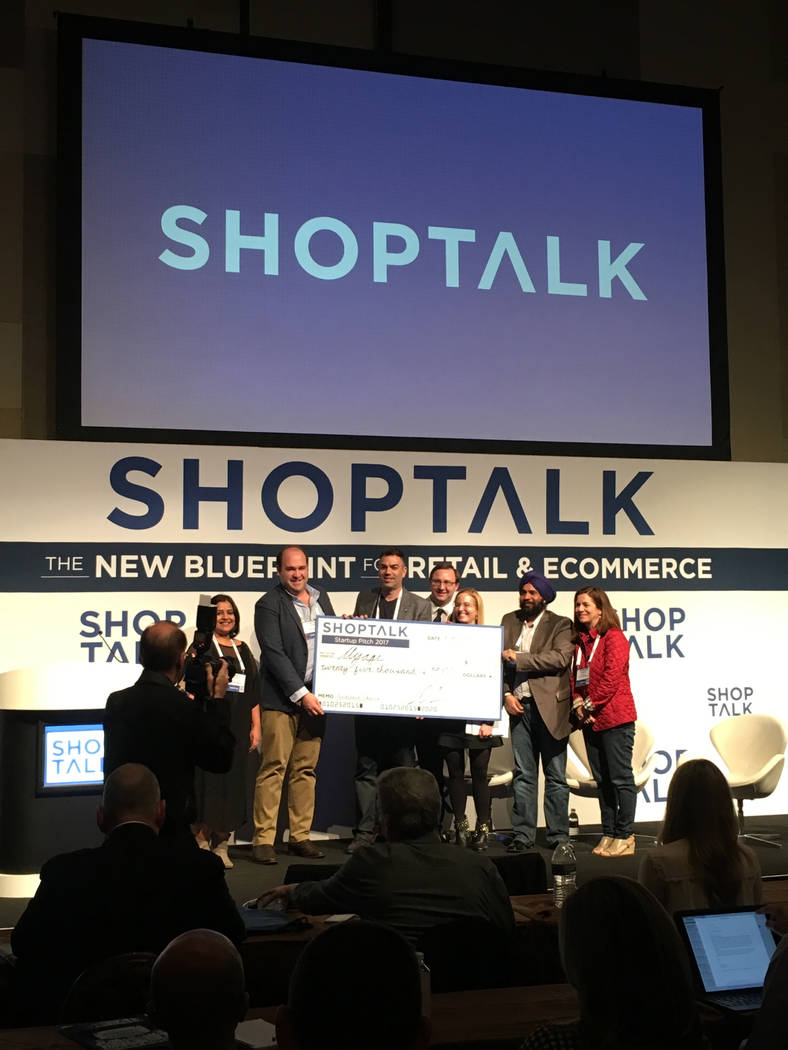 For the second consecutive year and its second event, Shoptalk was held March 19-22 at the Aria Convention Center. The event is a platform for evolving e-commerce technologies, focusing on how consumers learn about and buy goods and services online.
Judging by the heavyweight brands represented at the conference, major retailers are taking e-commerce seriously. Companies from Nike to Nordstrom, General Mills and Gucci are listed as being represented there. And the show's producers promised to match "a highly curated, senior audience encompassing the leaders of the next generation of commerce," with investors seeking the latest innovations.
Day One began with eight companies presenting a brief startup pitch to a panel of judges and audience members, who then voted two winners to each receive a $25,000 award.
One of the winners was Myagi.com, a software company that helps train retail staff to do their jobs better through a mobile app that prompts them with product information. Simon Turner, president of the San Francisco company, said he was "very excited to receive this validation of our work," and that they will use it "to help associates provide an excellent shopping experience."
Later, Shoptalk founder, chairman and CEO Anil Aggarwal welcomed the more than 5,500 attendees, saying they must address the complex challenges in retailing today. "We live in an environment where change is the only constant," he said. "Technology is nothing without a strategy."
More than 330 speakers were scheduled, including entertainer Lionel Richie, who has a line of products called Lionel Richie Home, and Stephenie Landry, vice president of Amazon Prime Now. Other scheduled speakers were the CEOs of HSN (Home Shopping Network), Sephora, Target and eBay.
Attendees paid $3,500 per ticket, and the show sold out this year.
The conference was the idea of co-founders Anil Aggarwal, Simran Rehki Aggarwal and Jonathan Weiner, who created the successful Money 20/20 conference, which focuses on retail payment. It will return in October for its fifth year at the Sands Expo.
The spinoff, Shoptalk Europe, will be held October 9-11 in Copenhagen. The Las Vegas conference attendees come from more than 40 countries, but mainly from the U.K., Australia, Brazil and Israel.
The Las Vegas Shoptalk attendance doubled from last May's event, selling out all available tickets, said Shoptalk Head of Media Rob Wells. "We've outgrown the Aria center, so next year we're expanding to Sands Expo at The Venetian." The dates for that are March 18-21.