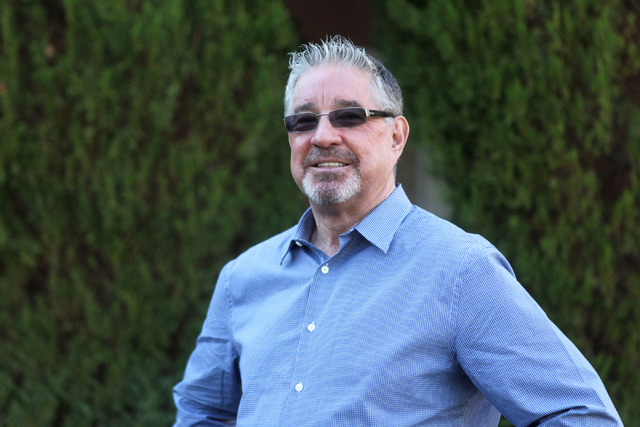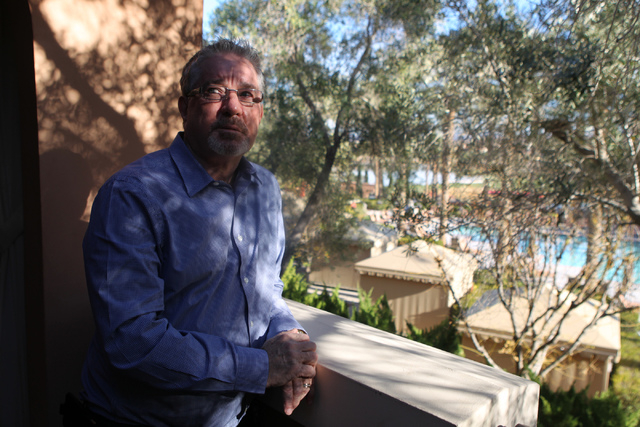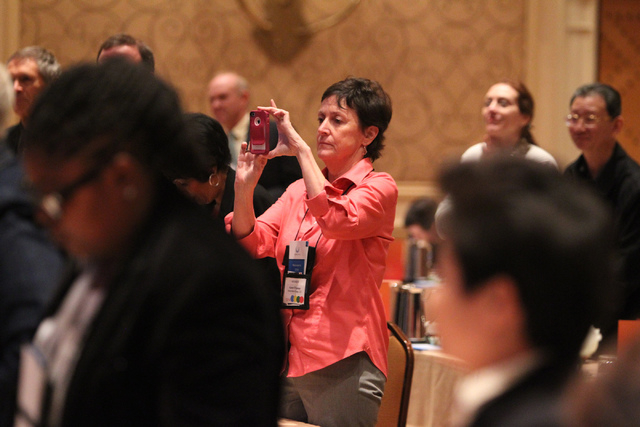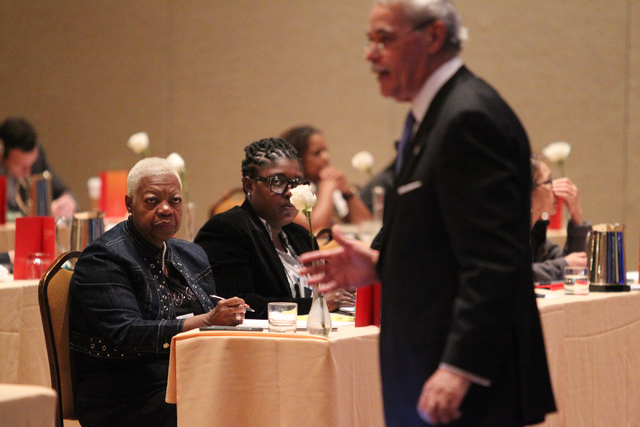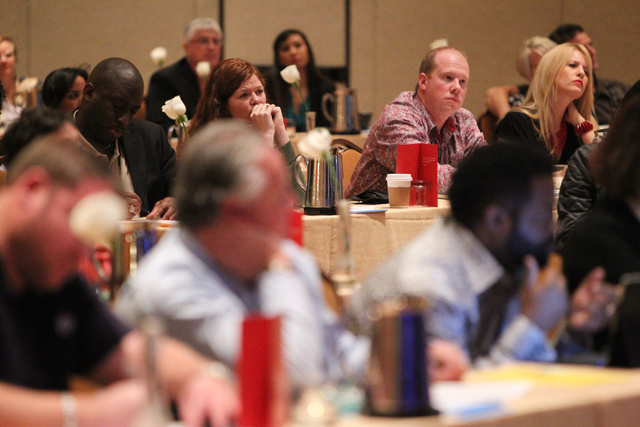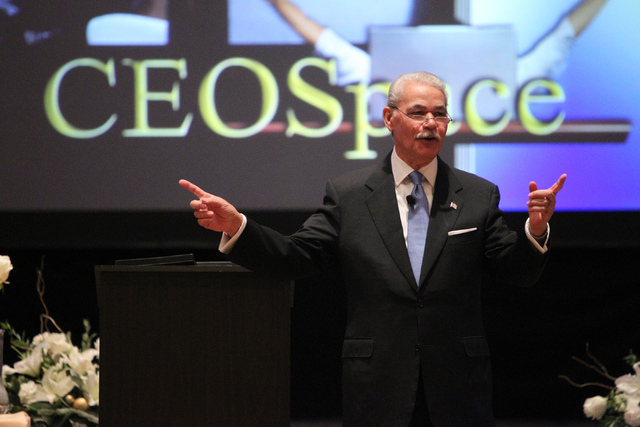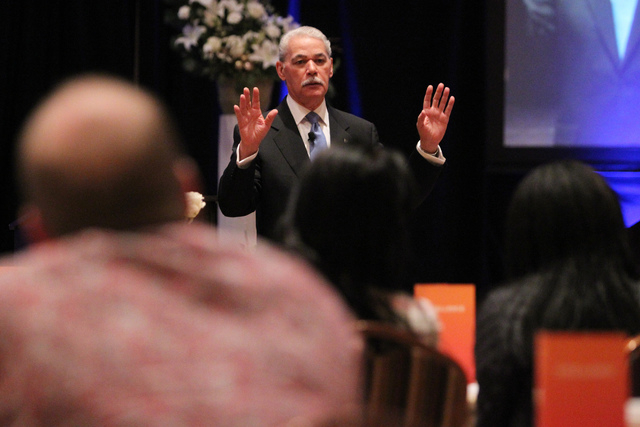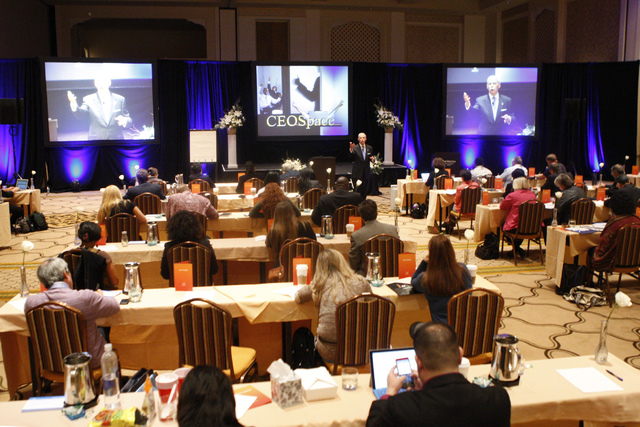 Startups aren't the only ones needing the care and nurturing of an incubator.
For a quarter century, entrepreneurs from all fields have been beating a path to Berny Dohrmann's CEO Space retreats.
Forbes magazine named CEO Space one of the top meetings for entrepreneurs to attend and there's a reason why.
This year's conference, which was held from Dec. 7-14, brought together more than 200 entrepreneurs of all ages at the Westin Lake Las Vegas Hotel in Henderson.
First time attendee Asher Milgrom, a physician from Irvine, Calif. attended CEO Space in an effort to network with those who can help get his vision of opening a medical facility in Central America off the ground.
"I've been given the ability to work with people who understand the vision of the project and strategic planning, which is critical," he said. "I wish I'd come sooner."
Milgrom said CEO Space helped him achieve his dream of finding a better way to administer medicine, which is something he hopes to make available everywhere in the near future.
"I've attended workshops, lectures and networked with people who can provide the necessary resources to get this facility going," he said. "After a 30-minute conversation with someone at CEO Space I was on the phone with the principal director of a legal firm. I wouldn't have known who to go to on my own device."
CEO Space founder Dohrmann brought the organization to life more than 25 years ago in an effort to bring the business community together.
"We're known for giving business owners the skills they need through a cooperative culture and methods," he said. "It's like LinkedIn Live; it's more than digital and you develop relationships that last a lifetime."
According to Dohrmann, who grew up in Las Vegas, he decided to host CEO Space's conferences in Sin City for various reasons.
"Vegas is an all-weather airport; we've never had a problem," he said. "It's also the cheapest air fare airport and by hosting it at a non-casino, it's a safe environment for families."
CEO Space offers a teen program that gives parents the chance to bring their children and provide them skills they can use when they're older.
Adam Halleck, 20, and his brother Quinn, 17, accompanied their father Ross, the owner of California-based Halleck Vineyard, who came to CEO Space to learn how to grow his wine club membership and develop business relationships.
"We had no idea what to expect," Halleck said. "I've learned more here than I have in an entire semester at college."
Halleck added that the conference helped him face his fear of failure, which in turn has made him more passionate about becoming an entrepreneur.
"The more time I spend here, the more my passion is fed and my fear diminishes," he said. "I know I can accomplish something if I put my mind to it."
According the Dohrmann, CEO Space boasts 350 faculty members from every industry that mentor conference attendees on everything from building their customer base to how to increase profits.
"We find the best experts we can," he said. "They ask you what you need and help you because they want to see you prosper."
Jeff Magee, a Las Vegas-based author, capital developer and publisher of Performance/P360 magazine, was brought in as a CEO Space faculty member by Dohrmann more than a decade ago.
"There's a great entrepreneurial energy here," Magee said of the CEO Space. "This is the only incubator in the world that brings entrepreneurs together to network and gives them the resources to take their business to the next level."
CEO Space hosts five conferences a year, which allow entrepreneurs ample opportunity to recalibrate and address various issues that come up throughout the year, Magee said.
"It's great for them to be around people who have walked the walk," he said.
The demographic of CEO Space members is diverse, according to Vice President Dr. Richard Kaye.
"It's about 50/50 men and women," he said. "We also have all kinds of professionals in every industry represented from software to health clinics. In our almost 27 years, I can't think of an industry that hasn't been represented."
Kaye added that new faculty members are rotated into each conference on a consistent basis throughout the year so members can gain new insights, contacts and potential investors for their business.
David Corbin, a former psychotherapist turned management and leadership consultant to businesses and organizations of all sizes, mentors CEO Space members by applying his experience of working with companies such as AT&T, Hallmark and Sprint as well as the U.S. government.
"I teach the lessons I've learned because it's very important to pass it on and pay it forward," he said.
Corbin recognizes that being a business owner can be challenging.
"Most entrepreneurs are one or two mistakes away from a total demise and if the problem goes unaddressed and the business shuts down that would be a sin," he said. "While having a positive mental attitude is important so is not ignoring the negative issues."
Corbin added that most failures businesses face are a result of not focusing on vital issues.
"It's important to see what may be holding you back from entrepreneurial success," he said. "Addressing the negative exposes an individual's needs so they can shop for resources and solve the problems."
According to Kaye, when the conference ends, entrepreneurs walk away with capital resources and powerful connections that they can reach out to throughout the course of their business journey.
"We bridge the gap between where people are and where they want to be," he said. "The only experiences our members don't get are the ones they don't ask for."