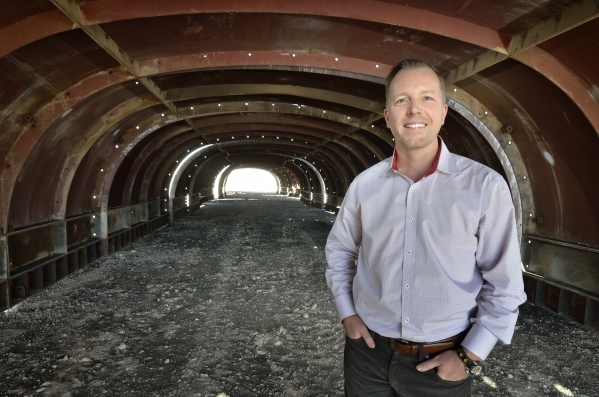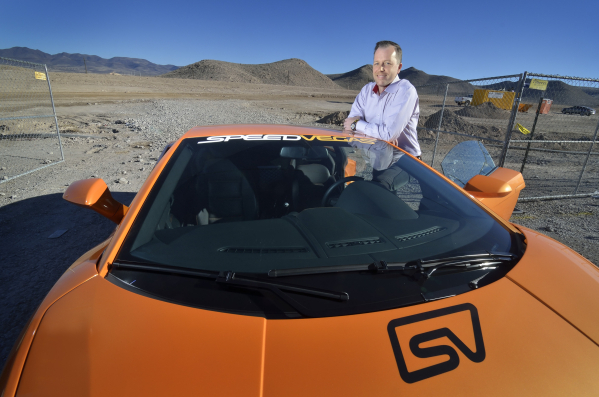 A new kind of event and meeting space is about to erupt at the south end of the Valley.
SpeedVegas, a driving experience company, will be mixing high-speed driving experiences with event gathering, for parties up to 1,000, at its new 1.5-mile private exotic-car course, just east of the Sloan exit at I-15 on South Las Vegas Boulevard. The space is pegged to open in mid-2016, with the track itself having a soft opening in April.
Aaron Fessler, co-founder and chief executive officer of SpeedVegas, said the hospitality industry has an interest in his future space as an enhancement to current offerings.
"You have a place where there's a venue and participants can do something amazing — it's really attractive," said Fessler.
The events center will be housed in the planned two-story, 22,000-square-foot welcome center, which will also contain an indoor and outdoor observation deck, a café and gift shop.
The space will be available for bachelor parties or other special occasions, along with corporate events. Event goers can watch their friends or colleagues drive exotic cars like Lamborghini, Ferrari or Porsche up to speeds of 135 mph. Also in the corral of 20 vehicles are Corvettes, Audis and Shelby Mustangs. Additional offerings are expected.
According to company officials, the track's offerings could expand in the future into things such as a drag strip, off-road adventuring and other kinds of speed activities.
The center broke ground in late 2015, but the ownership has had a long history in the exotic industry.
Fessler, an Ohio native, landed on the East Coast through his early ventures in the technology space. He's created several successful ventures including Allegro Group, an email filtering company that sold for $40 million to Mail.com.
Some of Fessler's other ventures include MediaSentry, which became the largest provider of anti-piracy services to the motion picture industry. MediaSentry was acquired by Safenet in 2005 in a $20 million transaction.
Fessler is still in the tech game. He owns TwineSocial — a media aggregation company — along with some unrelated ventures in the Midwest.
But Fessler said he was looking to try something different.
"Like everybody, I like cars," he said.
Fessler's first touch in the car industry was his East Coast venture Vulcan Motor Club, co-founded with Tom Mizzone, who is also co-founder of SpeedVegas and its chief financial officer.
Fessler described their prior venture as a fractional car-sharing club. Participants would pay dues like they do through golf clubs, explained Fessler. But instead of playing golf, you drive cars that the club owns and operates, he said.
Looking to make it more accessible and affordable to the general public, Fessler moved toward road-based driving tours. Drivers would go on 100-mile guided tours — switching to a different car along the way. Known as World Class Driving, the venture ran in 45 cities across the U.S.
Four years ago, Fessler got the idea for the track. He was looking to bring something even more affordable, and more available, to the market.
Today, the foundation is finally being laid to support his vision.
Groups and individual drivers will soon be able to take a ride along the $30 million track with the cities' longest straightaway, measuring at a half-mile. There are also 12 turns, 15-degree banking and 60-foot elevation gains.
The cost for group packages can be as little or as much as the parties want. SpeedVegas can plan the event or an outside event planner can be brought in by a group. Fessler is open to many types of events—extravagant or small.
"We don't any sort of limitations for groups that would want us to bring out a five-star chef out. We can do that," said Fessler.
According to Allison Raskansky, executive vice president of business development at SpeedVegas, the average cost of having an event can range from $55 a person and up. This also includes food and beverage costs.
The average visitor can get four laps in an American muscle car for under $200, with exotic packages starting at around $300. Customers can also ride along with a professional driver is packages that start at $99.
Free shuttles are available for drivers at most major resorts and hotels. Drivers can also arrange for a helicopter or limo to bring them to the track.
Fessler hasn't left his tech past in the dust with his latest venture. Drivers who come in the for a ride carry a lanyard with a chip that contains all the customer's information on it. Adding more time to the experience can be gained by the press of a button.
Individuals, during a window between 10 a.m. until around 6 p.m., can use what SpeedVegas calls "Free Sell." During these hours, drivers can stop in, without an appointment, and gain access to a car. From 6 a.m. to 10 a.m. and from 7 and 10 p.m., SpeedVegas hosts special events and availability of cars is diminished.