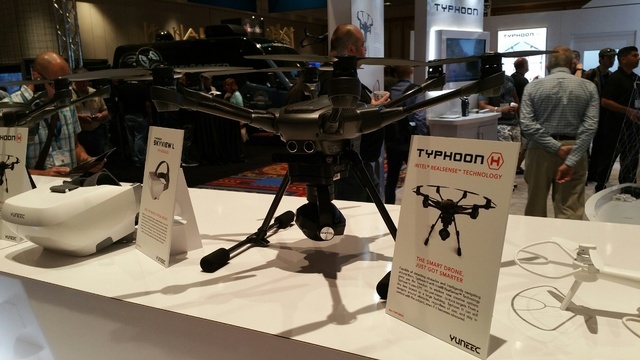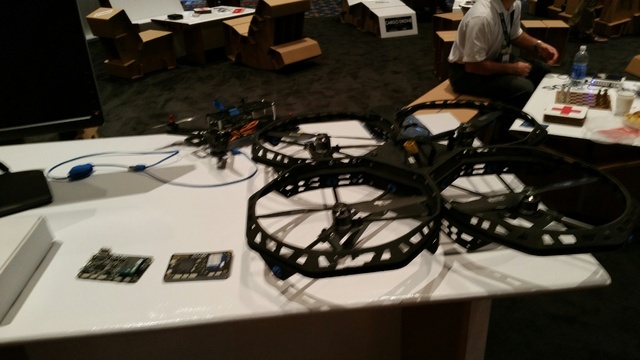 The International Drone Conference and Exposition at Paris Las Vegas this month showcased advanced flying machines featuring multiple sensors, camera servo systems and intelligent robotics integrated into Unmanned Aircraft Systems.
The Federal Aviation Administration has regulated radio-controlled drones as UAS, attempting to define safe boundaries for operators to fly their vehicles through the complex U.S. airspace without endangering larger, manned aircraft, public safety or the privacy of U.S. citizens.
On Aug. 29, UAS pilot regulations went into effect. Designated Part 107, the new set of FAA rules and guidelines relaxed existing drone restrictions so that more commercial businesses and private hobbyists can fly robotic camera systems.
Up until last month, only first-responder personnel and commercial pilots who had qualified for an exemption to Section 333 of FAA regulations, were allowed to legally fly drones with cameras into limited areas of U.S. airspace.
The new FAA rules now allow the general public to take a written test to become certified commercial drone camera pilots, in much the same way that a truck driver earns a commercial vehicle operator's license.
All drone pilots, even hobbyists, are now required to apply for a personal certification license number from the FAA, which must be attached to all UAS aircraft owned by the pilot that exceed 8.8 ounces in weight (0.55 pounds). Frequently Asked Questions with answers about UAS registration procedures can be found at this FAA drone registration webpage: federaldroneregistration.com/faq.
Since this new registration procedure was first required by the FAA last year, UAS pilot licenses number more than half a million, compared to just 320,000 manned aircraft pilot licenses in the U.S.
During the last five years, drone manufacturing companies like DJI, 3D Robotics, Yuneec, Ehang and Parrot have pushed each other to develop more stable and easily controlled flying craft, advanced camera technologies, autopilot return-home features, visual display and mapping technologies, follow-me hover-tracking and an autonomous self-landing capability when operator radio-control signals disappear.
It is getting harder to crash a drone these days, much to the relief of beginning pilots.
Many drone manufacturers have been pursuing the aerial videography market with UAS engineering teams that are skilled at designing stable flight platforms. Drone designers must be talented at engineering stable gimbal servo systems for camera mounts that can transmit jitter-free video images while the drone moves up, down and around in 3-D airspace.
Maria Stefanopoulus, a producer at "Good Morning America," talked about some of the challenges that her engineering team faced while integrating breakthrough videographic technologies from dronemaker DJI with video signal transmission equipment used by ABC.
GMA television audiences have been able to get a bird's-eye view of remote expeditions, such as when DJI Inspire drones flew to within 385 feet of lava flows breaking out from beneath a frozen glacier in an active volcano in Iceland. Another expedition explored an expansive underground cave in Vietnam, showcasing a remote location that few people on Earth had ever seen before.
The future of UAS systems and commercial business applications is now wide open, including research into expanding Umanned Transportation Management initiatives.
"Amazon Prime Air is a future delivery system designed to safely get packages under 5 pounds to customers in 30 minutes or less, by using small unmanned aircraft systems," said John Misener, vice president for global innovation policy and communications at Amazon.
If 3D autonomous navigation technologies prove reliable and predictable, FFA regulations may eventually allow autonomous drones to travel beyond a pilot's line of sight. UTM infrastructure may then allow a single pilot to control multiple autonomous drones at the same time, as they travel swiftly within a high-speed horizontal airspace lane between 400 and 500 feet, to drop off local packages from nearby Amazon warehouses and fulfillment centers at customer target landing sites.
The Nevada Institute of Unmanned Systems was created by the Governor's Office of Economic Development to help both large corporations like Amazon and smaller startup companies develop advanced drone features and increase performance capabilities.
UAS innovators can push their designs to extreme limits under near real world conditions at the Nevada Unmanned Aviation Test Site, one of just six research facilities designated within U.S. airspace by the FAA.
Chandler, Arizona-based Local Motors, which has a regional office in Las Vegas administered by Gina O'Connell and Michele Abbate, hosts design competitions for all types of vehicle platforms, not just trucks and automobiles.
Competition winners receive award money, name recognition, and a fabricated prototype. Showcased designs have included the Rally Fighter offroad truck, the Olli autonomous shuttle bus, the Strati 3-D printed car, a vintage motorcycle, drifting tricycle, electric bicycle and now a flying drone platform.
Together with corporate sponsor, Airbus, Local Motors challenged the design community to create an original cargo delivery drone platform. The winning design concept drawings and a scale model, voted on by members of the online community, were featured at the Local Motors booth in the InterDrone exhibit hall.
Dronesmith Technologies, a Henderson startup co-founded by UNLV engineering students, also shared space at the Local Motors booth to promote educational drone-building products.
The company's LUCI flight controller system includes a printed circuit board with an Intel Edison microcontroller inside. This development platform enables drone designers to integrate custom hardware devices with Dronesmith open-source software tools, a wireless cloud service and the Intel applications ecosystem.
Intel also sponsored InterDrone, where the company unveiled a new Aero development platform. This new UAS design environment included a customizable set of electronic hardware and software tools that can be integrated into drones built by large-volume manufacturers and home hobbyists: intel.com/aero.
Yuneec, a popular drone manufacturer from Hong Kong, incorporated Intel RealSense camera and sensor technologies into its newest Typhoon UAS platform.
The Typhoon can scan and map 3-D objects while flying in order to navigate more quickly and efficiently around airborne obstacles in its flight path.
These intelligent, robotic aircraft are not your father's RC hobby planes anymore.