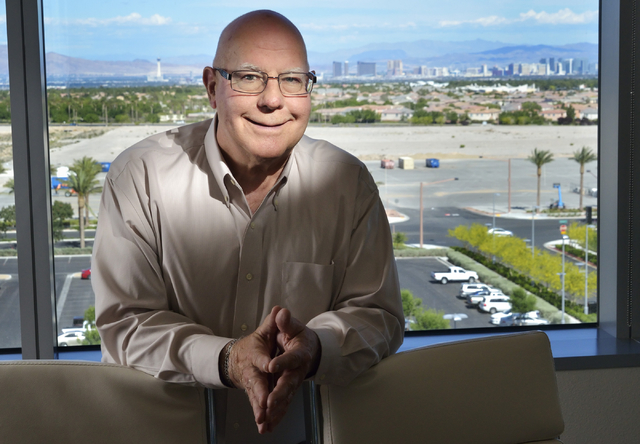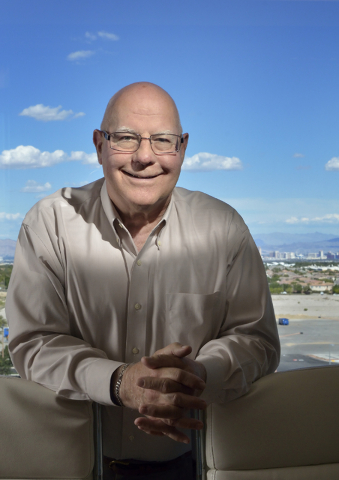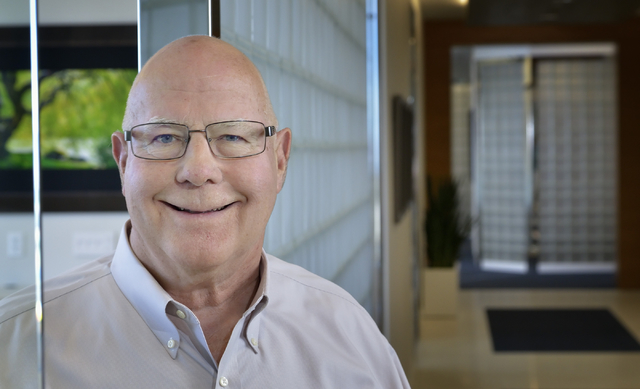 Despite growing up in Las Vegas, neither Pete Bernhard nor anyone in his family had any ties to the booming casino industry in Southern Nevada.
Well, except the one summer Bernhard spent working at "the best job I've ever had in my life," as he describes his gig as a lifeguard at the Sands, and another summer job as a carnival barker at Circus Circus.
Years later, as chairman of the Nevada Gaming Commission, the former lifeguard/carnival barker turned attorney would help guide the industry through some troubling times, including the aftermath of the Sept. 11, 2001, terrorist attacks, private equity funds investing in the gaming industry, the technological advances in gaming and the Great Recession of 2008.
The Nevada Gaming Commission has regulatory and policy-making authority over all Nevada gaming licensees.
"It was a pleasure appearing before Pete as his decision-making process as chairman was always well-thought out, extensively researched and guided by the law," said Mark Clayton, a shareholder and co-chair of Greenberg Traurig's Global Gaming Practice. "He treated each applicant with equal respect and provided the same attention to each application regardless of what it involved.
"Pete was the longest-serving chairman in the history of the Nevada Gaming Commission and his tenure covered many important matters from several multi-billion dollar mergers to the creation of Nevada's initial online poker operations."
Bernhard, who is in private practice with Kaempfer, Crowell, Renshaw, Gronauer &Fiorentino in downtown Summerlin, was appointed to the Nevada Gaming Commission right after the terrorist attacks of 9/11. He was re-appointed to serve four-year terms beginning in 2003, 2007 and 2011, finishing his service to the state on June 30, 2014. Prior to 2001, he served as a member and chairman of the Nevada Commission on Ethics.
"When I was appointed to the gaming commission, the industry was in a great deal of uncertainty at the time," Bernhard said. "Would people still take flights to a place like Las Vegas? Would they continue to spend discretionary income on gaming activities throughout the state of Nevada? What was going to happen next? What I thought was important at the time was to reassure the business community as well as the public that gaming regulation would ensure a safe and enjoyable gaming entertainment experience.
"Since that time, the industry itself has taken the lead to make sure it was a destination for people to come and enjoy themselves. A lot of innovations have occurred after that. The ticket in/ticket out systems came into play soon after I was appointed to the commission, which has revolutionized the casino floor. You also had salon or private gaming approved by the legislature in 2001, as well as the ability to license interactive gaming providers if proper regulation could be established."
Merger issues
During his tenure on the gaming commission, Bernhard presided over the two largest combinations in Nevada gaming history (MGM-Mandalay Resorts and Harrah's-Park Place Entertainment), along with numerous licensing proceedings for newly constructed facilities, such as Wynn, Red Rock and South Point, and for the transfers of existing properties throughout the State of Nevada.
The mergers may have been one of the more controversial issues to come up during Bernhard's tenure. However, the commission ultimately supported the mergers to create properties that could withstand bad times as well as prospering in good time. That reasoning seemed prophetic as a major economic crisis was looming when both mergers were approved in 2005.
"There were strong debates on both sides about whether [those companies] should be allowed to merge," Bernhard said. "My view was the overriding health of the economy in Nevada needed companies that would be not too big to fail but to avoid being too small to survive in an environment of economic downturn. The recession in 2007-08 would have devastated some of those smaller operations had they not combined to have the financial strength to survive."
Technology also presented a major challenge for the gaming commission as slot cheats were able to manipulate the machines, which changed the type of criminals regulators dealt with from those connected with organized crime and mob-related activities to more computer-savvy individuals. Those criminals were able to pick up and modify the random number generators that determine the outcome of games.
During Bernhard's tenure as chairman of the gaming commission, Nevada gaming properties did have to contend with the growth of gaming on Native American reservations. Bernhard said a few areas — such as Laughlin and some of the northern Nevada properties — were hurt by those Native American properties, but the larger companies in Las Vegas and Reno were able to see gaming revenues increase to unprecedented levels.
The expansion of gaming worldwide also caused some challenges for the gaming commission as Nevada companies were looking to take advantage of the global opportunities.
"There were different jurisdictions and different philosophies to regulations and we had to accommodate the interests of our licensees who wanted to move into new opportunities," Bernhard said. "While at the same time, we had to keep our controls on them, so we had to understand what was going on in those jurisdictions to prevent any wrongdoing that would reflect negatively on Nevada operations of our licensees."
Equal justice
While Bernhard saw quite a bit of change on the gaming commission, the one thing he's most proud of is providing equal justice to everyone. Bernhard is also credited with levying the largest fines in Nevada gaming history for regulatory violations, which he said was necessary to ensure the public's confidence in gaming in Nevada.
"Honestly, the one rewarding aspect of what we did and what the commission still does is to look out for the smaller people," he said. "Your mom-and-pop operators and casino workers who would come before us for various violations they may have committed and mistakes they may have made that could be devastating to those people, their careers and future. We were able to provide a forum to hear their side of the story.
"Sometime, we would agree they needed a second chance, they made a stupid mistake, and were entitled to be relieved of that. Other times, we had to go along with what the (Gaming Control) board recommended that these people were unfit to remain working in the industry. Those were the most difficult cases that come before the commission because of the real human aspect of a person's life and livelihood waiting for your decision."
Bernhard's dedication to justice is one reason he's being honored on June 7 with the Anti-Defamation League's Jurisprudence Award. The ADL established the award to recognize individuals who have made an outstanding contribution to the legal profession and the community at large, while exemplifying the principles on which the ADL was founded, according to a press release issued by the ADL.
"This is one of the most important honors to me in terms of the dedication of the ADL to making sure that people who need help, and whose rights are potentially violated, have others who can speak up for them," Bernhard said "I'm honored to be considered for the Jurisprudence Award because it does reflect positively on dedication, to not just equal justice under the law, but also equal opportunity, equal access to courtrooms and professional services to assist people who otherwise could not afford those services."
Looking ahead
Bernhard said technology would continue to be a challenge for gaming operators and the gaming commission into the future. With interactive gaming, mobile gaming, and other technological advances, there will be a much quicker process in developing games and approving those games for play.
And of course, there's the need to keep the younger generation interested in visiting Nevada, especially as the gaming markets are starting to become saturated across the country and the world.
"The real challenge will be to find out what the younger generations want casinos to be. Will millenials be content to sit at banks of slot machines and push buttons or pull handles the way baby boomers have done? I don't think the younger generation will be content with that, and casino operators and gaming regulators will need to adapt to different ideas. Skill-based gaming is one concept that will continue to grow, offer more of a challenge and more input from the player on the outcome of the game."